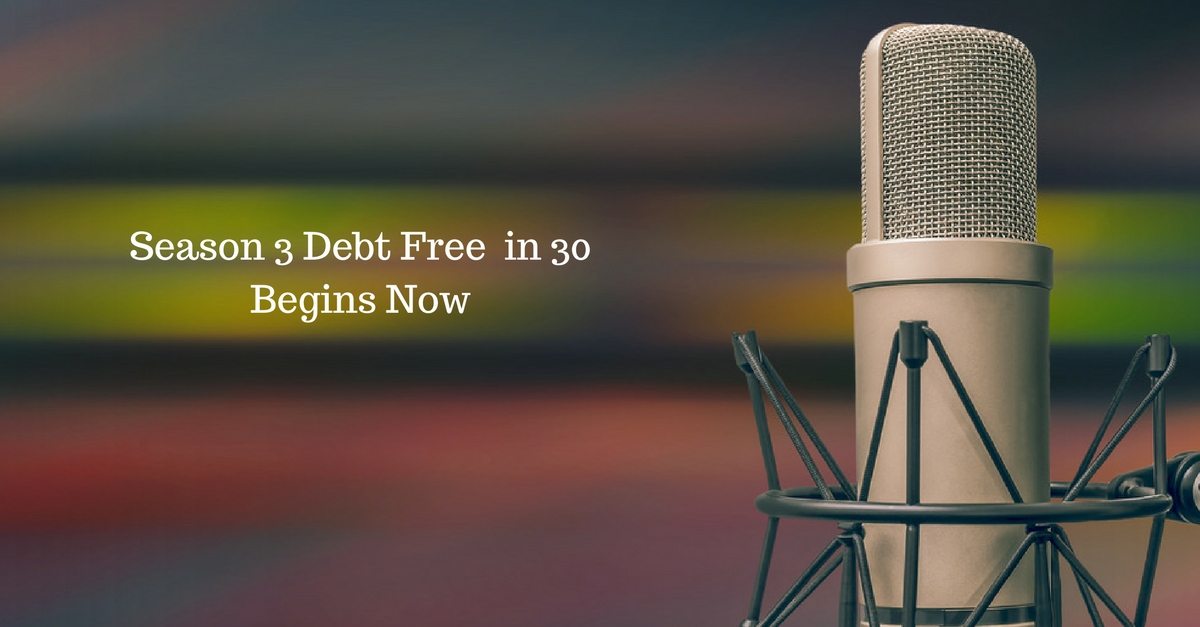 It's the start of Season #3 of Debt Free in 30, and I'm very excited about some changes we have coming to the show.
With our new season we have a new and improved format which we hope will bring the ability to provide even better insight and answers for our listeners.
For two seasons Debt Free in 30 was both a radio show and a podcast. To meet the time constraints of radio it had be an exact number of minutes. Some stations wanted a 23 minute show, so they would have time to insert the newscast at the top of the hour, while other stations preferred 29 minutes to air a minute of commercials. To accommodate, I recorded a 23 minute show, and then added a 6 minute "Let's Get Started" segment to round out the 29 minutes.
That worked out great, but there were a few issues. There were times when I had guests with a lot of great, practical advice but we were limited to a conversation that could never go for more than 29 minutes. And then we had other shows where we wanted to cover one short topic that could be easily covered in less than 29 minutes.
The challenge is how do I create a show that is both longer and shorter than 30 minutes each week when a radio station needs a show that is always the same length?
Season 3 brings a new format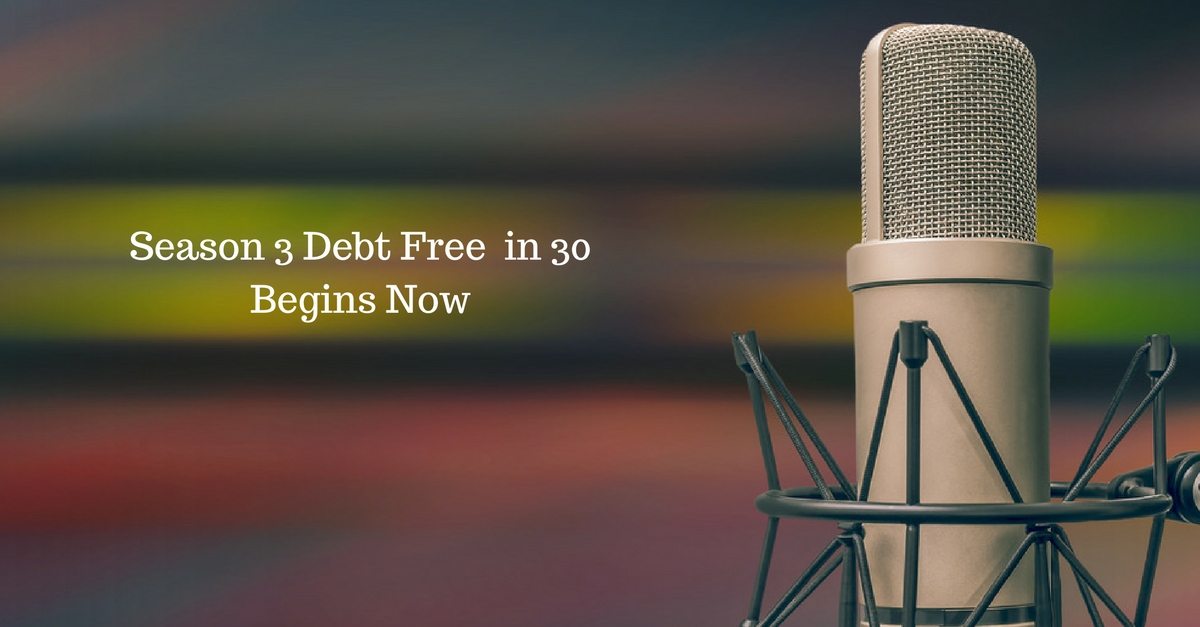 The solution was simple. A new format.
Starting with this show I'm taking Debt Free in 30 off the radio. And yes, some of the radio station managers are very disappointed. They liked the format of the show, and they know their listeners will miss it, but I'm not here to please the radio stations. My goal is to give you, the listener, practical advice on how to manage your money and live debt free, and I believe I can best do that with a podcast only format. I'm looking forward to this new freedom to bring you exactly the length and type of show you want.
So what will that mean for Debt Free in 30 this season?
Some things will stay the same: I'll have a new show for you every week, and it will be released on iTunes, Stitcher, and all major podcasting apps at 8:00 am EST every Saturday morning. Be sure to subscribe using your favourite app.
Some shows will be a bit longer, some will be shorter. The show will evolve, but I expect that twice a month we will have a long form interview with an expert who has lots of practical advice. I won't be watching the clock, so interviews will range from 20-40 minutes with most being about 30 minutes, so I'm not changing the name of the show: it will still be called Debt Free in 30.
As a new feature, we'll be adding shorter shows. We'll have shows where we cover technical tidbits, and other short shows where we cover one topic and give practical, actionable advice.
We'll also be experimenting with new ways to get content to you. This summer we tried an experiment and uploaded the audio for some of our podcasts to YouTube. I didn't think anyone would "watch" an audio broadcast on a video service, but much to my surprise, many people did, so it's likely that we will put up more of these shows on YouTube in the future.
Listener input
I want this show to answer your questions, so we're adding two new ways for you to participate.
If you've got a question you'd like me to answer, you can email me at DFI30@hoyes.com.
It's even better if I can hear from you, so we've added a way for you to record your question so we can play it on the air and answer it for you. Go to our website at hoyes.com/podcast, click on the microphone, and record your question. You can do it from your phone, or your computer if you have a microphone. No guarantees, but I'll try to answer as many questions as possible in future shows.
Sneak peak at next week's podcast
Next week I've got a very interesting topic that has been in the news quite a bit lately. Here in Canada, Walmart has said they are going to stop taking Visa cards at their stores, because the costs are too high, and they want to keep prices low for their customers. Is that true? Or is there something else going on? What's really happening with credit card fees, and what do you as a consumer need to do about it?
That's next week here on Debt Free in 30. Be sure to tune in.
Similar Posts: