In statistics just released by the Office of the Superintendent of Bankruptcy, the number of personal insolvencies filed in Ontario in November 2013 decreased by 10.4% as compared to the month of November 2012, continuing a trend of dramatic year over year declines throughout much of 2013.  Personal bankruptcy filings declined by 8.3%, while consumer proposals declined by 12.3%.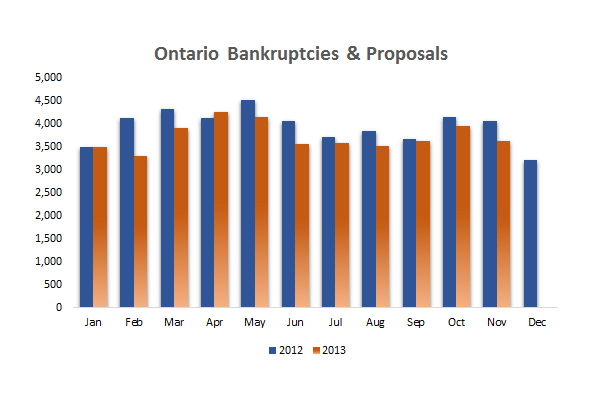 For the twelve months ended November 30 personal bankruptcy filings in Ontario declined by 7.7% and consumer proposal filings declined by 8.0%.  This has resulted in a total drop in consumer insolvencies over the past twelve months of 7.9%. In comparison, Canadian consumer insolvencies as a whole fell only 1.4% during that same period (in Canada personal bankruptcy filings declined by 4.9% but consumer proposals increased by 4.1%).
This is a significant reversal from the peak of bankruptcy filings back in 2009.  In November 2009 there were 5,508 total personal insolvencies, so the number of filings in November 2013 is an astounding 34% lower than the peak.
Implications
For residents of Ontario, this would appear to be very good news.  You might conclude fewer people have debt problems, so fewer people require bankruptcy protection.
Why do I say this "appears" to be good news?  Isn't a drop in bankruptcies obviously good news?  Yes, but there is an underlying issue:
Debt.
Canadians continue to carry record levels of debt. It is my opinion that bankruptcy filings only remain low because interest rates remain low.  If interest rates are low you can afford to carry a high mortgage or line of credit balance, because your monthly payment remains reasonable.
However, if interest rates creep up, even a small amount, the implications could be huge.
For example, a $200,000 mortgage at a variable interest rate of 3%, amortized over 20 years, carries a monthly payment of $1,107.34.  If your interest rate goes up one small percentage point, to 4%, your monthly payment is now $1,208.49.  That's an increase of over $100 per month.  Can you afford an extra $100 per month payment?
Stated another way, that 1% interest rate increase leads to a monthly payment increase, in the above example, of over 9%.  Are your wages increasing by 9%?  If not, a small increase in interest rates could be a big problem.
My advice is to use this period of low interest rates to pay down debt, so that if interest rates increase, or if you lose your job, you have a manageable level of debt.  The time to take action on your debt is now.