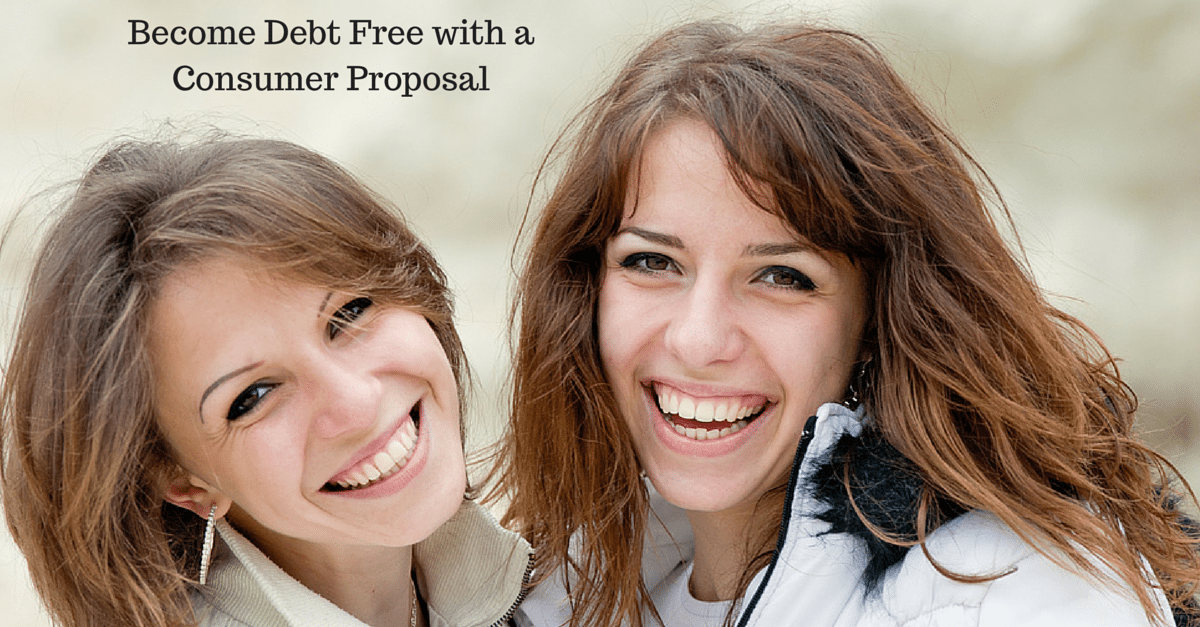 Five years ago I met with two sisters.  I will call them Betty and Jane, although those are not their real names. What is interesting about this case study is the fact that both sisters experienced a similar debt problem, but each took a different path to dealing with that debt; leading to different results for each.
Betty and Jane opened a retail business in Windsor a decade ago. While they were successful for the first few years, for a variety of reasons, sales eventually began to decline.  During the slow times, like so many business owners, Betty and Jane were using their personal credit cards to fund their business.  Their expectation was that things would turn around, they would be profitable again, and they would be able to repay their debts and build a future. Sadly, after two years of slow sales, they realized things were not improving and they made the decision to close the business.
Both Betty and Jane came to see me once the business was closed to ask for advice on how to deal with the personal debt that they had accumulated.  Each had accumulated around $40,000 in debts on their personal credit cards. Both were married and owned homes.  They were afraid about the impact that these debts were having on their family and their assets.
After looking at their situation, including the fact that they each owned a home and had a good family income (both husbands held jobs that paid well), we determined that a consumer proposal would be the best approach for both of them.
This is not an unusual scenario, but here's where things get interesting.
Betty filed a consumer proposal for $300 per month, for five years.  She was comfortable that she could keep up with those payments.  It turned out she was able to take advantage of the fact that you can pay off a proposal early by making extra payments when money was available.  Betty was able to complete her proposal in just three and a half years.  When I met with Betty shortly after she had made her final payment she was happy to be finished and relieved to feel so stress free about both her finances and how easy the process ended up being.  As I write this, I realize that the consumer proposal note will be coming off her credit report late next year. So five years in, Betty is in stronger shape financially and well on her way to rebuilding her credit.
Jane on the other hand decided not to file.  That's okay, it was Jane's decision and she told me her main concern about filing a proposal was the effect that it would have on her credit rating.  Jane hadn't been late on her bills, so technically her credit rating was pretty good; no late payments meant no negatives on her credit report.  True enough, however this good credit rating did nothing for Jane as she was turned down for a consolidation loan by her bank. While Jane didn't have any negatives on her report as far as late payments, Jane carried too much debt and no bank was willing to loan her any more money.  And from Jane's point of view, if all she was paying was minimum payments it would take her 20 years to pay her debt off in full; but Jane was determined to do it on her own.  She kept making the payments on her credit cards hoping to dig herself out.  Eventually, after two years, Jane realized she had only reduced her balance by a small amount.
Eventually Jane called me again.  I could hear the stress in her voice when she called.  She came back to see me in the spring and two years after our initial meeting Jane decided to file a consumer proposal. She ended up offering to pay $275 per month for five years.
Jane is doing well with her proposal.  She has been able to make a few extra payments and will likely have it paid off a year ahead of schedule.  Jane told me that she shouldn't have waited so long.  If she had filed at the same time as her sister, she would have saved herself two years of stressing out every time she paid her credit cards. Even more important, she would have been debt free by now. If she had filed a proposal when she first came to see us, Jane would have saved money by having her payments put toward her proposal, rather than ongoing interest payments.
The decision of if and when to file a consumer proposal can be difficult.  But it is an individual decision. At Hoyes Michalos we believe in explaining all your options but leaving the decision to you. Contact us for your free consultation. No pressure, just honest, expert advice. 
Similar Posts: