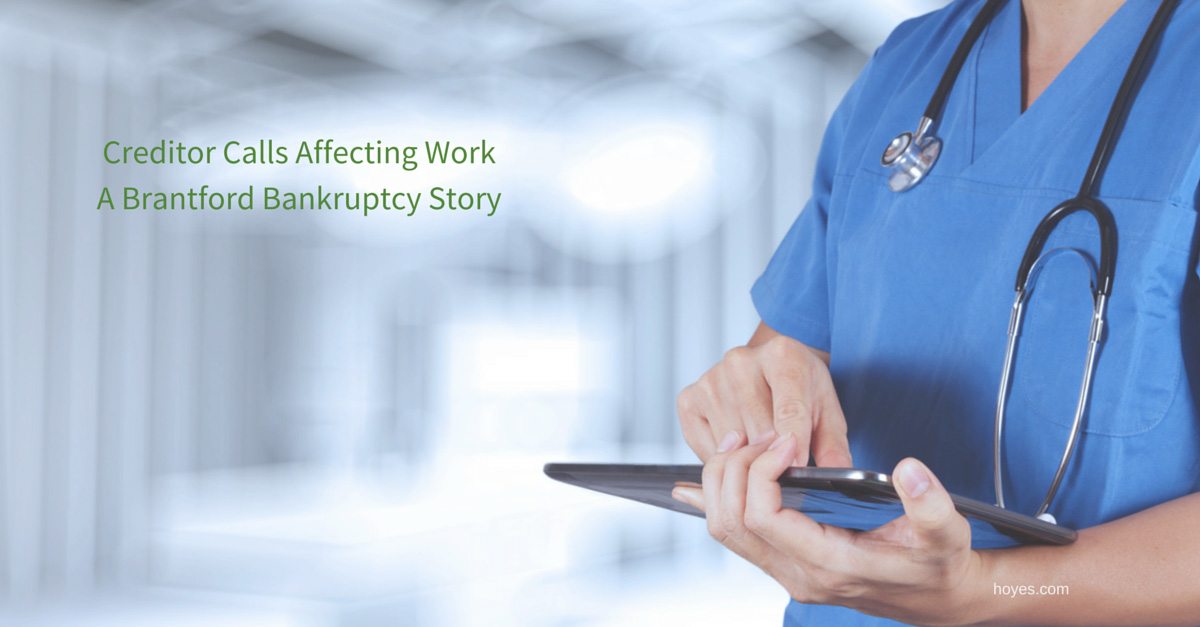 Sammy (not her real name) was able to achieve her dream job. Her mother had worked as a nurse in Brantford and she had grown up always wanting to follow in her mother's footsteps. After completing her studies nine years ago, she was happy to work in a job that provided a steady income and allowed her to help others. The cost of studying and bad money decisions however had led to an overwhelming debt load that even on a good income was hard to repay.  Now, collection agencies were calling, sometimes multiple times a day, and some were even calling her at work.
The Challenge
Unable to focus at work because of the stress, Sammy needed to stop the creditor calls and find a solution to her debt problems so she could focus on her patients rather than her debt worries.
The Scenario
Sammy's biggest debt was student loans accumulated while she was a nursing student. She also used credit cards to set herself up in her own apartment after graduating and continued to use the cards from time to time when she ran out of money. Eventually Sammy found she couldn't keep up with the payments. This lead to more bad decisions in the form of pay day loans and overdrafts.

The Solution
Sammy had two issues that needed consideration. First could her student loans be eliminated? Since Sammy left school more than 7 years ago so she was able to include her student loans in a bankruptcy.
Second, Sammy had made contributions to her RRSP within the the last 12 months, so by law these would be considered assets of her bankruptcy. She did however have an option to repurchase the value of these savings from the trustee.
Since Sammy was single, with few real expense commitments, she decided she could afford both her surplus income payments and could pay the trustee the cash value of her RRSP, net of estimated tax costs, during her bankruptcy which meant these savings could stay in her RRSP account.
The Outcome
Sammy found it a huge relief to stop the collection calls. Her surplus income payments were not significant and she found it easier to keep up with her bankruptcy payments compared to all the juggling of debt payments she had been doing before to keep the collection agencies happy.
She recently sent our office an email to thank us for "helping guide her through her options" and for helping her to "find the light at the end of tunnel".
Stop Juggling Payments and Harassing Phone Calls.
Both a bankruptcy or a consumer proposal provide creditor protection to stop collection calls and eliminate debt. Call us at 1-866-747-0660 to discuss your options. Visit our Brantford office page for more information.
Similar Posts: