Insolvencies in Ontario fell 3.6% in 2017 according to statistics released by the Office of the Superintendent of Bankruptcy.  This is the 8th consecutive year of declines since consumer insolvencies peaked in 2009. Still in total, 38,167 Ontarians filed a bankruptcy or proposal in the past year.
The numbers are not surprising. There are many economic reasons for the decline:
Employment conditions in Ontario have been strong. In fact, Ontario added more than 176,000 jobs during 2017.
Interest rates, while they began to rise, are still relatively low.
Residents of most Ontario municipalities, especially Toronto, have experienced a housing price increase if they purchased their home more than a year ago.
As a Licensed Insolvency Trustee, I admittedly have a doom and gloom attitude about current consumer debt levels. I do not expect that Ontarians can continue to manage record levels of debt successfully. Interests rates will rise further in 2018.  The economy is bound to soften and unemployment will shoot back up.  Real estate, the savior of many in the form of a debt consolidation loan, will no longer be a safety net for homeowners.
Just how bad will it get?  Pretty bad I think. My reasoning is that the decline in insolvencies has slowed relative to economic fundamentals. We are, I believe, at the bottom.
Interest rates have trended downward since 2009.  While insolvencies have declined for 8 consecutive years, the largest declines occurred prior to 2015.  Since then total insolvencies have not trended downward as rapidly as the decline in rates.  The impact of rate increases will not be felt for several months as consumers find ways to avoid defaulting on their loans. However, I believe that more increases in interest rates will occur, and the corresponding increase in insolvencies will be as steep as the drop experienced from 2009 to 2015, if not sharper.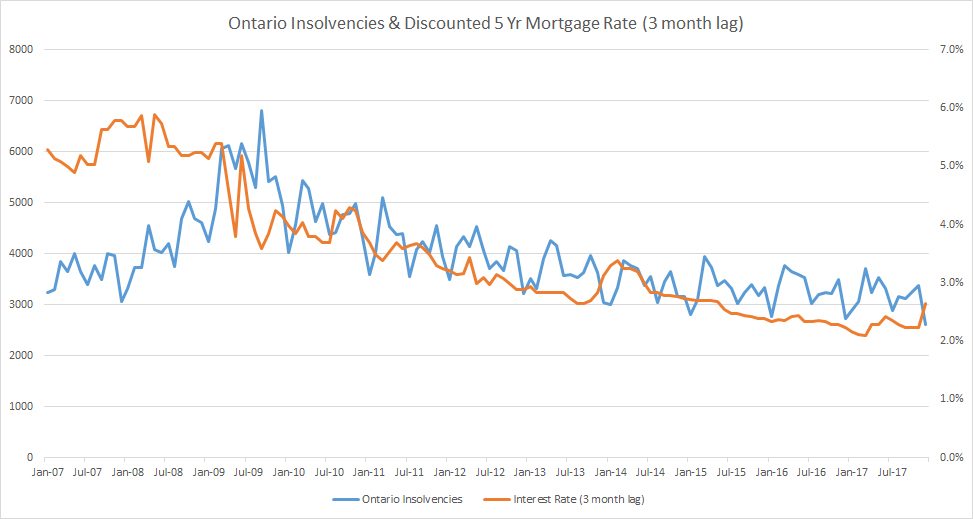 A similar trend can be seen in terms of the overall impact of employment gains on reducing consumer bankruptcies. Job loss is a major contributor to filing bankruptcy. In our most recent study of the causes of insolvency, job related factors accounted for more than half (55%) of all bankruptcies and consumer proposals. So, when the economy is doing well and employment is stable, insolvency rates are low.
We lag the unemployment rate by 6 months in our analysis because people do not file insolvency immediately upon losing a job. Instead they rely on savings, and then debt, to make ends meet for the first few months.  It is when they can no longer borrow or keep up with debt payments, even after returning to work, that insolvency becomes an option to deal with the debt they accumulated.
As you can see from the chart, the gap between insolvency levels in Ontario and the overall unemployment rate has narrowed since early 2017.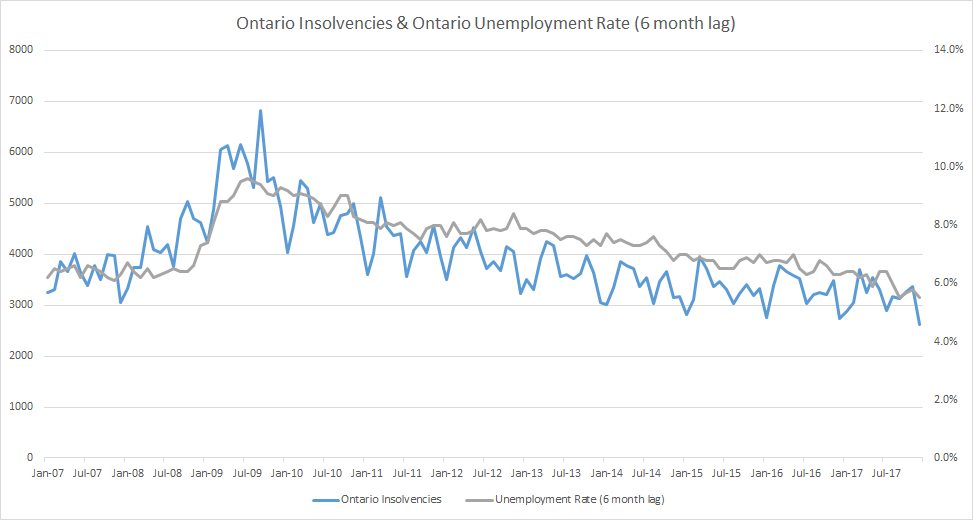 One trend that will be interesting to see will be the continued popularity of consumer proposals.  In 2017, personal bankruptcies declined 9.3% while consumer proposals increased 0.5%.  Consumer proposals are a negotiated plan to repay a portion of what you owe. In 2017, 6 in 10 insolvencies (60%) were proposals.
Consumer proposals are an alternative to bankruptcy because of two key advantages:
The debtor keeps all their assets, including equity in their home, RESP & other investments that would be seized in a bankruptcy.
The debtor avoids high monthly surplus income payments if their income is above the government mandated income limits in a bankruptcy.
In 2017, homeowners were not the driver of consumer proposals. In fact, our own Homeowner's Bankruptcy Index fell to 5.4% by the end of 2017, and was a record low 4.1% by the end of January.  During the past year it was the second benefit, the ability to spread surplus income payments over a period of up to 5 years, that helped drive the increase in consumer proposals.  Strong employment conditions and higher incomes mean more proposals and less bankruptcies.
If we see an increase in the unemployment rate in Ontario, we will see a rapid increase in bankruptcy filings. However, a reduction in house prices will drive up the rate of homeowner's turning to insolvency which will push up the proposal rate. Just which will rise faster we can't be sure.
Whatever the mix, what I can tell you is I believe we are at the bottom of the decline in consumer insolvencies in Ontario. Predictions for 2018 and forward are for a much worse outlook for heavily indebted consumers.
Sources:
Similar Posts: