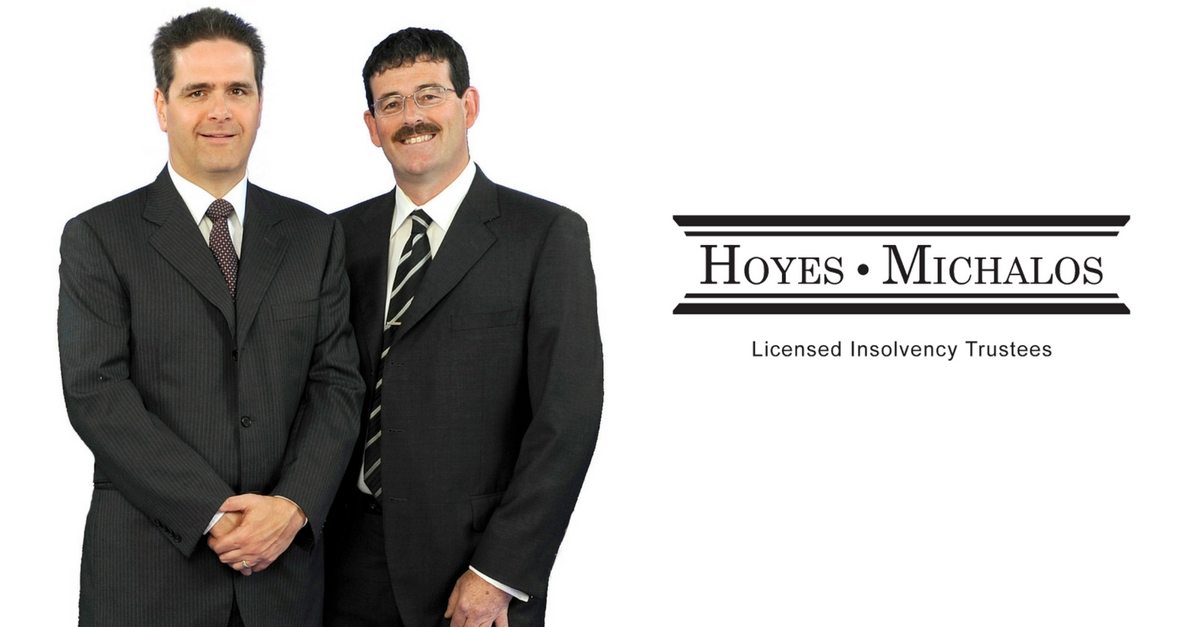 Each week I meet with approximately two dozen people in financial trouble, and at least once a week one of the people I meet with is surprised that they are actually meeting with "Mr. Hoyes". They are surprised because they assume that "Hoyes Michalos" is just a name, or it's a company started by two guys named Hoyes and Michalos who are no longer around.
I am pleased to report that Ted Michalos and Douglas Hoyes actually exist. We are real people, and we both meet with dozens of people in person each week, and we talk to many more on the phone each day. We started Hoyes, Michalos & Associates Inc. back in 1999, and we both remain the owners of the firm, and actively involved in the business on a daily basis.
Why does it matter to you that there is actually a Hoyes and a Michalos?
It matters because if you decide to file a consumer proposal, or to file personal bankruptcy, you want to know that you have chosen to work with a team of professionals supervised by the two guys whose name appears on the door. You want to know that our reputation is very important, and that we will do everything in our power to administer your file in a professional manner.
You can choose your trustee. There are hundreds of other trustees in Ontario; there is no shortage of licensed trustees willing to help you with your financial problems. So why should you choose Hoyes Michalos?
First, we are real people, active in the community. A number of our staff participate in many community events, including the Oktoberfest 5km and 10km run held on October 17, 2010. (That's me, Doug Hoyes, in the white shirt, along with Scott Schaefer, our Kitchener trustee, Amie and Jennifer from our Kitchener office, Nelly from our tax group, and Ian Martin, our Kitchener office client service specialist). The Hoyes Michalos running team is our way to stay fit, and to stay active in the community. (Our next scheduled event will be the Cambridge Times Rotary Classic in May, 2011). More details are available on our community involvement page.
Second, all of our trustees and staff were hired and trained by Doug Hoyes and Ted Michalos. We believe we have assembled the "A-Team"; caring professionals who know their stuff, and are willing to take the time to explain your options in detail so that you can make an informed decision.
Third, we are one of the largest firms devoted to personal insolvency in Ontario, so we have the skill, expertise and technology to help you deal with your money problems. We are not a "one man band". If you call our 1-866-747-0660 debt hotline during normal office hours, 99% of the time you will get a live person who can deal with your issue immediately. You will not have to "push 1 for English", and you will not hear a recorded message that says "please hold while we connect your call."
Finally, even though we are a large firm with twenty consumer proposal and bankruptcy offices across Ontario, we are not a large, multi-national accounting firm. We handle proposals and bankruptcies for people, and that's it. We don't do audits or tax returns for large corporations. We don't report to a board of directors in New York. We work with debtors and creditors in Ontario, and that's all we do.
At Hoyes Michalos, we want you to solve your debt problems, but we are not going to try to "sell" you a "one size fits all" solution. A consumer proposal may be the best option; perhaps for you a bankruptcy is necessary; perhaps help with budgeting or a referral to a not for profit credit counsellor will solve your problems. We created this web site to give you the tools to research your options on your own, for free, so please take advantage of our sections on:
Check out our debt options calculator; it takes five seconds to find out the approximate cost of different debt management options.
Then, when you have finished your research, contact us for a free consultation.
We are here to help you, so let's get started.