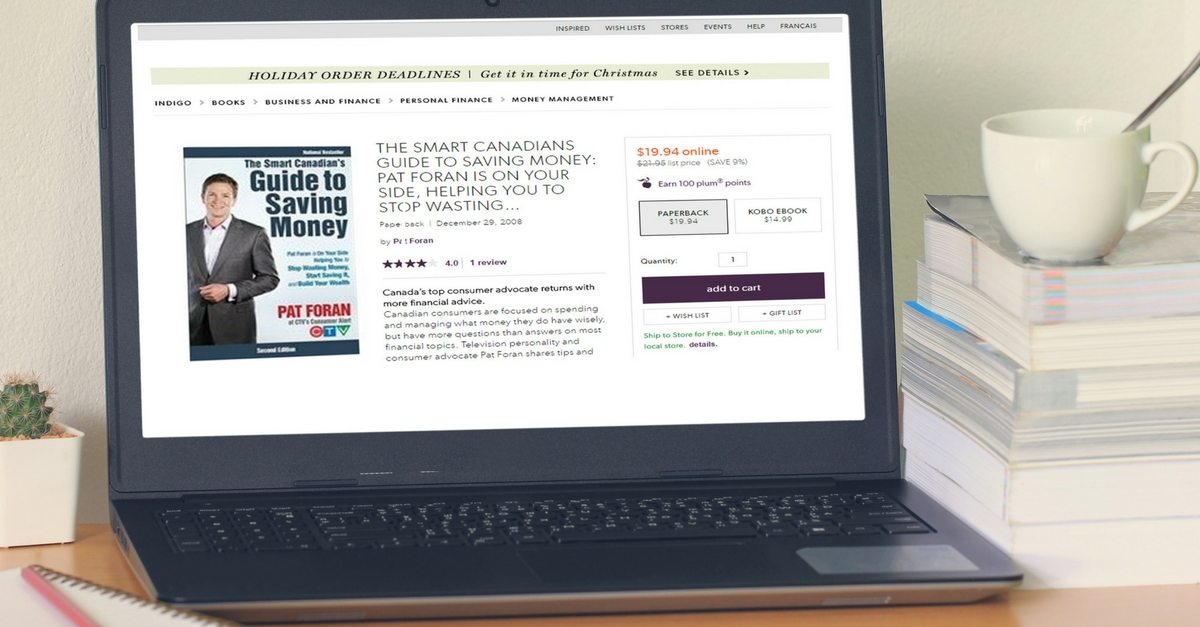 At Hoyes,  Michalos & Associates, we are committed to helping people. Our assistance does not stop after someone works out a plan to deal with their debts.  We feel that through education and resources we can provide more tools for individuals and families to obtain the fresh start they deserve and build a stronger future.  For this reason we feel it beneficial to review books aimed at helping you take control of your financial situation.
The first book we are reviewing is The Smart Canadian's Guide to Saving Money: Pat Foran is On Your Side, Helping You to Stop Wasting Money, Start Saving It, and Build Your Wealth
by Pat Foran (from CTV's Consumer Alert).  Our co-founder, Douglas Hoyes, was interviewed for the chapter on bankruptcy.
In his book, Foran not only gives helpful advice on how you can save money on day to day living, he walks you through every financial scenario you may, and likely will encounter in your adult life.
From reducing your debt and monitoring your expenses, to purchasing cars and property, and investing for your retirement, Foran gives an in depth look at the bigger picture on what it takes to be successful when it comes to your hard earned money.  All the details we may have overlooked such as signing prenups, finding affordable insurance, owning versus renting and even writing wills are discussed and explained. For those who are already finding themselves deep into financial trouble, Foran also addresses dealing with collection agencies, consolidating debt, credit counselling, and declaring bankruptcy.
Foran offers great money saving tips, but he also opens our eyes into a not so honest world in which we need to be aware of scams and quick fix solutions that will only hinder our financial success. Not everything we see on tv is the truth, so beware of catchy ads offering fix all solutions. The old cliché applies, if something seems too good to be true, it probably is! The key is to keep yourself informed. The more knowledge you have; the better. Learning to budget your money, pay down your debt and invest wisely in your future, will have you well on the way to success. This book is appropriately titled as a "guide" to saving money, as it does just that.
There are very few drawbacks to reading this book. It is very well written and laid out such that you may pick a chapter that pertains to your particular situation and still get the helpful advice you're seeking. The chapters are brief and the information is presented in a simplistic manner for anyone to easily grasp. Foran avoids throwing easy fix solutions at his readers that do not address the real issues at hand.  Instead he gives real solutions to real problems, and that is something we can all benefit from.
As a credit counsellor, I would recommend this book to anyone looking to take control of their finances, especially someone who has just been through a consumer proposal or a personal bankruptcy.
If find yourself looking for a plan to gain control of your debts and obtain a fresh financial start, please contact us at 1-866-747-0660 or by e-mail.
Foran, Pat. The Smart Canadian's Guide to Saving Money
. 2nd ed. Mississauga, Ont.: J. Wiley & Sons Canada, 2009.