Bankruptcy is not the only way out of debt. When you call us for help with overwhelming debt, we explain all your alternatives to bankruptcy.
You might be surprised to know that less than 10% of the people who contact us for help actually file bankruptcy. 
We help you avoid bankruptcy by looking at other options during your free debt assessment.
Can you afford to repay your debts on your own?
We will help you review your budget, who you owe money to and see if based on your income you can create your own debt repayment plan. If you can afford to repay your debts in 5 years or less, including interest, this may be your best option.
Will a debt consolidation loan work?
There are a few factors to consider here:
Can you qualify for a debt consolidation loan?
Do you have any collateral to pledge as security?
Can you afford the loan payments and will the interest rate be reasonable?
Will you be able to consolidate ALL your debts.
This last point is very important. Many people find that a debt consolidation loan is only a temporary solution. We can help you look at the numbers and ensure it's the right way to consolidate your debt.
What about credit counselling?
Credit counsellors offer a program called a Debt Management Plan.  It works for some, but not everyone.
How much do you owe? A debt management plan is more suited to debts less than $15,000.
Can you afford to repay your debts in full? A debt management plan does not offer debt relief, only interest relief.
Avoid bankruptcy with a consumer proposal
A consumer proposal is a legally binding arrangement filed with a Licensed Insolvency Trustee to settle your debts for less than you owe.
A Consumer Proposal will help you:
Consolidate unsecured debt
Make only one, single, lower monthly payment
Eliminate interest
Stop creditor actions
Keep your assets
You can reduce principal repayment by as much as 70% and become debt free within 5 years.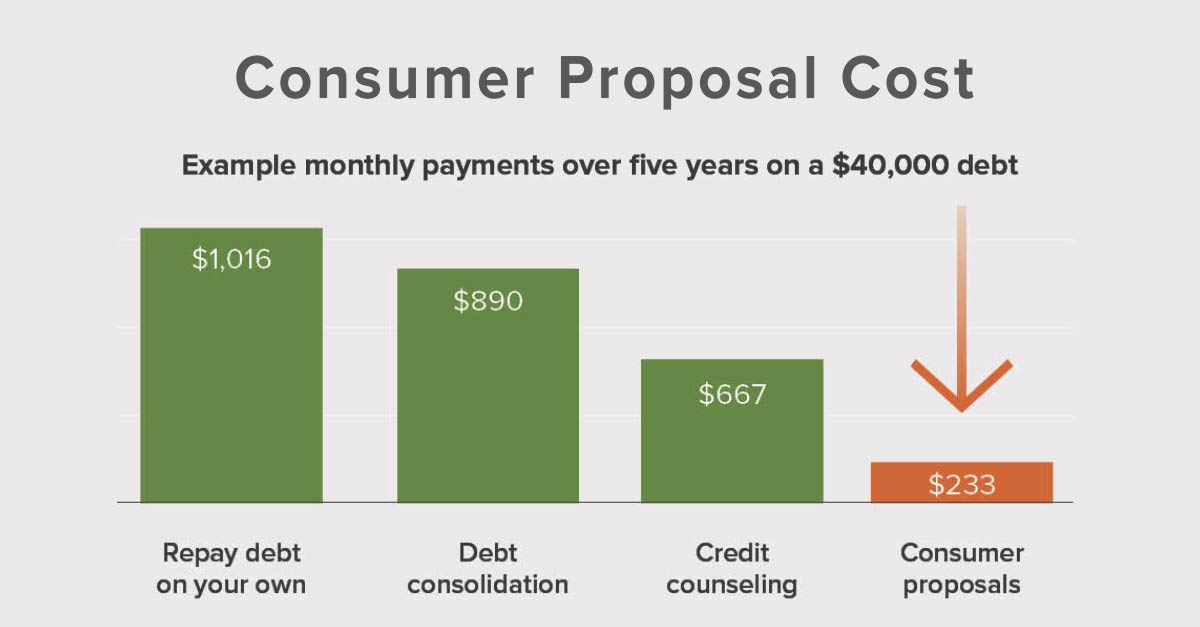 Get a Personalized
DEBT FREE PLAN
We'll provide you with the right information you need so you can make the best decision for you.
Always Meet a Licensed Professional – Not a sales clerk
99% Consumer Proposal Acceptance Rate
Commited to Help You through the Entire Process
Helping individuals like you get out of debt since 1999