Financial Institution: KOHO – Reloadable Prepaid Visa
Website: KOHO's website
Last Updated: February 24, 2021. (information subject to change, so please go to KOHO's website for current information).
NOTE:  KOHO is not a bank account. You can only deposit through e-transfers that match your name on your KOHO profile, Visa Debit, or direct deposit. Currently, KOHO does NOT accept cheques or cash for deposit.
How to open an account
As of now, you can only open an account online. The first step is finding out what option works best for you. At this point, you can also set the card colour of your choice, or for a fee, you can choose a metal card option.
They offer three accounts: KOHO and KOHO Joint (both with no fees, and 0.5% cash back on all purchases) and KOHO Premium ($9 per month fee, 2% cash back on transportation, groceries and restaurants).
Once selected, the next step is that you need to take a photo of your Government ID. Once entered, a video of yourself is required. You will be looking at the camera reading the displayed numbers while turning your head to authenticate yourself. Once complete, you are granted access and given a virtual card to add to your phone's wallet. You do not need funds to open an account at KOHO. 
Services Offered
Account with no hidden fees (but it is not a full service account because you cannot deposit cheques or cash; can only deposit through e-transfers, direct deposit or Visa debt).
Interac e-Transfer®
Cashback starting at 0.5% with the basic card.
Account perks included: No account fees, Roundups for savings, Extra cashback at select merchants and lock your card in-app.

KOHO Premium is $84 a year or $9 a month with a 30-day free trial. This Premium account offers financial coaching, one free international ATM withdrawal per month, FX fees are waived, and price matching. Read more by clicking here.
KOHO Joint helps share your finances, savings goals as well as instant notifications when you and your partner spend

Earn up to an extra 5% cashback at select merchants (with the premium account, which has a monthly service charge
Free and unlimited Interac e-transfers
Deposits through e-transfer, Visa debit and direct deposit
Visa card that can be linked to Apple Pay, Google PayTM and Samsung Pay®
In-app chat option
Build credit with the Credit Building feature – please note that this option does not notify how high or if your credit score will increase before sign-up; it costs $7 per month, and KOHO reports your credit to a credit bureau each month – we do not necessarily recommend this feature – KOHO "loans" you $200, which is how it is reported to your credit report, but a $200 loan is not generally considered large enough to have a significant impact on your credit score
FX Transaction Fees are 1.5%
You can easily fund your investment account
Round to the nearest dollar with RoundUps
Spend tracking and category Insights
Save with Goals function
Reimbursed for and e-transfer fee for over $20
Service Charges
KOHO Service Charges:
No monthly fees with no minimum balance required
ATM charges $2-$3 for cash withdraw
How To Get a Void Cheque or Pre-Authorized Payment Form
In-app, click the $ symbol: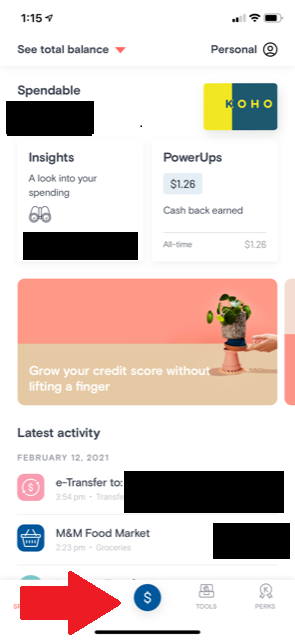 Select Set Up Direct Deposit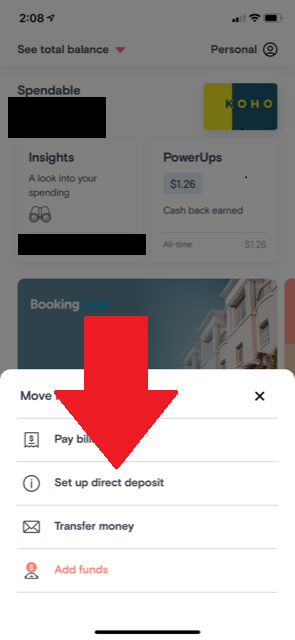 Download the direct deposit void cheque.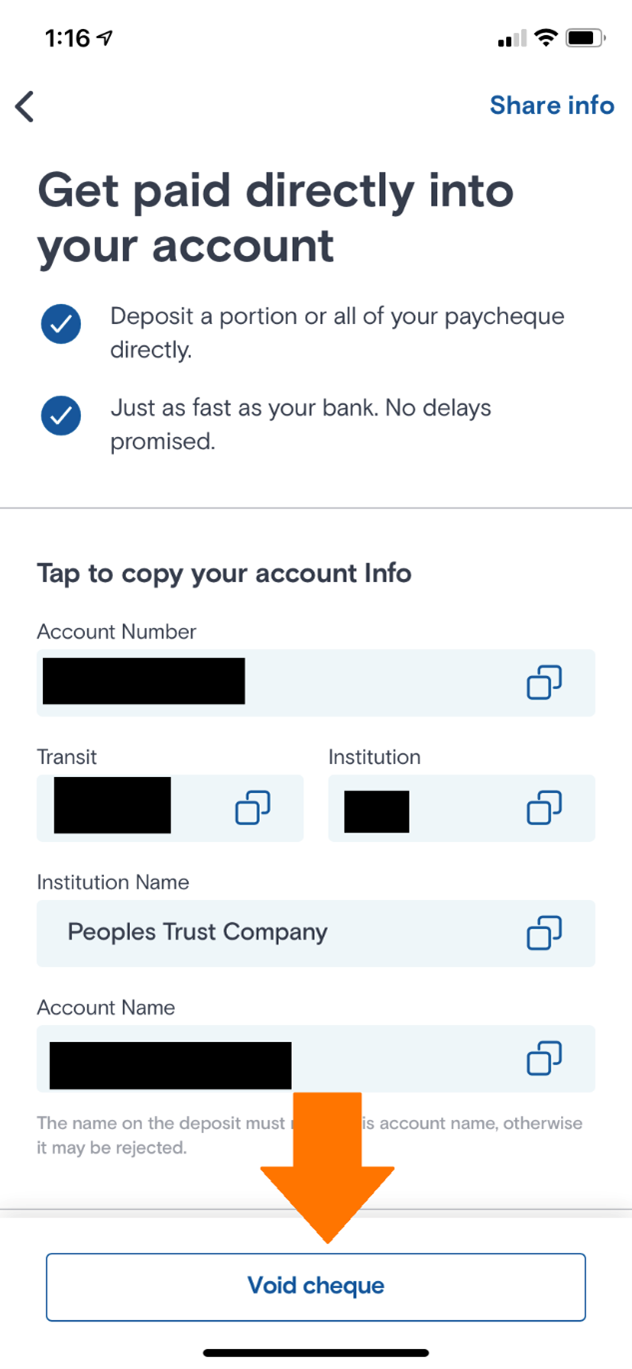 Then, ask your payroll department to have all or a portion of your paycheque go directly to your KOHO account.
Make sure your employer is using the exact information that is on your direct deposit form. The payee name on the direct deposit must match the name on your KOHO account.
Check that the direct deposit will be within your KOHO account's velocity limits.
Since KOHO is a financial service and not a bank, unfortunately, they do not have a swift code or IBAN number, nor can they accept international wire transfers