Despite consumer warnings about the high cost of payday loans, heavily indebted insolvent consumers are using payday loans more than ever before. Joe Debtor is using payday loans not only to meet an emergency expense, but to keep up with existing debt repayment. He is increasing his debt burden such that payday loans become a leading contributor to his filing insolvency.
Our 2017 study results show that one in four insolvent debtors carry a payday loan and the ratio of payday loan induced insolvencies is on the rise.
The composition of consumer debt held by the average insolvent debtor has changed significantly. Traditional bank debt and lines of credit still account for most of Joe Debtor's personal loans; however, the use of alternative lending products has grown.
Payday loan usage among insolvent debtors increased substantially, worsening the trend identified in our 2013 study. Insolvent payday loan borrowers are highly likely to borrow from multiple payday loan lenders and end up owing more in payday loans than they make in a month.
Today, one-quarter of all insolvent debtors carry a payday loan, up from 18% in 2015 and 12% in 2013.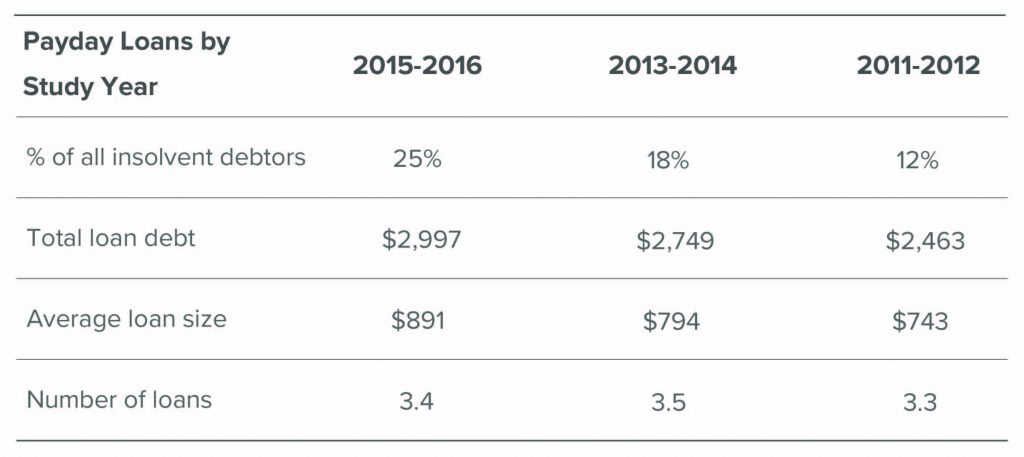 Insolvent debtors using a payday loan now owe a total of $2,997 on 3.4 payday loans. An insolvent payday loan borrower owes a total of 121% of his monthly take-home income to payday lenders.
Why has payday loan debt increased despite consumer warnings about the high cost of these loans? Simply put: cash flow. Struggling financially without access to additional available credit, debtors turn to a payday lender to make ends meet.
Borrowing Cycle Leads to Multiple Payday Loans
Unfortunately for most, this starts a cycle of borrowing that leads to multiple payday loans. Less than one in three insolvent payday loan borrowers have only one payday loan outstanding. The average debtor had 3.4 payday loans outstanding at the time of their insolvency. Multiple loans are not hard to obtain because most payday lenders don't report loans to the credit bureaus and there is no central database to track payday loans.
Less than 1% of insolvent debtors have cash or equivalent savings. 1 in 4 use payday loans #JoeDebtor #EmergencyFund https://t.co/XTSWjWG5Lx pic.twitter.com/PIGy79pwkB

— Hoyes Michalos (@310PLAN) April 7, 2017
Middle- and Higher-Income Earners Are Heavy Payday Loan Users
It is a common misconception that payday loans are used primarily by low-income earners. Our current Joe Debtor study confirms that middle- and higher-income earners are much more likely to use payday loans to excess. The average monhtly income for a payday loan borrower is $2,481, compared to $2,377 for all debtors. Sixty-eight percent of payday loans users are earn over $2,000 a month. In addition, payday loans are as likely to be used by debtors with an income over $4,000 as they are to be used by those with an income between $1,001 and $2,000.
High-income earners are also much more likely to have taken out multiple payday loans than are lower-income earners. Payday loan borrowers with a monthly income over $4,000 have an average of 3.8 payday loans outstanding, while debtors with incomes between $1,001 and $2,000 have 3.2 loans at the time of their insolvency.
Young Debtors Use Payday Loans More Often, Seniors Borrow More
Younger debtors are much more likely to use payday loans than are older debtors, although their average loan size is much smaller even in terms of their income level. Debtors aged 40 to 49 take out the highest number of payday loans, while seniors have the largest average loan size at $1,168 and the highest overall payday loan debt at $3,593.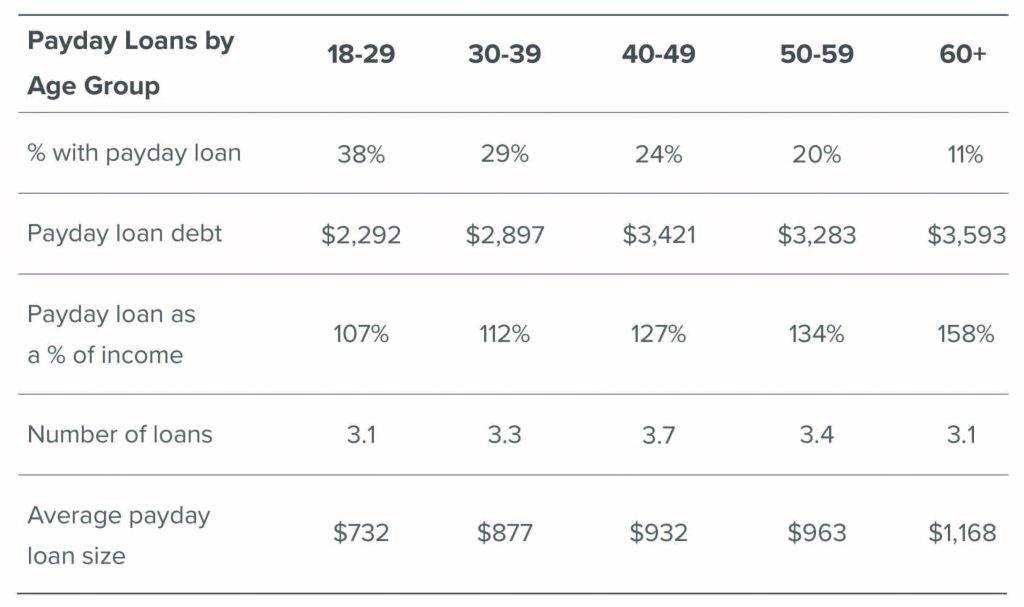 More Alternative Products Adding to Debt Burden
Average payday loan sizes are also increasing. The average typical payday loan increased from $794 in 2015 to $891 in our current study. Payday loan companies, and online lenders, now offer a wider array of products including larger and longer-term cash loans. The use of these alternative, larger term loans is on the rise. In fact, the percentage of individual payday loans with an amount of $2,500 and over has increased to 4% of all payday loans in our current study, up from 2% in 2015 and 1% in 2013.
Payday lenders are not the only alternative borrowing options available for Joe Debtor. Our current study also reveals a growth in instances of other sub-prime lending options among Joe Debtor's personal loans, including online loan lenders and credit repair companies.
Recommended Changes To Payday Loan Legislation
While recent changes to lower the cost of borrowing and restrict high-frequency borrowings are helpful, Hoyes Michalos recommends additional legislative changes to the payday loan industry to reduce the risk of catastrophic results to heavily indebted borrowers turning to payday loans to make ends meet including:
Payday lenders should be required to advertise loan costs in terms of the effective annual interest rate, which currently amounts to 468%. Understanding the true cost of payday loans may discourage heavily indebted consumers from taking on multiple higher cost payday loans.
Payday lenders should be required to report payday loans to the major credit reporting agencies. This will reduce the likelihood that heavily indebted Ontarians will be able to take out multiple payday loans simultaneously from more than one lender.
Low introductory rates should be prohibited, to reduce the temptation for first time borrowers to increase their debt burden with the use of a high cost payday loan they cannot afford to repay.
See also: Hoyes, Michalos submission to the Standing Committee on Social Policy regarding the review of Bill 59: Putting Consumers First Act.