What is a Consumer Proposal?
A consumer proposal is a legally binding arrangement filed with a Licensed Insolvency Trustee to settle your debts for less than you owe. You negotiate a debt repayment plan with your creditors over a period of up to 5 years in exchange for which you keep your assets.
When you file a debt proposal through an LIT, acting as a consumer proposal administrator, you immediately receive legal protection from your creditors under the Bankruptcy and Insolvency Act.
As a proactive solution, a consumer proposal will:
Reduce your debts by up to 70%
Consolidate your debts into one, affordable, monthly payment
Freeze interest on your debts
Stop collection calls and wage garnishments
Will I qualify for a Consumer Proposal?
The best way to determine if a consumer proposal is the right path forward for you is to have a free confidential consultation with a Licensed Insolvency Trustee.
As a federally regulated program, proposals have specific requirements you must meet. To be eligible to file a consumer proposal in Ontario:
You must be able to afford to pay a portion of your debts
Your debts must be greater than the value of what you own
Your unsecured debt must not exceed $250,000 (not including your mortgage)
You must be able to make monthly payments, or one lump sum payment
Most unsecured debts can be eliminated by a consumer proposal.
Who should file a consumer proposal? A consumer credit proposal is considered the #1 alternative to filing bankruptcy.  A debt proposal makes sense if:
You need relief from unsecured debts
You have assets you wish to keep that would be surrendered in a bankruptcy
Your income is high enough that you would be required to make high monthly surplus income payments if you declared bankruptcy
You have an honest desire to repay as much as you can afford
You want to avoid bankruptcy
You work in a profession that requires you to disclose if you have gone bankrupt.
What does a Consumer Proposal cost?
If you have more debt than you can handle, a consumer proposal is usually the lowest cost debt relief option.
Even if you qualify for a debt consolidation loan, you will be repaying all your debts, in full, plus interest. In a debt management plan, you still must repay the full amount of the debt you owe.
A consumer proposal allows you to settle your debt for less than you owe. Your payments are based on a negotiation between what your creditors expect to receive and what you can afford to repay. In most cases, this results in a payment that is much lower than any other debt relief solution.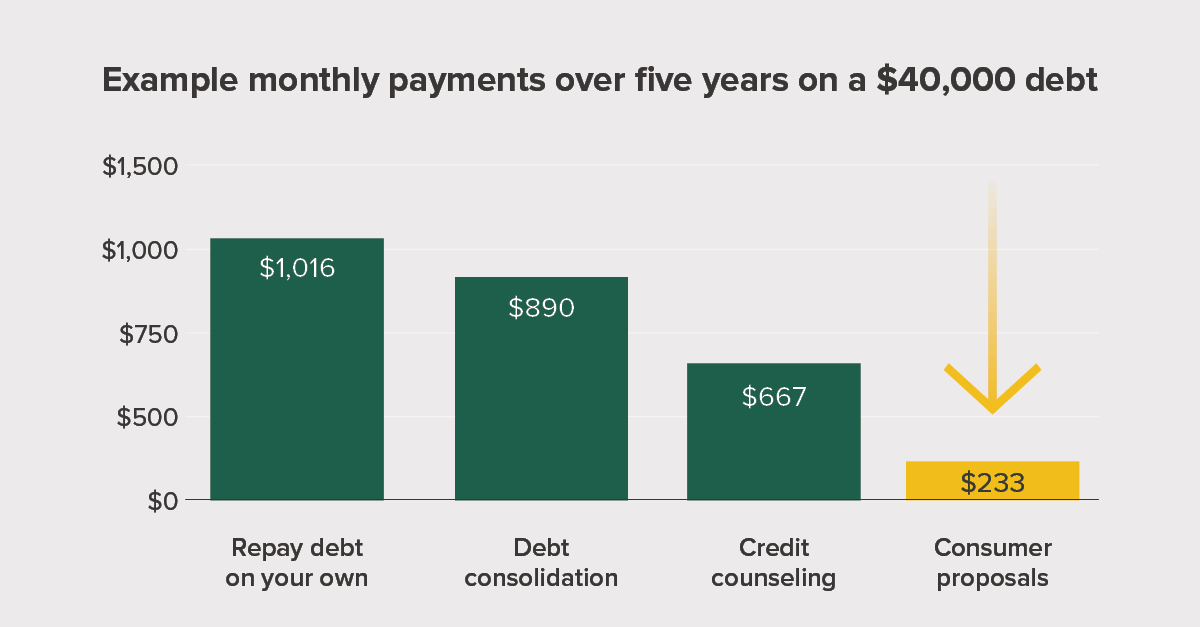 To compare possible payments in a consumer proposal with other options, try our consumer proposal calculator.
Contact us for a free estimate of what your consumer proposal payments might be based on your individual debts and financial situation.
Where do I get a Consumer Proposal?
In Canada, a consumer proposal can only be filed with a Licensed Insolvency Trustee.
Credit counsellors and unlicensed debt consultants cannot legally provide consumer proposal services. All they can do is refer you to a trustee licensed by the federal government like Hoyes, Michalos. You do not need a referral to an LIT (formerly called a bankruptcy trustee) and you should never have to pay an outside consultant to help you prepare any paperwork.
As a Licensed Insolvency Trustee, Hoyes Michalos is licensed to file consumer proposals in Ontario.
All consultations with our licensed experts are free.
We will meet with you as often as you need.
We'll find a solution you can afford.
We have a 99% acceptance rate for consumer proposals we file.
Ready to talk to us about your options?
Book a free consultation today