What Is A Consumer Proposal?
A consumer proposal is a legally binding debt settlement agreement, filed with a Licensed Insolvency Trustee, to repay your creditors a percentage of what you owe in exchange for full debt forgiveness.
For Canadians struggling with monthly debt payments, a consumer proposal plan provides debt relief while avoiding bankruptcy. A consumer debt proposal is the only debt settlement program sanctioned by the Canadian government.
Your payment terms are based on a negotiation between what your creditors expect to receive and what you can afford to repay. Acting as a consumer proposal administrator, your Licensed Insolvency Trustee will meet with you to review your financial situation and help you determine how much to offer.
Settlements of 30 cents on the dollar are not uncommon however every debt proposal is different. Ultimate settlements depend upon your income and what you own. Every proposal to creditors is unique.
Proposal payments can be spread out over a maximum of 5 years and are interest free. In most cases, this can result in savings of as much as 70%-80%.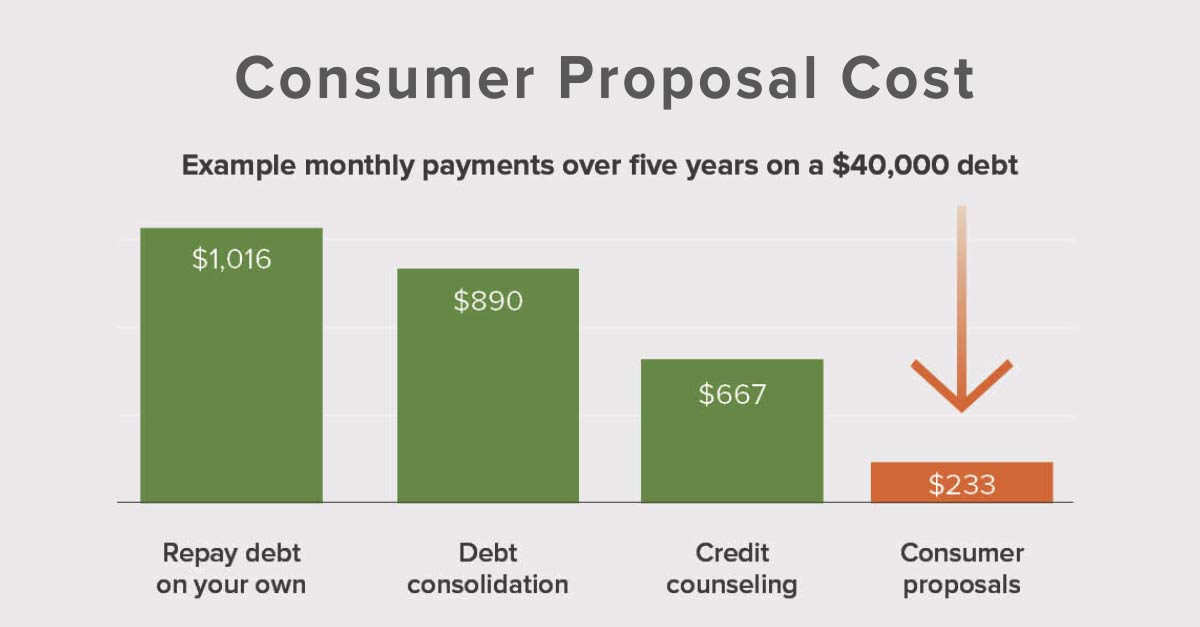 To compare possible payments in a consumer proposal with other options, try our consumer proposal calculator.
What debt does a proposal get rid of?
A consumer credit proposal deals with unsecured creditors and can eliminate almost all unsecured debts including:
A consumer proposal does NOT affect the mortgage on your principal residence or a secured car loan.
Eligibility requirements for filing a consumer proposal in Canada
As a federally regulated program, proposals have specific requirements you must meet to qualify to file a consumer proposal in Canada:
You must be able to afford to pay a portion of your debts;
You must be insolvent, meaning your debts must be greater than the value of any assets you own, or you can no longer keep up with debt payments as they become due;
Your unsecured debt must not exceed $250,000 (not including your mortgage);
You must be a resident of Canada or have property in Canada.
Citizenship is not a requirement to file a consumer proposal. You can be a permanent resident or residing in Canada under a work permit or other immigration status.
If your income is high enough that you would be required to make high monthly surplus income payments and you want to avoid bankruptcy, a consumer proposal program may a good choice for you.
Advantages of Canada's consumer proposal plans
As the #1 alternative to filing bankruptcy a debt proposal provides several benefits over other debt relief options:
Reduce your debts by up to 70%;
Keep all your assets including any equity in your home;
Consolidate debts into one, affordable, monthly payment;
Freeze interest on your debts;
Legally bind all creditors to your offer including payday lenders and the Canada Revenue Agency;
Avoid bankruptcy;
Stop calls from collection agencies and wage garnishments.
A consumer proposal is a legal process under the Bankruptcy & Insolvency Act. When you file a consumer proposal you receive immediate protection from your creditors. If you are having financial difficulties with accounts in collections or are in arrears on payments, a consumer proposal prevents creditors from continuing to pursue you for payment.
As with any repayment program, including a debt management plan, a consumer proposal will impact your credit report for a short while however most clients see an improvement in their credit score shortly after completing the program.  Getting out of debt with a consumer proposal is often the first step to rebuilding credit.
How to hire a licensed insolvency trustee in Canada
In Canada, consumer proposals can only be filed with a Licensed Insolvency Trustee.
A credit counsellor or unlicensed debt consultant cannot legally provide consumer proposal services. All they can do is refer you to a trustee licensed by the federal government to provide insolvency and restructuring services. You do not need a referral to an LIT and you should never pay fees to an outside consultant to help you prepare any paperwork.
As a Licensed Insolvency Trustee, Hoyes Michalos is licensed to file consumer proposals.
All consultations are free
We will meet with you as often as you need
We explain all your debt relief options
We'll find a solution you can afford

We have a 99% acceptance rate for consumer proposals we file
Hoyes Michalos & Associates provides consumer proposal services in the following locations
Other service areas
We offer the convenience of phone and video-conferencing only services for the following additional areas. Many people find it advantageous to begin the initial consultation and debt assessment over the phone or by video. If you decide to file, you can sign and complete your paperwork electronically. Credit counselling sessions can also be completed through video conferencing, which eliminates the need to miss work or schedule a time to attend the office.