Are you looking for debt relief? At Hoyes, Michalos we have been helping people get out of debt since 1999.  In our Markham location we provide the following debt help services:
Consumer Proposals
Personal Bankruptcy
Credit Counselling
Debt Consolidation
Debt Settlement
Our Markham office is lead by Licensed Insolvency Trustee Nicholas To. Nicholas will meet with you personally and carefully review all your options for paying off debt. You may be able to avoid bankruptcy by consolidating and reducing your debt through a formal consumer proposal. Nicholas will take the time to answer all your questions about your debt relief options. He is fluent in Cantonese and is happy to discuss issues in person or over the phone. 提供中文服務
Free Consultation
Imagine what it would be like to be free of worries and debt. The right solution depends on your unique situation. To understand your needs, we provide a free 30 minute, no-obligation debt assessment. Need more than 30 minutes? No problem, we will take as much time as you need to answer your questions. Need a second or third consult before deciding? Again, no problem. All our consultations are free. Book your FREE confidential debt assessment with Nicholas by calling toll free at 1-866-747-0660 or fill in the form on this page to send us an email.
Meet the Markham Team!
Nicholas To is a Chartered Insolvency & Restructuring Professional, Licensed Insolvency Trustee and Consumer Proposal Administrator. Nicholas manages our Markham and Scarborough locations and would be happy to discuss your situation via telephone or email.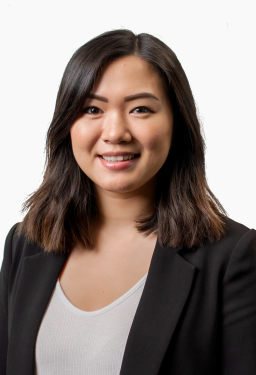 Diana is a Certified Credit Counsellor and Client Service Specialist. She helps clients facing financial difficulty at our Markham and Scarborough offices. She would love to speak to you about your financial situation.
What Our Clients Say
Our concept is simple. If you give us 30 minutes of your time, our knowledgeable, experienced team will help you build a plan to become debt free.

2013 was a big yer for me, it was when I was 19, got approved for my first credit card,... read more2013 was a big yer for me, it was when I was 19, got approved for my first credit card, cell phone, and some loans. However at that age, the goal was to spend spend and spend. I soon learned after a few years,, that it became debt, and debt leads to stress of creditors harassing you.

I began my journey with Hoyes, Michalos & Associates in late 2018 to early 2019. it started with filling out a small questioner that popped up on my facebook at the time, regarding personal debt. after filling out the questioner, few days later had an appointment set, with Nicholas who was a trustee at Hoyes Michalos.

we sat down and discussed my debt, discussed my options based on my budget, and ultimately came up with some solutions. there friendly reminders of your appointment, to excellent help from there team. I can say now that I am debt free, and now can start moving forward in my life towards a better finial future.

I would like to say to anyone out there that is deep in debt, that there is always a better tomorrow, the sun will always rise. just reach out to Hoyes Michalos, and they will help you with all your needs.

I give them 5 star, for the work they have done for me. So join me and become debt free, give them a call, I know I did and look at me now debt free.
Nicholas Ray
1/04/2020

The entire team at Hoyes, Michalos & Associates have been extremely helpful with providing me with all the needed information... read moreThe entire team at Hoyes, Michalos & Associates have been extremely helpful with providing me with all the needed information and processes.
The staff have been friendly, responsive and understanding. Would recommend them 100% and I am giving them high praise for being so good in dealing with all the concerns and issues.
Fred Gaspar
12/23/2019

I was looking for a place to do the proposal and you guys came up and you seemed to meet... read moreI was looking for a place to do the proposal and you guys came up and you seemed to meet my needs. I spoke to Nicholas and he told me to come in and see him, he helped me out and it felt like I hit the nail in the head. Everything went well, there was no stumble in between. Very happy and pleased with the services provided by both Nicholas and Diana.
Steve Ali
11/11/2019
Find Our Markham Bankruptcy Office
DIRECTIONS: Our Markham office is located in a retail-office plaza just west of Warden Ave. on the south side of Highway 7. It is situated next to Hilton Toronto/Markham Suites Conference Centre and across from Markham Civic Centre. There is ample free parking. Since the ground level spots fill up quickly, we suggest you park in the free underground parking. The entrance to the underground parking lot facing the Hilton. Our office address is 3621 Highway 7 East; our building is the shorter of the two buildings, and it is NOT the HSBC Building. We are on the third floor, Suite 308. If you are taking the bus, you can find us at the Town Centre station/stop on the York Region Transit VIVA transit corridor on Highway 7. VIVA Pink or VIVIA Purple lines will bring you right to our door. The Unionville GO Station is approximately 10 minutes away by car/bus and connects to our office via the VIVA Pink bus line. Click here for the VIVA system map.
Debt Consolidation and Consumer Proposal
Home prices in the Markham, Richmond Hill and the Greater Toronto Area have risen, creating equity for many homeowners. If you have significant credit card debt, tax debts or other unsecured debts, you may be wondering if a debt consolidation loan, home equity loan or second mortgage are a good option to consolidate your debts. There are risks however with this strategy, especially if interest rates rise or home prices fall.  Our Markham team can help you review your debt restructuring options and compare the pros and cons of a second mortgage with making a formal, debt settlement offer to your creditors through a consumer proposal. If you would like help becoming debt free, call our Markham team today at 1-866-747-0660.
Similar Posts: