In normal economic cycles, recessions trigger a rapid rise in consumer insolvencies. Not so in 2020. Despite record consumer debt levels among households as we entered the COVID-19 pandemic, and catastrophic job losses due to the economic lockdown, consumer insolvencies in Canada fell to lows not seen in 20 years.
Still, 96,458 Canadians, including 33,992 Ontarians, filed a bankruptcy or consumer proposal in 2020. Our most recent bankruptcy study provides insight into who was filing insolvency during the pandemic and why.
Methodology
As required by law, we gather a significant amount of information about each person who files with us. We examine this data to develop a profile of the average consumer debtor who files for relief from their debt (we call this person "Joe Debtor"). We use this information to gain insight and knowledge as to why consumer insolvencies occur. Our 2020 consumer debt and bankruptcy study reviewed the details of 3,900 personal insolvencies in Ontario from January 1, 2020, to December 31, 2020, and compared the results of this profile with study results conducted since 2011 to identify any trends.
Key Findings
COVID-19 PANDEMIC LEADS TO GENERATIONAL SHIFT IN CONSUMER INSOLVENCIES
Share of insolvencies among older debtors increased in 2020
For the first time in four years, insolvencies shifted back to an older demographic. The share of insolvencies among those 50 and older increased from 28.3% in 2019 to 29.8% in 2020, while the share among younger generations declined. This shift was even more pronounced when we compare insolvencies immediately prior to the pandemic with post-pandemic insolvencies. Post-pandemic, the share among debtors 50 and older rose to 31.4%. Where younger debtors were filing insolvency at increasing rates prior to the pandemic, post-pandemic it is older debtors who continue to struggle with debt repayment.
Income loss not replaced by CERB for older, higher income earners
The unemployment rate among insolvent debtors doubled to 12% in 2020. While job losses impacted all age groups, non-retired seniors (those aged 60 and older) experienced the largest decline in debtor income, down 10.7%. CERB softened the impact of job loss for younger debtors but provided less cushion for older debtors whose employment income tends to be higher.
Older debtors crippled by high debt load
Combine this loss of income with the fact that debt load rises with age, and this explains why we saw a rise in insolvencies involving older Canadians in 2020. Debtors aged 50 and older owed an average of $65,929 in consumer credit, 12.6% higher than the average insolvent debtor. Credit card debt accounted for 41% of their overall debt load, compared to 34% for the average insolvent debtor.
Pre-retirement debtor running out of options
Unfortunately, Canadians have continued to carry much larger levels of consumer debt for much longer. Low interest rates have stimulated the use of more credit by making borrowers feel like debt is affordable. As long as income remained steady, or increased with experience, Canadians could maintain their minimum debt payments. The pandemic changed all that and brought a level of income insecurity not felt by most Canadians in years. While government support and debt deferrals helped alleviate payment demands for some, many older debtors discovered they were running out of time to pay off their debt.
Consumer debt is still a problem
COVID-19 highlighted just how many Canadians were living paycheque to paycheque. Pandemic benefits like CERB certainly helped alleviate the blow, while deferrals, closed courts and shuttered collection agencies reduced payment pressure. However, the financial impact of COVID-19 on debt vulnerable households should serve as a lesson that high levels of debt, at any age, can be catastrophic when combined with a sudden drop in income and that this can happen to anyone.
Joe Debtor: Profile of the Average Insolvent Consumer Debtor
Our typical insolvent debtor in 2020 was 43 years old, more likely to be male and generally single or separated. He owed on average $58,555 in consumer credit including $48,894 in unsecured debt and $9,661 in non-mortgage secured debt.
Below is a demographic and financial profile of the average insolvent debtor in 2020.
Age
The average insolvent debtor in 2020 was 42.9 years old, older than 42.5 in 2019. This was the first time in four years that insolvencies shifted towards an older demographic.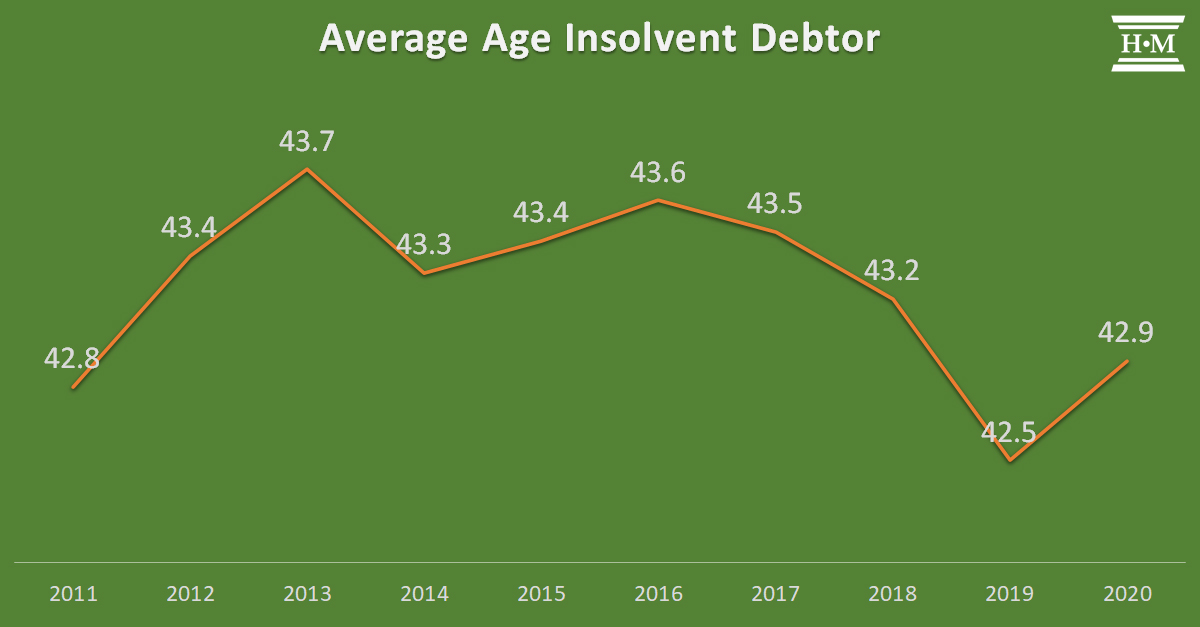 Debtors aged 30 to 39 continue to make up the highest percentage of those filing insolvency, accounting for 29.5% of all filings. However, 2020 saw an increase in the proportion of filers aged 50 and older. Combined, debtors aged 50 and older accounted for 29.8% of all filings, up from 28.3% a year earlier.
| Age Distribution | 2018 | 2019 | 2020 |
| --- | --- | --- | --- |
| 18–29 | 15.5% | 16.5% | 16.5% |
| 30–39 | 29.5% | 30.5% | 29.5% |
| 40–49 | 24.5% | 24.6% | 24.3% |
| 50–59 | 18.0% | 17.4% | 18.1% |
| 60+ | 12.4% | 10.9% | 11.7% |
The sharpest rise was among debtors 60 and older, with their share of insolvencies increasing from 10.9% to 11.7%. Debtors aged 50 to 59 accounted for 18.1% of all files, up from 17.4%.
The share among the largest cohort, debtors in their 30s, declined the most.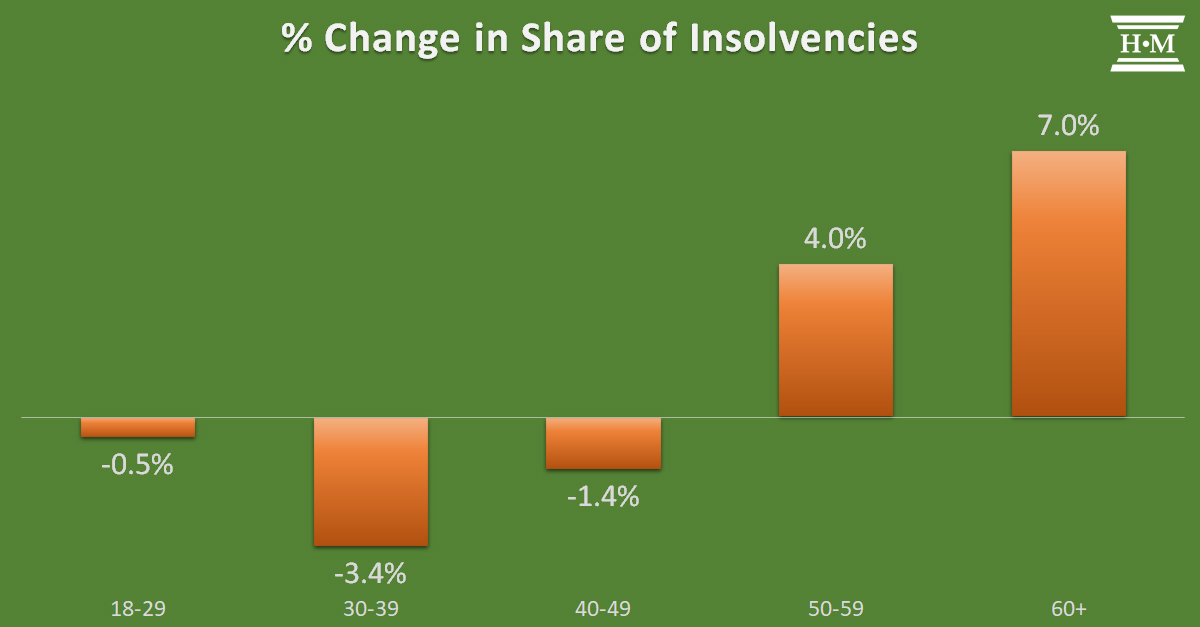 As we shall see, the shift towards an older debtor is largely due to generational differences in debt levels and how COVID-19 affected employment income.
Gender
Males were slightly more likely to file insolvency in 2020, reversing the trend in recent years towards more females filing insolvency. In 2020, 52% of insolvencies were filed by males, compared to 48% for female debtors.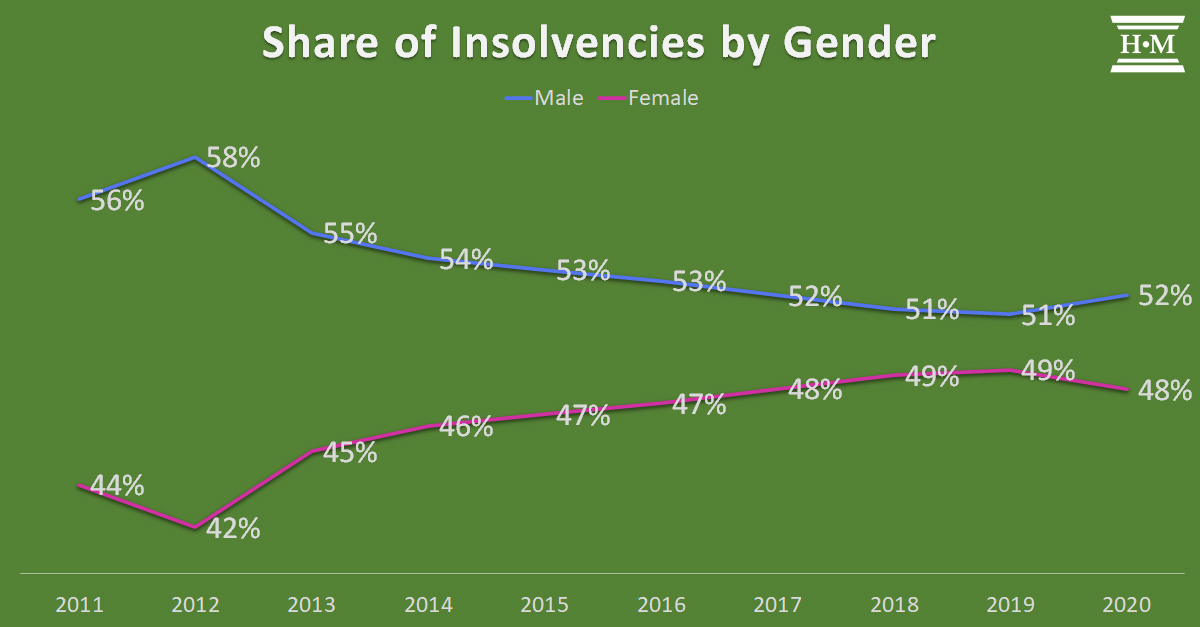 Male debtors owed, on average $64,145 in consumer debt, 22.2% more than the average female debtor. Male debtors had higher personal loan and credit card balances and were 1.2 times more likely to owe tax debts. One in ten (10%) male debtors reported being self-employed, compared to 7% for female debtors. Similarly, male debtors were more likely to list business failure (7%) as a primary cause of their insolvency than female debtors (4%).
Although there is no difference in average age by gender, female debtors were more likely to be in their 30s and 40s (55.4%) than male debtors (52.3%). Women debtors were 3.2 times more likely to be single parents, 1.6 times as likely to carry student debt and were paying for household expenses and debt repayment on a household income that is 5.7% less than the average male debtor.
Jane/Joe Debtor
Female
Male
% of all debtors
48%
52%
Average age
42.9
42.9
Unsecured debt
$44,128
$53,287
Non-mortgage secured debt
$8,362
$10,857
Average debtor income
$2,573
$2,713
Average household income
$2,987
$3,168
Unsecured debt-to-income
143%
164%
% unemployed
11%
13%
% divorced
26%
20%
% with dependant(s)
41%
29%
% lone-parents
26%
8%
% with student debt
25%
16%
Average student debta
$15,744
$14,539
% with tax debt
29%
36%
Average tax debta
$10,971
$19,486
a – those with student loans or tax debt
Marital Status and Household Size
Despite a shift towards older filers, Joe Debtor was still more likely to be single. In 2020, 43% of all debtors were single, while 32% were married. Women were more likely to be separated (26%) or widowed (3%) than male debtors (20% and 1%, respectively).
| Marital Status | 2018 | 2019 | 2020 |
| --- | --- | --- | --- |
| Single | 42% | 42% | 43% |
| Married / Common Law | 32% | 33% | 32% |
| Divorced / Separated | 23% | 23% | 23% |
| Widowed | 3% | 2% | 2% |
In 2020, 35% of insolvencies involved households with at least one dependent. Not surprisingly, those in their 30s and 40s were most likely to have had a dependent (46% and 51%, respectively). However, almost 1 in 4 (24%) debtors in their 50s had a dependent child, parent or other relatives at home, a rate that was higher than in recent years.
The percentage of lone parents fell slightly to 16.9% in 2020, from 17.2% a year earlier.
| Household Size | 2018 | 2019 | 2020 |
| --- | --- | --- | --- |
| 1 | 52% | 51% | 51% |
| 2 | 21% | 22% | 22% |
| 3 | 12% | 12% | 12% |
| 4 | 10% | 9% | 9% |
| 5 | 4% | 4% | 4% |
| 6 or more | 1% | 2% | 1% |
| Average household size | 2.0 | 2.0 | 2.0 |
| % households with a dependent | 35% | 29% | 35% |
| % lone parents | 16.7% | 17.2% | 16.9% |
We also noticed an increase in one-income households among two-parent families (2 adults plus a dependant). In 2020, 34% of two-parent households were one-income households, up from 29% in 2019. The economic fallout from COVID-19 turned many two-income families into one-income households, making it much more difficult to keep up with living costs and debt repayment.
Employment Status
The unprecedented scope of job losses due to the pandemic had a significant impact on Canadians, including those filing insolvency.
Since beginning our study in 2011, the percentage of debtors who were employed at the time of filing has averaged 80% and never fallen below 78%. In 2020, that employment rate fell to 72%.
| Employment Status | 2018 | 2019 | 2020 |
| --- | --- | --- | --- |
| Employed | 81% | 80% | 72% |
| Unemployed | 5% | 6% | 12% |
| Retired | 7% | 6% | 7% |
| Disability | 5% | 6% | 7% |
| Other | 2% | 3% | 2% |
More than two in five (44%) debtors listed job loss, business failure or income reduction as a primary cause of their insolvency, up from 33% a year earlier.
| Primary Cause of Insolvency | 2018 | 2019 | 2020 |
| --- | --- | --- | --- |
| Financial mismanagement | 61% | 62% | 63% |
| Job loss, business failure, income reduction | 31% | 33% | 44% |
| Health, illness or injury | 16% | 19% | 18% |
| Marital or relationship breakdown | 13% | 14% | 12% |
Not surprisingly, the highest rate of unemployment was among debtors 18 to 29 at 16.6%. Young debtors were much more likely to be employed in industries highly impacted by COVID-19 including restaurant, retail and other service businesses.
However, this was followed by non-retired seniors (15.4%) and debtors in their 50s (13.2%). As older workers tend towards higher paying jobs, as we shall see, job loss among older debtors had a significant impact on income.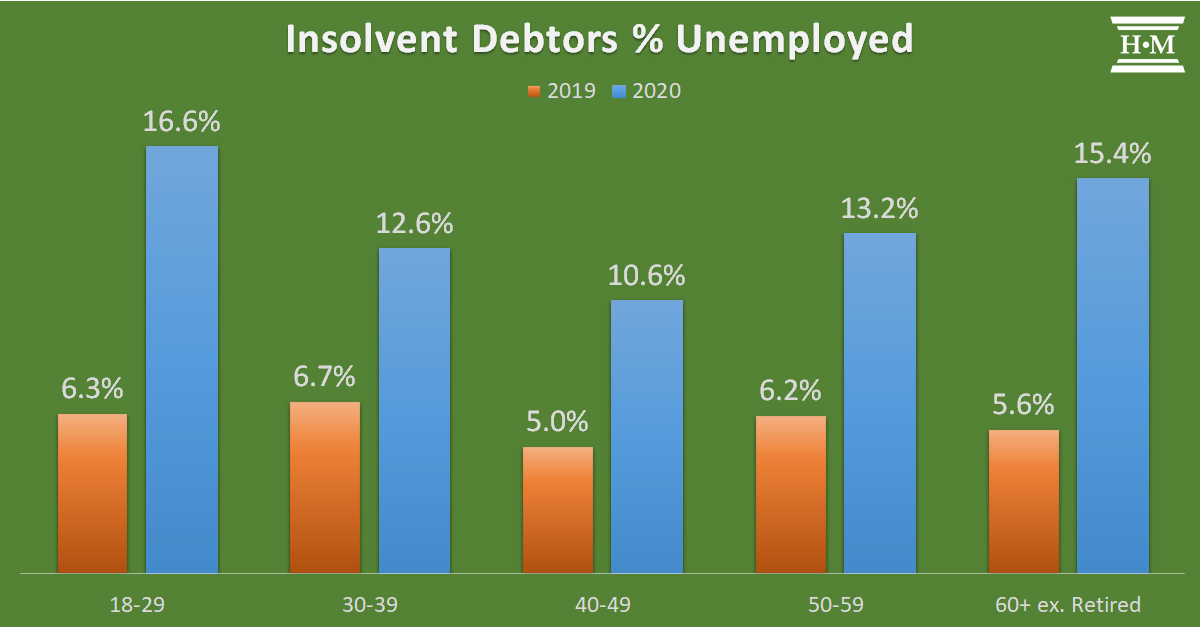 Income and Expenses
Despite a 12% unemployment rate among insolvent debtors, double the norm, Joe Debtor's after-tax monthly income declined only 1.6% to $2,646. Household income dropped 2.6% to $3,081. It is interesting to note that average debtor income among unemployed debtors rose 43% to $1,774 in 2020, with much of this increase likely due to the impact of CERB.
There were, however, significant differences in income loss by age group and it is these differences that contributed to the shift towards an older debtor.
| Income | Debtor | % Change | Household | % Change |
| --- | --- | --- | --- | --- |
| 18–29 | $2,268 | -2.6% | $2,519 | -2.3% |
| 30–39 | $2,734 | -0.9% | $3,249 | -0.4% |
| 40–49 | $2,935 | 0.6% | $3,406 | -4.3% |
| 50–59 | $2,692 | -0.6% | $3,100 | -0.6% |
| 60+ | $2,283 | -8.5% | $2,746 | -6.6% |
| 60+ ex. Retired | $2,541 | -10.7% | $2,978 | -9.3% |
With an unemployment rate of 15.4%, the largest decline in income was experienced by non-retired seniors aged 60 and older. Debtor income for seniors not retired at the time of filing dropped 10.7%, while their household income declined 9.3%.
Employed senior debtors earned a higher income than younger debtors. In 2020, debtors aged 60 and older who were employed earned an average monthly take-home income of $2,863, 16.9% higher than that of a working debtor aged 18-29. It is highly likely that for seniors who lost their job during COVID, not all their income loss was replaced by CERB.
In addition, 60% of senior debtors reported living in a single-person household, and 75% are one-income households. A job loss or income reduction in these circumstances is catastrophic.
In contrast, debtors aged 18-29 earned an average monthly income of $2,268, the lowest level of all age groups and closer to the gross CERB payment.
In other words, unemployed senior debtors experienced a larger drop in income from job losses triggered by COVID-19 than did unemployed younger debtors. As we shall see below, this, coupled with a higher debt load, moved insolvencies towards an older demographic in 2020.
Debt Profile of the Average Insolvent Debtor
The average insolvent debtor in 2020 owed $58,555 in consumer credit, including $48,894 in unsecured debt and $9,661 in non-mortgage secured debt.
| Consumer Debt Profile | 2018 | 2019 | 2020 |
| --- | --- | --- | --- |
| Personal loans | $16,945 | $18,592 | $20,553 |
| Credit card debt | $15,905 | $14,885 | $16,548 |
| Tax debts | $8,835 | $7,424 | $5,208 |
| Student loans | $2,597 | $2,817 | $3,114 |
| Other unsecured debt | $5,008 | $5,243 | $3,470 |
| Average Unsecured Debt | $49,289 | $48,963 | $48,894 |
| Other secured debt | $8,550 | $9,960 | $9,661 |
| Total Consumer Credit | $57,840 | $58,923 | $58,555 |
Average debt load was relatively unchanged from 2019, however we did notice several important trends:
Insolvent debtors in 2020 had fewer, larger loans. The average number of debts by filer fell to 9.5 from 9.8 in 2019, while the average debt size increased 3.3%.
Debtors owed fewer small dollar debts and more higher dollar debts, moving the median unsecured debt up 5.4% to $35,825.
Credit card debt increased to levels not seen in 6 years. Balances rose across all age groups except for debtors 60 and older who already have the highest level of credit card debt.
Personal loan balances increased to the highest average since conducting our study.
Average student debt continued to increase, up 2.7% for those with a student loan.
Payday loan debt continued to escalate, up 13.0% for those with a payday loan.
Tax debts and accounts in collection declined.
Below are some additional debt insights.
Credit Cards
Average credit card debt increased 11.2% to $16,548, the highest level of credit card debt among insolvent debtors since 2014.
It is likely that credit card payment deferrals were a contributor to this rise. TransUnion data1 indicated that 32% of accounts deferred in the second quarter of 2020 were credit card accounts. The Canadian Bankers' Association2 reported that Canada's banks provided more than 479,000 individuals with credit card payment deferrals in 2020.
A higher unemployment rate among insolvent debtors this past year would also have put upward pressure on credit card balances as debtors maxed out their credit cards to pay for living costs.
Finally, older debtors tend to carry higher credit card balances. The shift in insolvencies to an older debtor would also have driven up average balances among all debtors.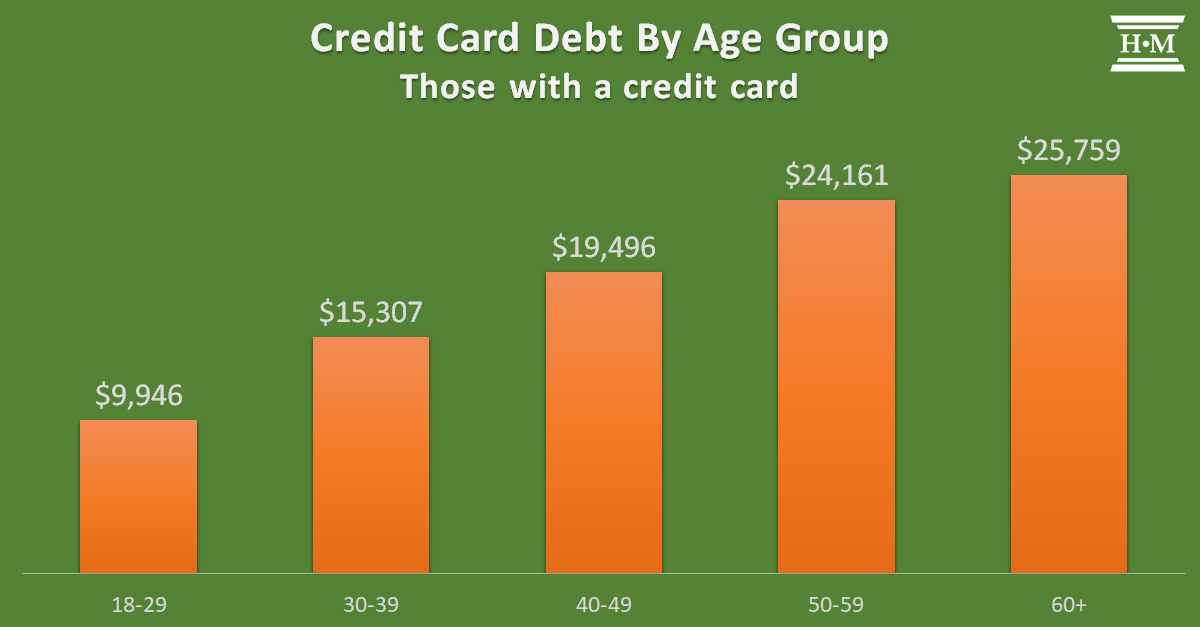 The percentage of debtors with a credit card rose to 90%, up from 89% in 2019. Joe Debtor carried an average of 2.9 credit cards.
60% carried a traditional bank card (including new online banks like Tangerine and Simplii), and if they did, the average balance they owed was $15,937.
63% carried a non-bank all purpose card (Capital One, MBNA, American Express, Affirm Financial, a credit union, Walmart, President's Choice, Rogers, for example) and those who did owed an average of $6,872
36% carried a retail card (Canadian Tire, Flexiti, HBC, for example), and those who did had an average balance of $7,470.
Personal Loans
Personal loans include loans from traditional lenders, financing companies, new online or fintech lenders, traditional payday lenders and private loans. They include overdrafts, lines of credit, installment loans, payday loans and vehicle loan shortfalls.
Personal loans were the largest form of unsecured debt owed by an insolvent debtor, representing 42% of all his unsecured balances. The average insolvent debtor owed $20,553 in personal loan debt, up 10.5%.
79% of debtors had a loan with a bank or credit union. For those who did, their average loan balance was $17,815.
28% had a high-interest installment loan with an alternate lender (Fairstone, Easy Financial, Borrowell, for example). Those who did owed an average of $8,942. These quick and easy loans are of particular concern as they usually carry an interest rate between 39% and 59% plus fees and insurance.
Payday Loans
Included in personal loans are debts owing to traditional payday lenders. Almost 2 in 5 (38%) debtors had a loan from a payday lender, relatively unchanged from 39% in 2019.
However, among those with a payday-style loan, the average payday loan debt rose 13.0% to $6,534 and the average payday loan size continued to increase, up 9.7% to $1,770. The percentage of high-dollar loans ($2,500 and up) rose to 25% in 2020, up from 21% a year earlier and just 15% in 2018.
Payday Loansa
2018
2019
2020
% with payday loans
37%
39%
38%
Average payday loan debt
$5,174
$5,760
$6,534
Average payday loan size
$1,321
$1,613
$1,770
Average number of loans
3.9
3.6
3.7
% loans $2,500+
15%
21%
25%
a – those with a payday loan
Younger debtors were more likely to visit a payday lender. However, older debtors were more likely to take out larger dollar, longer-term loans.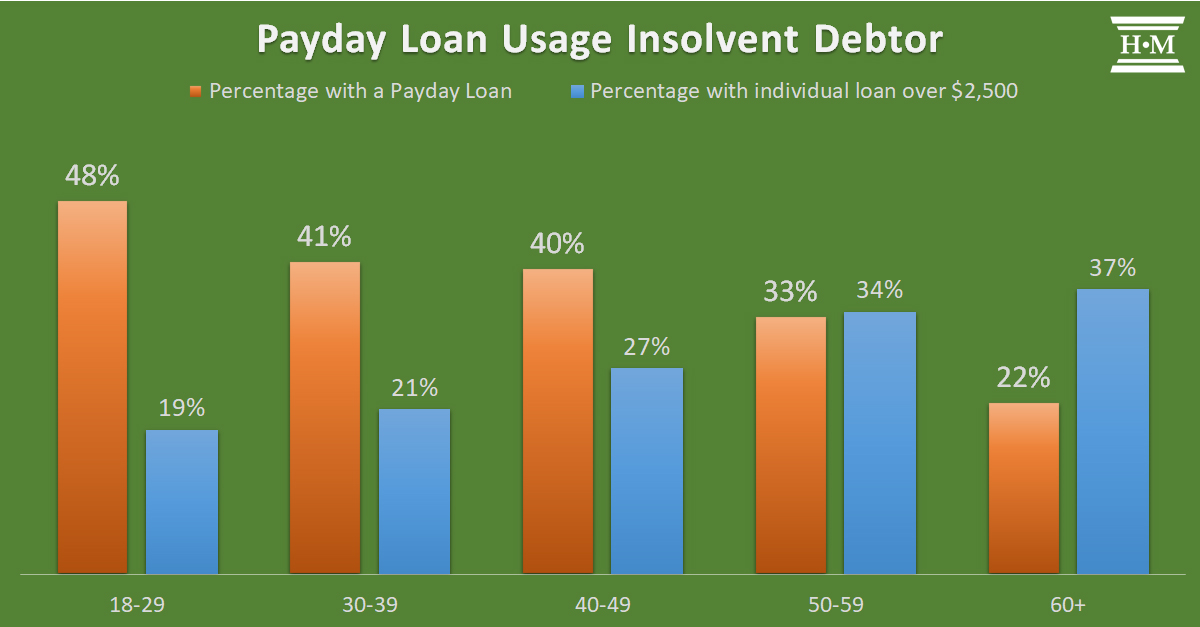 The result was that older debtors owed significantly more to payday lenders than younger debtors. While only 22% of seniors 60 and older carried a payday loan, 37% had an individual loan value over $2,500, and they owed on average $7,806 to payday lenders, 58% more than younger debtors.
Payday Loans by Age Groupa
Payday Loan Debt
Average Loan Size
Average # Loans
18-29
$4,939
$1,345
3.7
30-39
$6,160
$1,556
4.0
40-49
$7,379
$1,960
3.8
50-59
$7,483
$2,265
3.3
60+
$7,806
$2,477
3.2
a – those with a payday loan
It should be noted that, while CERB could not be garnisheed by creditors, payday lenders were willing to lend money to Canadians collecting CERB or EI, just as they are willing to loan against CPP and pension income.
The line between alternative easy lenders and payday lenders is blurring as payday lenders offer easy to get lines of credit and installment loans. Combined, 46% of debtors have at least one high-cost loan from a payday lender or an alternative easy lender.  One in five (20%) owe money to both types of lenders.
Vehicle Loans and Shortfalls
More than two-thirds (68%) of insolvent debtors in 2020 owned a vehicle at the time of filing, with an average trade-in value of $11,819.
Almost 2 in 5 (39%) owned their vehicle outright. The average value of an owned vehicle in our study was $3,878, significantly below the 2020 exemption limit of $6,600 in Ontario. (The exemption limit for vehicles was raised to $7,117 in January 2021.)
However, that means that 61% of debtor's vehicles were financed. The average value of a financed vehicle was $16,793, against which they had a secured loan of $16,930.
While the percentage of financed vehicles with a shortfall declined to 24% from 28% in 2019, the average shortfall amount increased sharply to $12,559, up 21.0% from 2019. This rise in the average vehicle loan shortfall may have been due to more debtors deferring or defaulting on car loan payments during the pandemic.
Student Debt
The proportion of insolvent debtors with student debt rose again, reaching 20.4% of all insolvent debtors in 2020, up from 19.0% in 2019. This despite a six-month payment and interest freeze on Canada Student Loans available up until September 2020.
It is important to understand that an insolvent student debtor is not a recent graduate. She (59% of student debtors are female) is, on average, 35 years old and has been out of school for 12 years or more. Under Canadian bankruptcy law, student loan debt is not automatically discharged by bankruptcy or a consumer proposal unless the debtor has been out of school for at least seven years.
Average student loan debt among those filing with student loans was $15,251, up 2.7%. On top of this, the average student debtor owed an additional $42,783 in consumer debt.
Student Debta
2018
2019
2020
% with student debt
17.6%
19.0%
20.4%
Average student debt
$14,729
$14,850
$15,251
Consumer debt
$53,033
$55,350
$58,034
Average age
34.6
34.8
35.2
a – those with student debt
Tax debt
Tax debts were less prevalent among those filing insolvency in 2020. One-third (33%) of debtors owed taxes, primarily to the Canada Revenue Agency, down from 37% in 2019. For those who did, they owed an average of $15,866, down 20.7% from the year before.
Men were more likely to owe taxes at the time of filing (36%) than women (29%). Male debtors with a tax obligation owed $19,486, compared to $10,971 for female tax debtors.
Due to the pandemic, the Canada Revenue Agency ceased making collection calls until the fall of 2020, contributing to the decline in tax balances in 2020.
Other debt
Other unsecured debt primarily consists of accounts in collection, bill payments and lawsuits.
Average other debts declined 33.8% to $3,470. During the initial months of the pandemic, collection agencies and courts were closed. This significantly reduced the pressure to file for many debtors with accounts in collection.
Debt to Income and Servicing Costs
It is not unemployment that drives insolvency, nor is it absolute debt level. It is the inability to maintain debt payments.
The average debt-to-disposable income ratio in Canada was 170.7%3 in the third quarter of 2020. This number includes both mortgage debt and consumer credit. The consumer credit portion of this ratio was 46.7%4. The average insolvent debtor had a consumer debt-to-income ratio of 154%, more than three times the national average.
Worse, this ratio increases with age. In his 20s, Joe Debtor owed 154% of his income in consumer debts. However, before retirement, when his debts should be paid off, Joe Debtor owed 203% of his income in his 50s and 226% in his 60s. And while all were debt-vulnerable to income loss during the pandemic, debtors in their 50s and 60s had much less time to recover.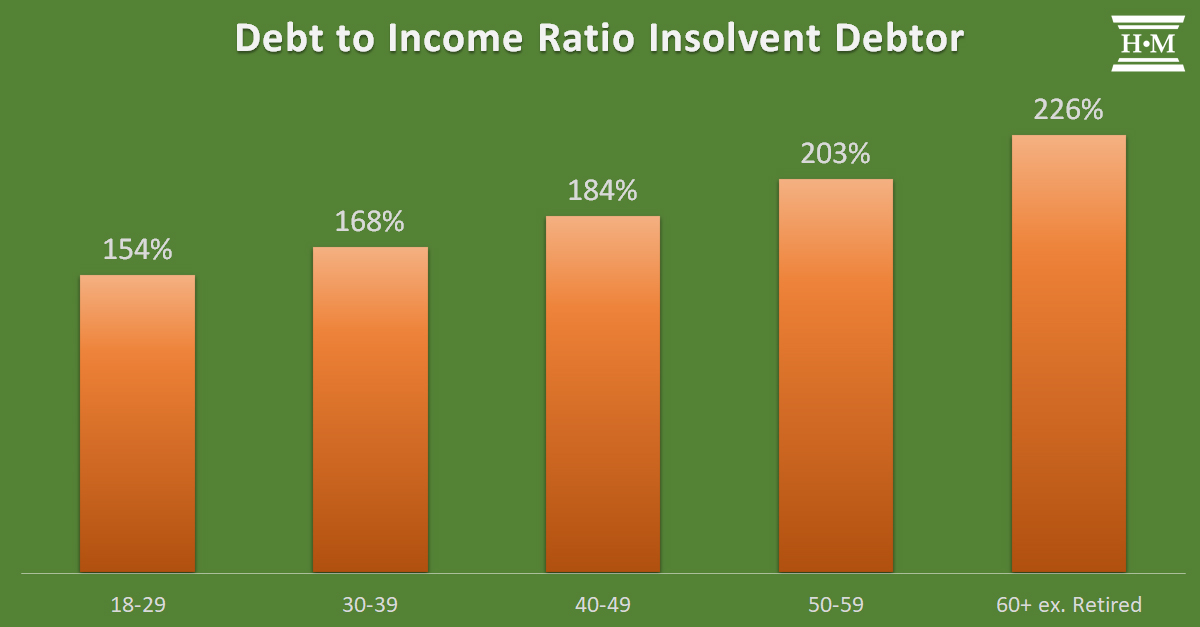 The Bank of Canada considers someone with a debt service ratio (percentage of income used for debt payments) of 40% to be financially vulnerable. The average insolvent debtor's interest-only servicing costs are above that threshold. Joe Debtor's interest costs5 amounted to $1,239 each month on an average income of $2,646. In other words, 47% of his income was needed to pay only the interest on his debts. This is impossible when he had only $241 in available monthly cashflow remaining after paying for living expenses.
The solution is often to take on more debt to survive. This is why this ratio does not decline as his income grows and is, in fact, marginally higher for debtors 40 and older.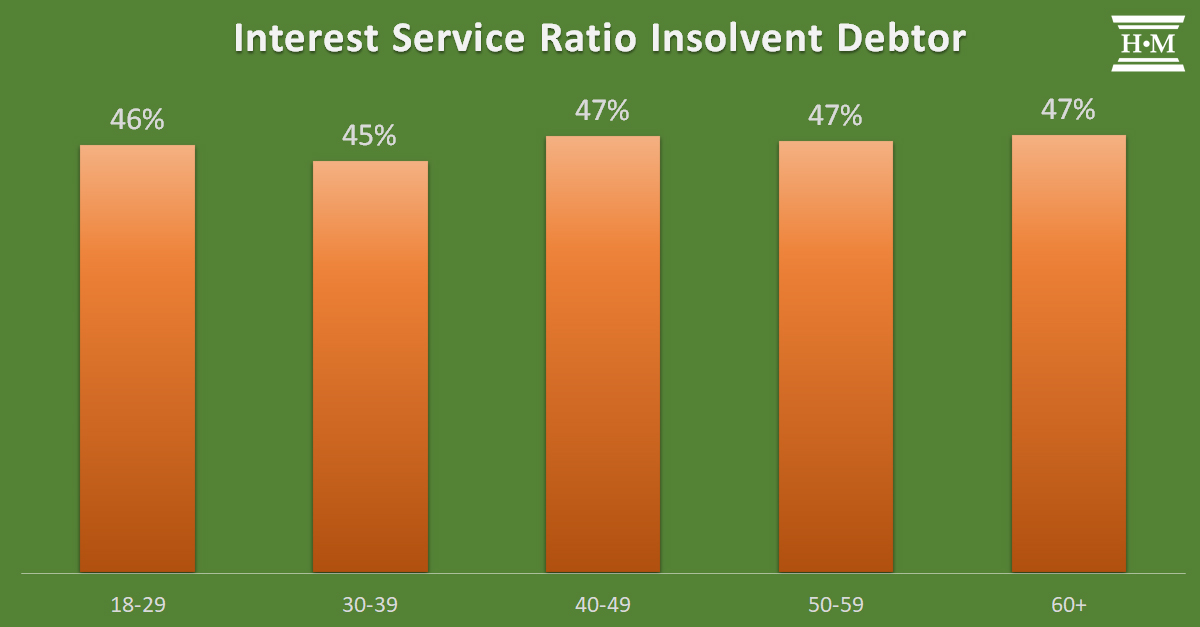 The average insolvent debtor is not just buried in debt, he is buried in interest payments. He has no hope of eliminating his debt in his lifetime, except through a consumer proposal or bankruptcy. The pandemic jolted many older debtors into understanding that, while they may have been able to defer or avoid payments for a while longer, eventually, time would run out.
Pre and Post COVID Shutdown
In the ten months before the pandemic, Ontario consumer insolvencies were increasing 18% annually. In the 10-month period after the pandemic, insolvencies fell by 32% year over year.
To understand the differences in the profile of filers before and after this monumental shift, we separated our 2020 data into pre- and post-COVID periods. We used March 16 as our cut-off date, the date the province of Ontario recommended the closure of recreational programs, bars and restaurants. This was followed by a state of emergency, closing non-essential businesses on March 17. Due to the limited data sets, we have kept our analysis to a few key statistics.
Joe Debtor 2020
Pre Shutdown
Post Shutdown
Personal information:
Male
51%
53%
Female
49%
47%
Average age
42.2
43.2
Age Distribution
18-29
16.9%
16.2%
30-39
30.8%
28.9%
40-49
25.9%
23.5%
50-59
16.6%
18.8%
60+
9.9%
12.6%
Average monthly income (debtor)
$2,759
$2,590
Total consumer debt
$58,997
$58,337
This analysis confirms our overall findings:
The pandemic flipped the direction of insolvency filings generationally. Older debtors filed at a higher rate post-shutdown. Prior to the shutdown, the share among younger debtors was continuing to increase.
Male debtors were more likely to file than female debtors post-shutdown.
Average income dropped as a result of the pandemic.
Overall problem debt balances remained largely unchanged, down only 1.1%.
Media Inquiries
If you would like to request an interview or need background information, please contact:
Email Doug: doug@hoyes.com
Email Ted: ted@hoyes.com
or phone 1-866-747-0660.
How to cite: Hoyes, Michalos & Associates Inc. Annual Bankruptcy Study, 2020. Published February 8, 2020. https://www.hoyes.com/press/joe-debtor/
Douglas Hoyes, CPA, Licensed Insolvency Trustee, Co-founder Hoyes Michalos.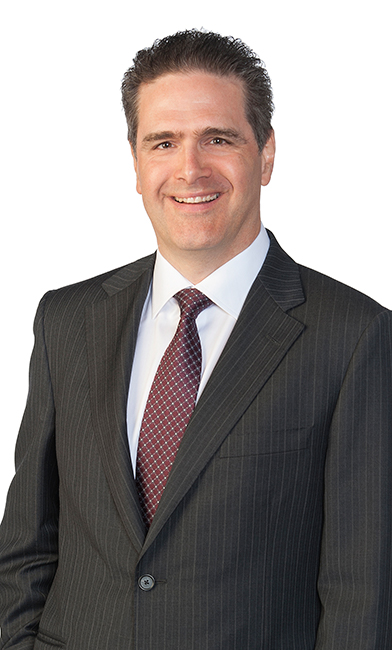 Doug was inspired to bring his financial experience to work by helping individual people not corporations rebuild their financial future. Doug advocates for consumers needing debt relief to ensure they receive a fair and respectful debt management solution. He regularly comments in the media including publications and networks such as Canada AM, Global News, CBC, The Globe and Mail, The Toronto Star, Business News Network, The Financial Post and CTV News. Doug also posts regularly to our blog, on Twitter, Google+, and Huffington Post Canada.
Ted Michalos, CPA, Licensed Insolvency Trustee, Co-founder Hoyes Michalos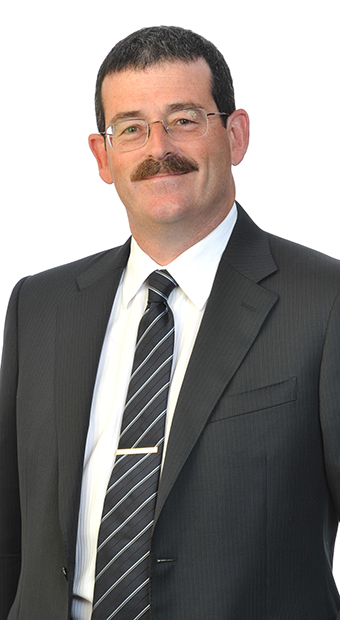 Ted Michalos strongly believes that debt management advice should be delivered without gimmicks and without tricks. He is enthusiastic about ensuring clients understand all of their options and that Hoyes Michalos helps them develop a custom-tailored plan to deal with their debts. Ted is a prolific writer, contributing answers and advice on our blog and on several insolvency and debt relief sites, including Advisor.ca. He has appeared as an expert on bankruptcy and debt-related matters including appearances on CBC News, Global TV and Business News Network.
Company Background
Hoyes, Michalos & Associates Inc. is a Licensed Insolvency Trustee firm that has provided personal bankruptcy and consumer proposal services to individuals in Ontario since 1999. Co-founded by Doug Hoyes and Ted Michalos, we are one of the largest firms in Canada practicing exclusively in the area of personal insolvency. With offices throughout Ontario, Hoyes Michalos provides real debt management solutions to help Ontarian's climb out of debt.
Get Industry Insights
Hoyes Michalos issues monthly consumer insolvency updates delivered straight to your inbox. Sign up for future releases and our annual Joe Debtor study.
You can unsubscribe from e-alerts at any time. Read our privacy statement here.
You have been added to our industry insights list. We will notify you as we publish monthly consumer insolvency updates, as well as, share our annual bankruptcy study.
If you would like to request an interview or need background information, please contact:
Email Doug: doug@hoyes.com
Email Ted: ted@hoyes.com
or phone 1-866-747-0660.
External Sources:
TransUnion Q2 2020 Industry Insiders Report
Calculated by Hoyes, Michalos from data available on https://www150.statcan.gc.ca/t1/tbl1/en/tv.action?pid=3810023801
Debt servicing costs on unsecured debt as calculated by Hoyes Michalos
| Joe Debtor | 2018 | Interest Rate |
| --- | --- | --- |
| Payday loansa | $2,495 | 307% |
| Other personal loans | $18,058 | 15% |
| Credit card debt | $16,548 | 19% |
| Taxes | $5,208 | 5% |
| Student loans | $3,114 | 7% |
| Other debts | $3,470 | 25% |
| Estimated blended rate | $48,893 | 30% |
| Estimated monthly interest | $1,239 | |
a – average for all debtors, blended rate between traditional & installment