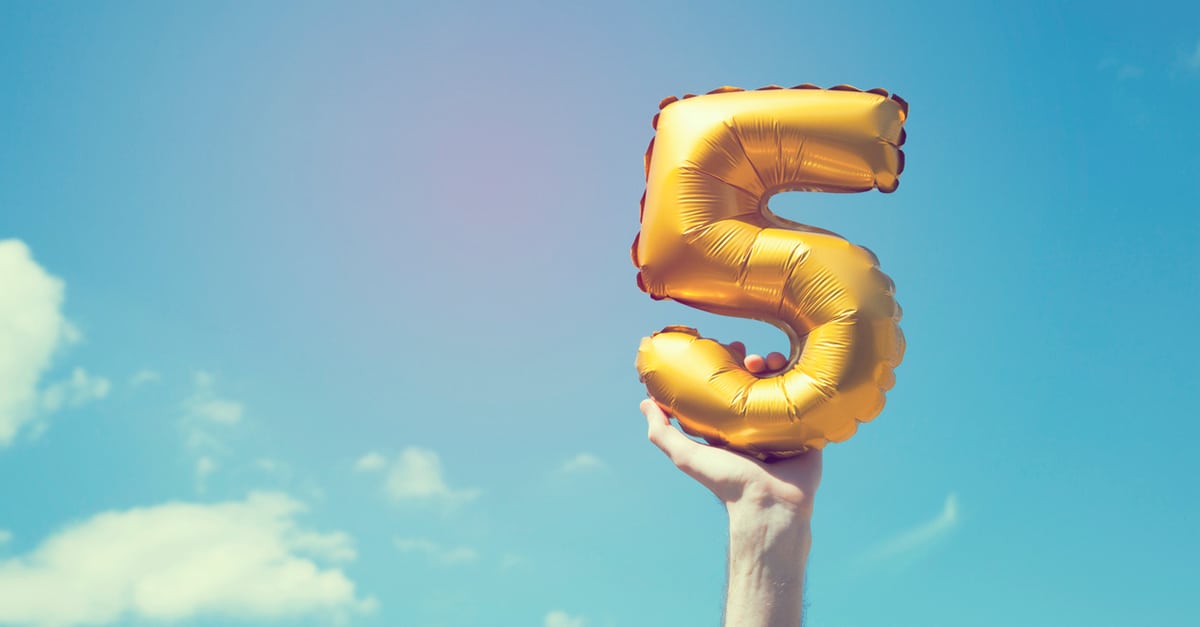 September is a time for a fresh start. The kids are back in school, everyone's back to work after their summer vacations, and it's a whole new season here on Debt Free in 30.
I want to start by thanking you, the listener. The number of downloads of each episode was up a lot last season, so thank you for making time for Debt Free in 30 in your busy lives.
I know that some of you listen to every episode, and that's great, thank you.
I also know that many of you download the podcast automatically each week, and check out the title and the guest, and decide if it's a topic you want to invest 30 minutes to explore.  That's great.  Not every episode is for everyone, so picking and choosing is an excellent strategy. That's one reason why we try to have a broad variety of guests and cover a wide variety of topics. There is no one size fits all solution to financial problems. Everyone's situation is different. Everyone's perspective is unique.
I started this podcast four years ago because I believe that excessive consumer debt is a serious problem, and part of the solution to that problem is to talk about it.  If I can present some alternative viewpoints or strategies you haven't considered, I've done my job.
Over the next twelve months debt will be a very timely topic
In the last twelve months, the Bank of Canada raised interest rates by a quarter of a percentage point four times.  While interest rates remain at historically low levels, they are a full percentage point higher than they were at this time last year.  That may not sound like much, but an increase of 1 point when your mortgage was 3 points isn't an increase of 1%, it's an increase of 1 over 3, or 33%.  That's a huge increase, particularly if you have a line of credit where you pay interest only.  That's a big increase.
How many people do you know whose income went up 33% in the last year?  Not many, I'm guessing, but that's the interest rate increase some people were hit with, and that will have an impact.
The real estate market is showing signs of weakening, and that makes it more difficult for people to refinance their house to get the money to pay off their credit card debts.  We aren't seeing many real estate related bankruptcies, yet, but that may be a topic we discuss a lot more over the next few months.
The bankruptcy rate fell for 8 straight years here in Ontario, but trended upward in April and May. Is that a blip, or the start of a trend? It's too early to tell, but I guarantee you this: if it does become a trend, we'll be discussing it here on the podcast.
Before we look ahead to Season 5, here's a quick recap of Season 4
In the first three years of this podcast my guests and I talked a lot about bankruptcy and consumer proposals.  That's understandable, since that's the core of what we do here at Hoyes Michalos. However there's more to becoming debt free, and remaining debt free, than just filing bankruptcy. So, over the past year we've expanded our discussion to more and more areas around personal finance and managing money.
If the big increase in downloads are any indication, I think we succeeded.
It was a pleasure to welcome many first-time guests, like Alan Whitton, the Big Cajun Man, and some real estate experts, like Scott Ingram, Rachelle Berube and Alex Avery, and authors like Gordon Stein and Robert Gignac.  It was also a pleasure to have many returning experts, like Gail Vaz-Oxlade, Kerry Taylor, and Robert Brown.
We covered some diverse topics, like whether blockchain technology can save the credit score system and how the Diderot Effect causes to you spend more than you should.  We talked with experts who gave us advice about RDSPs and how to rent a place to live if you have poor credit.
But this is still a podcast about debt, so I started last season explaining how our emotions can lead to debt problems, and I did shows on why you should never loan money to family and friends, and discussed why, unfortunately, payday loans won't go away.
And of course I did many shows that explored themes from my book that was released at the start of season 4.  You know the book: it's Straight Talk on Your Money…The Biggest Financial Myths and Mistakes, and How to Avoid Them. I received lots of great messages from readers, so thanks to those of you who've read the book, and if you haven't, it's still available at better bookstores across Canada, and on Amazon and Indigo on-line.  There is also a Kindle and Kobo version if you like to read on your electronic device, and there's even an audio book.  Full details are at straighttalkmoney.ca.
What do we have planned for Season 5?
I can't tell you the full plan, because I want this show to be topical, so I'm sure there will be many issues that we will cover that I haven't even thought of yet.
But here's what I can tell you:
First, we will have many new guests this year. This is the only Canadian debt-themed podcast that exists, at least as far as I know, and after 208 episodes, we've become the go-to podcast in the industry. I get lots of emails from people suggesting potential guests. Some of those potential guests are simply selling something, so I politely decline. Others would be great guests but they don't have anything to say about debt, so I respectfully decline those suggestions as well. But we've got a few new guests lined up that will be great, and will have many insights to share about debt.  I won't tell you who they are yet; you'll have to subscribe and listen.
Second, last year was the first year that I did a number of "solo" podcasts, where it was just me.  Some of those podcasts were informational; some of them were more like a rant, because I had something I wanted to get off my chest that I thought you needed to hear.
Be warned: I've got a few more of those planned for this year, and I suspect that a few more will sneak in as stuff happens in the world that I think can add something to the discussion.
We will repeat some regular features from last year.  It's a virtual lock that Ted Michalos and I will do another predictions show at the end of the year, where we will review our predictions for 2018 and give you our best guess as to what will happen in 2019.  Spoiler alert: the year isn't over yet, but some of our predictions are looking pretty good, so far.
As many of you may know, Hoyes Michalos has 25 offices throughout Ontario, and back in June we moved our Head Office into a brand new and expanded space in Kitchener. Included in that office is the Debt Free in 30 podcast studio, and this year we're going to try to release as many of our podcasts as possible as videos.
Why?
Because we live in the age of video. Many people today use YouTube exactly like I use the radio: it's on in the background while I'm doing other things. They watch videos, but they also listen to them.
So, I'm pleased to announce that we now have a Debt Free in 30 YouTube channel.  Where possible, I'll record the video of my conversations with our guests, and post the video on YouTube for those who want to watch as well as listen. We may even have some bloopers or two, just for fun.
So that's what we've got coming up here on Debt Free in 30.
Do what everyone else does: subscribe on iTunes, or Apple Podcasts, or Google Play, YouTube or whatever podcast app you use, or listen on Stitcher or Spotify. Yes we are everywhere! A new episode will be automatically delivered to all subscribers, for free, every Saturday morning.
Next week we'll start the new season off with a timely episode about student loans and hardship, so until then, thanks for listening, I'm Doug Hoyes, that was Debt Free in 30.
Subscribe and download at iTunes or using the Stitcher app, or listen on rss feed or download directly.
Resources Mentioned in the Show
Similar Posts: