Bank: PC Financial – "PC Money Account"
Website: PC Money Account
Last Updated: December 1, 2022
The PC Money Account is an online, self-serve bank account linked with a MasterCard Debit bank access card. You can pay bills electronically, and receive electronic payments, but you cannot write or deposit cheques. The account offers access to Mobile Banking, and Web Banking with registration through PC Financial.
How to open a bank account
Go to: https://www.pcfinancial.ca/en/pc-money-account/
Click "Get Started" or "Start Earning More Points"
Begin filling in required information, to get set up you should have the following information on hand such as:
Your intended use of the account
If you need overdraft protection ($5 monthly, 19% interest)
Name, Date of Birth, Address, Phone Number, Email
SIN is optional.
Employment status
Are you a Canadian Tax Resident?
Do you pay taxes in another country (e.g., US)?
The government-issued Canadian ID that is accepted: Driver's Licence, Provincial/Territorial Photo ID Card, and Passport or Permanent Resident Card. Identity is verified digitally, with the use of a Smartphone.
Services Offered
No Monthly Fee
No Minimum Balance
No-Fee Transaction Purchases
No-Fee Online Purchases
Optional Overdraft Protection
Unlimited ATM Withdrawals at PC Financial ATMs
Unlimited Bill Payments
Online Statements, Bill Payments, and Transfers
Free to Send & Receive Interac e-Transfer
No Cheques Available (As of February 24, 2021) so you cannot write or deposit cheques
PC Bank is a member of the Canada Deposit Insurance Corporation
Service Charges
No Monthly Fee, No Minimum Balance
Optional Overdraft Protection Fee – $5.00, Overdraft Interest 19%
Non-Sufficient Funds (NSF) – $40.00 fee
Assisted Transaction via Customer Service Representative – $1.00 (applies per transaction)
Foreign Exchange Transaction Fee – 2.5% of the transaction amount
Non-PC Financial ATM – $1.50 (Domestic), $3.00 (International)
Free Interac e-Transfers, a $3.50 fee applies to cancelling e-Transfers
Bill Payment Tracing – $15.00
Bill Payment Recall – $24.00
Printed Copies of Previous Account Statement – $5.00
Card Replacement – $5.00
Inactivity Fee – $20.00 per year of inactivity
How To Get a Void Cheque or Pre-Authorized Payment Form
Login to your PC Financial Money Account via: https://secure.pcfinancial.ca/en/login
Click on "Dashboard" you should see your account at a glance
Click "Show Details

Click "Fund Account"
Scroll to "Method 3 – Set Up Direct Deposit"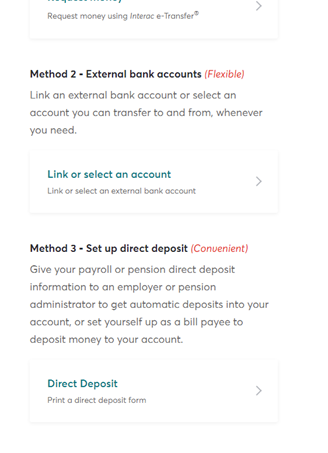 Click "View Printable Version" to download a PDF