Bank: Scotiabank
Website: www.scotiabank.com/
Last Updated: December 1, 2022
How to open a bank account
www.scotiabank.com/ca/en/personal/bank-accounts/open-an-account.html/.
To open a chequing account, you can make an appointment at your nearest branch. For a more convenient option, you can open a chequing account online. There are no minimum deposits required, and you do not need to be employed. You can even open an account if you claimed bankruptcy or have bad credit. There is no credit check required unless you are applying for credit products. An example would be overdraft protection or a credit card. Please remember that for the first 90 days, banks have a right to hold any cheques in full deposited into the new account. After this time, the bank will complete a soft credit check and decide your future hold limits.
Services Offered:
Interac e-Transfer
Deposits cheques through mobile banking app. Depending on your credit score, Scotia may need to hold the cheque for a certain amount of days before releasing the full funds to you. When in doubt, see a bank teller for the deposit.
Budgeting resources as well as a basic budget calculator with online banking. This, unfortunately, is not available on the mobile app.
Online Scotia advisor available to help you with questions
Free access to TransUnion credit report directly through the mobile app
Overdraft protection available
No monthly fee on saving accounts
Safety deposit boxes available
Apple Pay, Google Pay and Samsung Pay compatible
Scotia InfoAlerts: Scotia will email you every time a transaction has occurred for more protection
Visa Debit available
Choice of Scotia rewards or Scene points
Service Charges
Compare each account with the following link: https://www.scotiabank.com/ca/en/personal/bank-accounts/chequing-accounts/chequing-accounts-and-packages-comparison.html
Fees start at $3.95/month for a basic account up to $30.95 for an ultimate package (no monthly fees on an ultimate package that maintain a balance of $5,000.00 the entire month)
A basic account has 12 free debit transactions. The ultimate package has unlimited transactions, e-transfers are free on most accounts
Free cheques with an ultimate package, fees apply for all other accounts
Stop payment –$12.50 each
NSF Fee – $48
ABM withdrawals – free at Scotiabank machines up to transaction limit, $1.25 after that, $2.00 fee on non-Scotiabank ATMs and outside of Canada (All transactions free with the ultimate package)
2-year inactivity fee – $20 (on specific accounts)
Optional Overdraft Protection Fee – $5 per month when used. Interest is calculated daily at 21% (per annum) and charged monthly. When the account is overdrawn, interest will continue to be charged until the account is paid.
How To Get a Void Cheque or Pre-Authorized Payment Form
Viewing through mobile app:
Open your account and click on the manage icon. Directly beside the Direct Deposit/void cheque information, hit View. You can then download a Direct deposit/payroll form (also called a PAP form). Also considered as a "void cheque."
Online Banking:
Log into your account. Click on the Accounts tab. Next, click Account View Settings. From that drop down menu, choose More Account View Settings.

Then choose Additional services.
Then Choose Void cheque, direct deposit and automatic payment forms.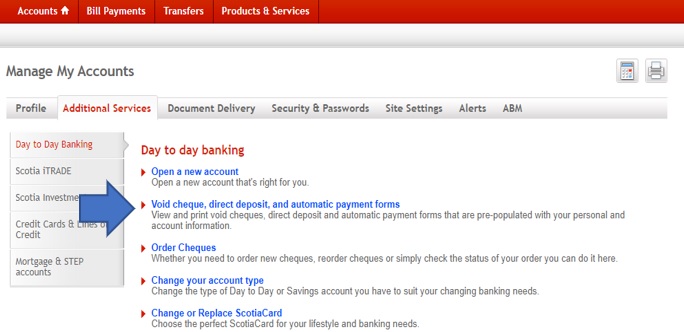 Then choose the form you want, and hit view/print, and print to a pdf or screen shot that you can email to us.