There are many great apps that can help you budget, and they are available on a variety of platforms (iPhone, Android, BlackBerry etc.). Depending on your needs, surely there's an app out there for you. Many great apps are available free of charge.
Mint.com
Mint.com mint.com  Mint automatically updates all of your spending and transactions by connecting directly to your  bank accounts. All of your spending is tracked and categorized allowing you to see a thorough overview of your financials at any time. Worried about missing a bill payment? With Mint you can also set notifications so that you'll never forget. They will even notify you if a transaction appears suspicious.
In order for Mint to work, you will have to do some initial legwork by signing up and adding your bank accounts and bill information. This information is kept on a trusted site with high security in place.  However, if you are worried about having your banking information linked to a third party website, Mint may not be for you.
Goodbudget
Goodbudget goodbudget.com (formerly Easy Envelope Budget Aid) If you're uncomfortable allowing an app (like Mint) access to your personal accounts, or perhaps prefer a more simplistic way to budget, have a look at Goodbudget.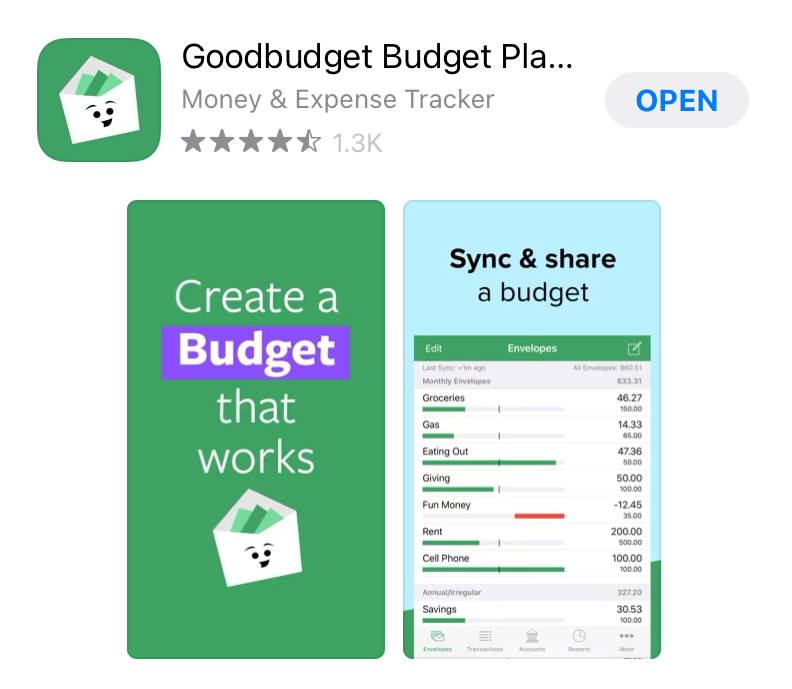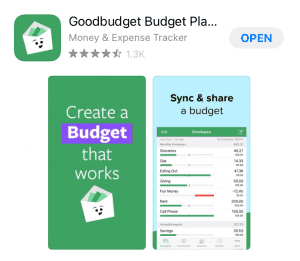 What is the envelope system?
The envelope system is a simple, hands-on, cash budgeting method; Goodbudget brings this old-school method into the digital world.
Using the envelope system to track your expenses each month is simple.
Create Budget Categories and Limits
The most tedious part of creating a budget is determining where your money is going; however, it is critical. Omitting smaller budget items such as Grooming, Prescriptions, or your daily Drive-Through Coffee could be a reason your budget fails.
Set your savings goals and realistic spending limits for each category.
It takes up to 6 months to perfect a budget, so this may take some adjusting for the first few rounds! 
2. It's Payday! Time to Fill Your Envelopes.
On payday, fill each envelope to the amount you have budgeted. Any funds you have leftover can be applied to debt, saved, or spent.
Once an envelope runs out of cash, you have met your budget for that pay period and can no longer spend in that category.
For this system to work best, avoid borrowing from other envelopes.
Goodbudget Main Features:
Envelope Budgeting, But Make it Digital.

In a digital world, carrying cash seems almost archaic. Goodbudget allows you to divide your income into various digital envelopes such as groceries, bills, rent, gas etc. This system aims to avoid overspending by planning what you spend instead of tracking what has already been spent. 

Sync and With your Household

Keep your household budget on track by syncing with another family member. When money is spent from an envelope, everyone is on the same page.  
The free version of Goodbudget offers access on 2 devices

Savings Account

The paid version of Good Budget offers additional accounts outside of your main spending account. Having access to additional accounts would allow you to track savings accounts for more considerable expenses such as vacations, vehicles, or education. 

Free Budgeting Courses

101 – Budget Bootcamp (for those new to budgeting)

10 minutes/day
Complete in 1 month
29 assignment

201 – Budget With a Why (making room for what's important; more advanced)

30 Minutes a Week
Complete in 6 Weeks
6 Assignments

911 – Crash Course (dealing with financial emergencies)

4 stories, 5 minutes each
Complete in 3+ months
3 assignments, 60 minutes each

Reports

The app and website offer multiple report options to visualize debt repayment, income, and spending habits.
App Reports:

Spending by Envelope
Income vs. Spending
Debt Progress Report

Website Reports:

Spending by Envelope
Spending by Payee
Spending vs Budget
Spending by Month
Income vs. Spending
Envelope Balances
Debt Progress
Budget Allocation

Available on Apple, Android and Desktop
Good Budget Free:

10 regular envelopes
10 more envelopes
1 account
2 devices
1 year of history
Debt tracking
Community support

Good Budget Plus – $9.49/month or $79.99/year

Unlimited regular envelopes
Unlimited more envelopes
Unlimited accounts
5 devices
7 years of history
Debt tracking
Email support
Bills Monitor – Bill Reminder
(iOS) Bills Monitor – Bill Manager & Reminder is designed to manage all kinds of your bills. Log your bills in this app, you can track or check them from time to time visually and conveniently, also it will remind you to pay your bill after setting its reminding days. Bills Monitor will help to make your schedule easier and every bill in control.
(Android) Never miss bills and due dates with Free TimelyBills App, which helps you pay your bills on time, and avoid paying extra money towards late payment fee, Use TimelyBills App to track your income & expenses, and save more. 
Splitwise  
https://www.splitwise.com/ Helps you split expenses with friends

Flipp 
Flipp.com  Get your weekly shopping flyerselectronically instead of on paper. If you live in an area where supermarkets price match their competitor's prices then you can't live without this app. All of your weekly flyers are found on this app along with a few coupons 
CompareMyRates 
CompareMyRates.ca  For when you're comparing costs for cell phones, Internet, cable TV, as well as mortgages and credit cards.
GasBuddy 
GasBuddy.com Find the cheapest gasoline in your city.
Checkout 51 
CheckOut51.com  If you buy a product that is on their weekly list you upload a copy of your receipt and they give you cash back.
Caddle
Caddle.ca works the same as checkout 51 but doesn't have as many products. They do have weekly surveys as well that they pay you for.
Most major banks also have apps that allow you to check your bank balances and manage accounts from your phone at no cost. This can come in handy to pay bills on the go, set up automatic payments, check balances and track spending.