Choosing a debt advisor is an important step in your overall debt recovery. There are a lot of different types of debt consultants in Ontario ranging from federally licensed insolvency trustees (previously called bankruptcy trustees in Canada) and accredited not-for profit credit counsellors to for profit debt consultants. Who you choose to work with is as important as choosing the right debt relief program.
Here are 8 reasons why you should consider contacting an Ontario Licensed Insolvency Trustee, even if it is just for a second opinion:
A Licensed Insolvency Trustee can guide you through the bankruptcy process. Filing bankruptcy or a consumer proposal is a complex legal process and having a licensed Trustee on your side can help you manage it efficiently and quickly. Your trustee will answer all of your questions about the process of filing bankruptcy or finding debt relief through a consumer proposal, before and after you file, to make sure you are successful in receiving your discharge and that you ultimately eliminate your debts.
Trustees are the most highly trained and educated Debt Consultants in Canada. Almost all Licensed Insolvency Trustees have an accounting designation and a university degree. All must complete and pass a three-year bankruptcy and law course and be investigated by the RCMP before being granted a Trustee license. Talking with a LIT ensures that you are getting qualified advice.
A Trustee is not just for bankruptcies. Trustees consult with individuals looking for solutions to their debt problems every day. Not all end up going bankrupt. Some will file a consumer proposal but even more will be provided with suggestions and solutions that will allow them to deal with their debts on their own. A trustee in bankruptcy can help you evaluate other debt settlement programs. They can be a great second look.
It costs less than other debt solutions. In most cases, it will cost you less to use a Licensed Insolvency Trustee than other Debt Consultants since Trustees have their fees regulated by the government. Your fees are included as part of your bankruptcy or consumer proposal payments. There are no extra, hidden or up-front fees to worry about.
A Trustee doesn't work on your creditor's behalf. This is one of the biggest myths surrounding licensed insolvency trustees there are. The Trustee makes sure that both your rights, as the debtor, and the creditor's rights are respected. They ensure that the process is fair for all involved and that everyone follows the rules.
A Trustee and bankruptcy protects you.  When dealing with a Licensed Insolvency Trustee, you are protected by the fact that they are regulated by the federal government, that they follow a stringent code of ethics, and that there is a mechanism in place to mediate any disputes you might have.
You should choose a Trustee you're comfortable with. Find an experienced Trustee who you can trust and build a relationship with is essential, because you will be working with them for at least 9 months. Your trustee should answer your questions and make sure you understand the process before you file and should be willing to provide support about the process both during and after your bankruptcy.
Your initial consultation is free.  A Trustee in Bankruptcy can offer you a free consultation to advise you of your debt relief options. No up front fees, no pressure. You really have nothing to lose by contacting a Trustee for advice.
Learn more about Hoyes Michalos: who we are, meet our bankruptcy team and find out what we believe in.
Then to book your free consultation, call us at Hoyes, Michalos today at 1-866-747-0660 or contact us on-line.  Let's work together to get you debt free.
Download our printable tip sheet and bring it with you when you meet with any debt advisor. Make sure they can provide the same benefits.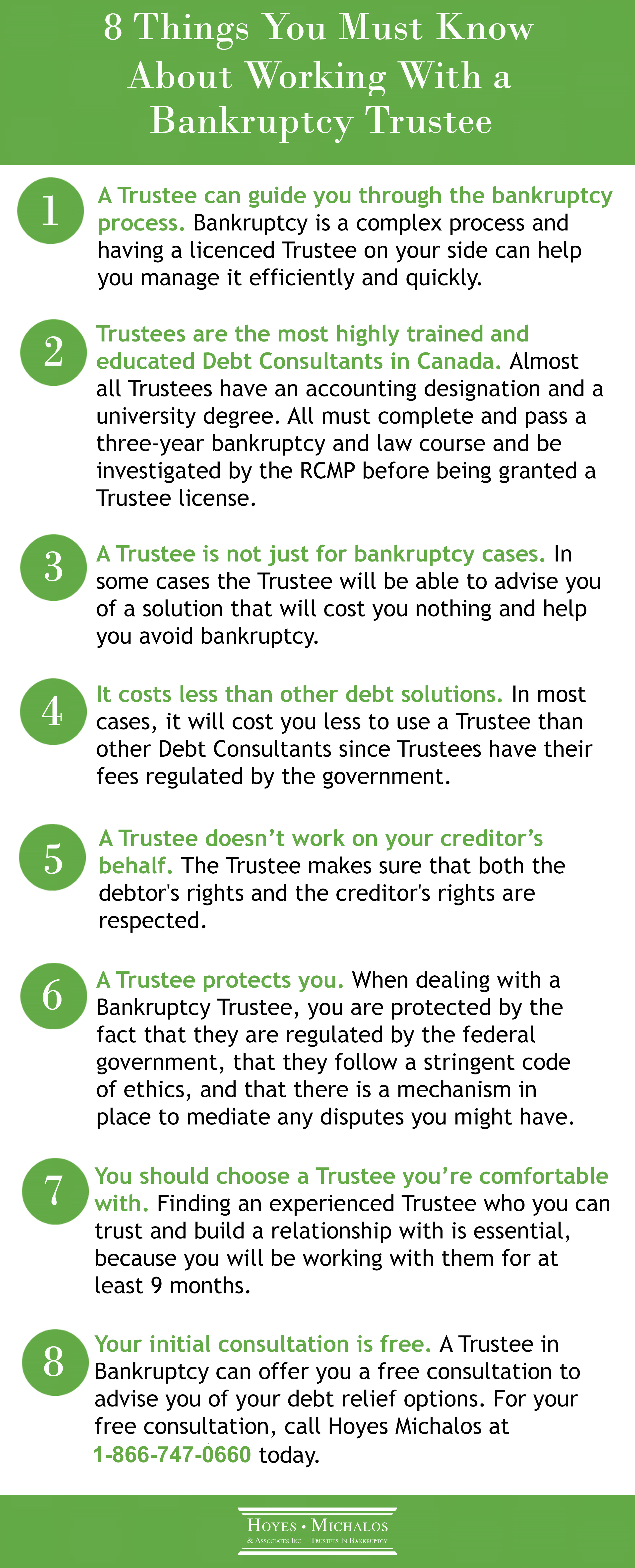 Similar Posts: