Joint Debts In Bankruptcy
Debt problems cause stress for the entire family. One of the common concerns is how will bankruptcy affect my spouse if I declare personal bankruptcy? Do creditors pursue your spouse? Will it affect their credit rating?
To understand how bankruptcy will affect your spouse, it is important to understand the difference between joint debt and personal debts.
Personal Debts
Your bankruptcy only affects your debts. As long as your debts belong solely to you, then claiming bankruptcy should have no impact on your spouse or their credit rating, but sometimes the answer is not quite that simple.
Joint Debts
If your spouse has not co-signed or guaranteed any of your debts then those debts belong solely to you.
However, if they have guaranteed or co-signed any of your debts, those debts are no longer just yours. Now your spouse will become fully liable if you file for bankruptcy. Your creditors will pursue your spouse for full payments, even though your bankruptcy will eliminate your responsibility to repay the debt.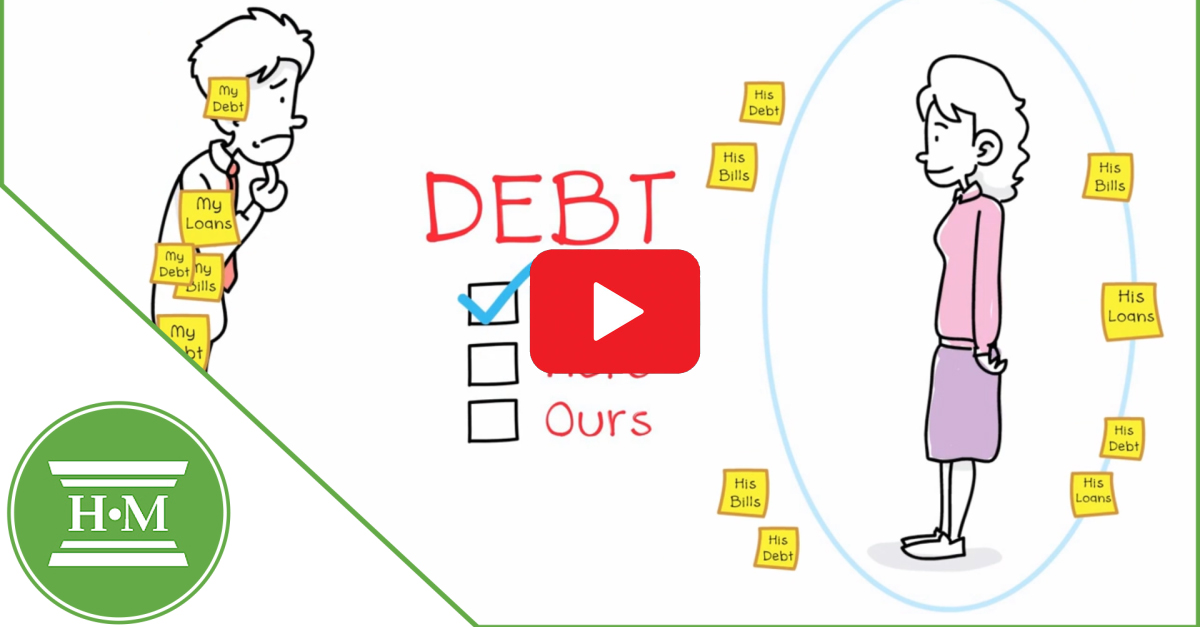 When one spouse is in financial trouble it can be scary. You want to know will your bankruptcy affect your spouse. Will creditors try to collect money from them? Will their credit be affected?
The fact that you are married does not make your spouse responsible for your debts. As long as your debts are solely owed by you, your bankruptcy affects only you. Just because you declare bankruptcy doesn't mean your spouse has to. Your creditors cannot try to collect from your spouse just because you are married.
Your bankruptcy will not appear on your partner's credit report. The only time that your spouse is affected is if they have guaranteed or co-signed debts along with you, sometimes called joint debts.
Common examples would include joint credit cards or a loan that you both signed as co-borrowers. If that is the case, you can talk to your trustee about something called a joint bankruptcy to deal with both your debts and save on your bankruptcy costs.
When you meet with your Hoyes Michalos professional, we'll look at your debts and help you be sure that your spouse will not be affected. If they are, we'll help you come up with a plan together.
In situations where you have significant common or joint debts, your spouse may need to declare bankruptcy if your spouse cannot afford to repay those debts on her own. It is possible to declare a 'joint bankruptcy' or 'joint consumer proposal' with your spouse. This can lower the overall cost of these proceedings for the two of you.
Each family situation is unique. It is important to talk with a Licensed Insolvency Trustee about your personal family situation to obtain advice about what the best debt relief option is for both of you.
What If My Spouse has a Supplementary Credit Card?
Supplementary credit cards are very common among spouses.
A supplementary credit card has the same account number as the primary credit card. So, if your spouse has used a supplementary credit card with their name on it, they may be considered jointly responsible for all debts accumulated under that credit card account. One way to determine if your spouse is liable is to have your spouse call the credit card company and ask. If the credit card company says "we are not authorized to speak to you because this isn't your credit card" then you can be reasonably ascertain that your spouse is not liable for the card. If the credit card company will speak to your spouse, it is likely that they are liable for the full balance owing on the card if you declare bankruptcy.
Risks of Consolidating Debt After Marriage
It's not unheard of for spouses to consolidate their debt once they are married. A common strategy is obtaining a joint consolidation loan to deal with problem debt more affordably, especially if one spouse has a lower credit rating than the other. However, the risks to consolidating debt can outweigh the benefits. Once you become co-borrowers on a loan, you both will be legally obligated to repay the loan. Also, it is not possible to have a name taken off a joint loan without the lender's permission, and because the lender approved the loan based on a joint application, they may not be willing to do so. Should one spouse stop making payments due to marital breakdown, the lender will look to you for full payment, which can become a serious financial burden. For these reasons, it may be wiser to keep your personal debt obligations separate and deal with problem debt individually.
What Happens to Debt in a Divorce?
In the province of Ontario when you get divorced, all matrimonial property is split between the husband and wife. However, with joint debts if you get divorced the debt is not split and you both remain equally responsible to ensure all debts are fully repaid.
In fact, even if you have a legal separation agreement which states that each person is to assume half of any joint debts this will not release you from your spouse's portion.
In simple terms, if you are joint with your ex-spouse on a debt, it's not a 50/50 split; it's a 100%/100% split, because you are both fully liable for the debt. In the case of divorce and bankruptcy, if one spouse declares bankruptcy, the other spouse is fully liable for the joint debt.  
Talk to A Licensed Debt Expert
We help families solve their financial crisis every day. Almost 4 in 10 people we help are married. Contact our professional, caring team for a free, no obligation consultation. One of our trustees will personally review your financial situation and explain all your debt relief options and what impact, if any, this would have on your spouse.
We can help you to regain control of your family finances, simply contact us today.