At Hoyes, Michalos & Associates we have helped roughly 40,000 people in Ontario find relief from their debt by declaring bankruptcy or filing a consumer proposal. We know that this is not the solution for everyone. In fact, of all the people who call us, only 1 in 5 will end up filing bankruptcy or a consumer proposal. The other 4 out of 5 can be helped with other options. Our objective is to help you review the advantages and disadvantages of declaring bankruptcy in Ontario so you can make a choice that works for you.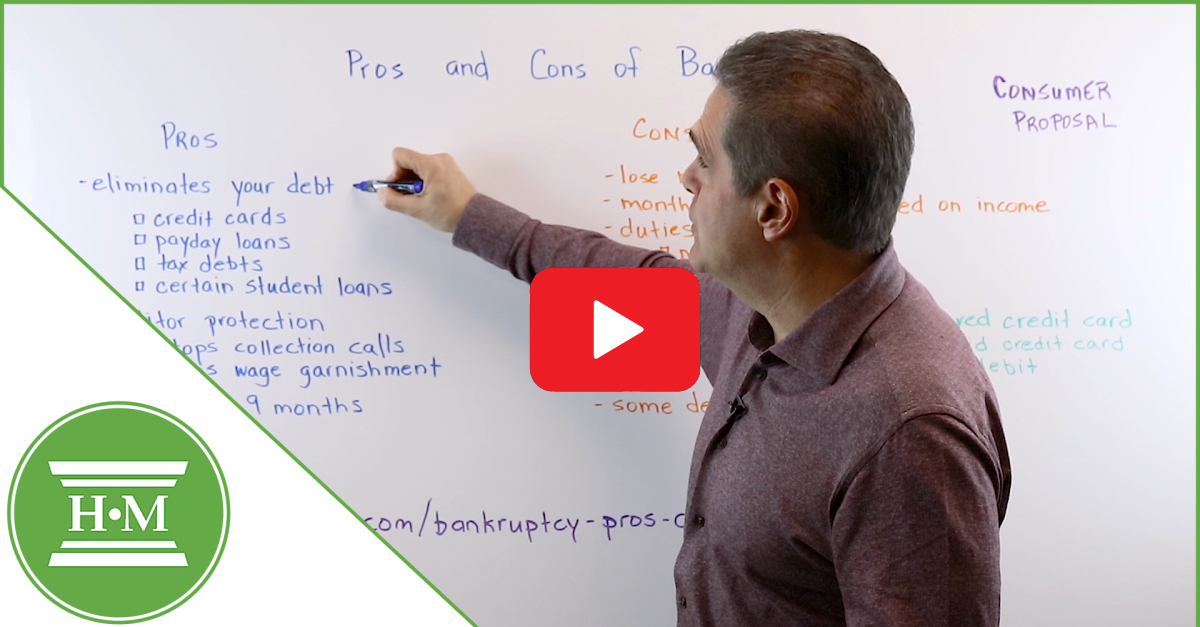 Advantages of Bankruptcy
Filing bankruptcy is not the solution for everyone but there are times when it makes sense. Here are the top benefits of filing bankruptcy with an Ontario bankruptcy trustee:
Stay of Proceedings. The biggest benefit of bankruptcy over many other informal debt relief options is the 'automatic stay' provided by the Bankruptcy & Insolvency Act. This means wage garnishments stop, there is no more dealing with collection agencies and no further threats of lawsuits.
Quick & Easy Process. A personal bankruptcy can be over relatively quickly. In most cases, you can receive an automatic discharge in 9 months.
Lowest Cost Option. An Ontario bankruptcy can cost less than other options, particularly if you have no non-exempt assets and do not have to pay surplus income.
Disadvantages of Declaring Bankruptcy
Bankruptcy should be the option of last resort. Not everyone should declare bankruptcy and there is a downside.
Doesn't discharge all debts. Bankruptcy excludes alimony, child support, fines & some student loans. It also does not deal with secured debts like mortgages.
Loss of non-essential assets. Bankruptcy affects what assets you lose or keep. If you have equity in your home, investments or other non-exempt assets, the Trustee will need to realize on this value and distribute the proceeds to creditors. You also lose any tax refunds during the bankruptcy period.
Impact on credit. A record of bankruptcy will appear on your credit report for 6 years after discharge. You will also lose all credit cards.
Employment considerations. Declaring bankruptcy may impact employment if you are in charge of money or trust funds. In additional you are forbidden from being a director of a company while bankrupt.
Should You Declare Bankruptcy?
It is true that there is a cost to declaring personal bankruptcy however if you are receiving harassing calls from creditors, facing a potential wage garnishment or unable to pay your debts in full, bankruptcy may be a good choice for you.
When to Declare Bankruptcy
Wages are being garnished
Can't meet your financial obligations
Lawsuits for unpaid debts
Relentless collection calls
More debt than you can repay
If you are struggling with debt, talk to one of our licensed Ontario bankruptcy trustees about how to declare bankruptcy and whether it is the right option for you.
Your first consultation is always free. Choose an office near you and book your free consultation.