How Does Bankruptcy Affect Your Credit?
Personal bankruptcy is a legal process to eliminate debt, but there will be short term effect on your credit rating and credit score. 
Here is how bankruptcy will appear on your credit report:
When you file bankruptcy the Office of the Superintendent of Bankruptcy will send information to the credit bureau who will add a note at the bottom in the legal or public record section stating the type of proceeding (bankruptcy) and the date you filed. When you are discharged, the date of discharge is added to this section.
Individual creditors will also update the debt information they provide in the trade account section to say that the debt was 'included in bankruptcy'.  
How long does bankruptcy stay on your credit report in Canada?
In general, a first bankruptcy will remain on your credit report for six to seven years after discharge, depending on the credit bureau. This is extended to 14 years for a second or subsequent bankruptcy. 
Each credit bureau is slightly different so it is important to understand what they say specifically:
On your TransUnion credit report, bankruptcy, and all the accounts reported as included in that bankruptcy are removed 7 years from the date of discharge. If you file more than once, each bankruptcy will remain for 14 years from the date of discharge.
Bankruptcy stays on your Equifax credit report for 6 years after your discharge date or 7 years after the date filed without a discharge date. If a second bankruptcy is filed, then the first re-appears on your credit report, and both bankruptcies remain for 14 years after the discharge dates.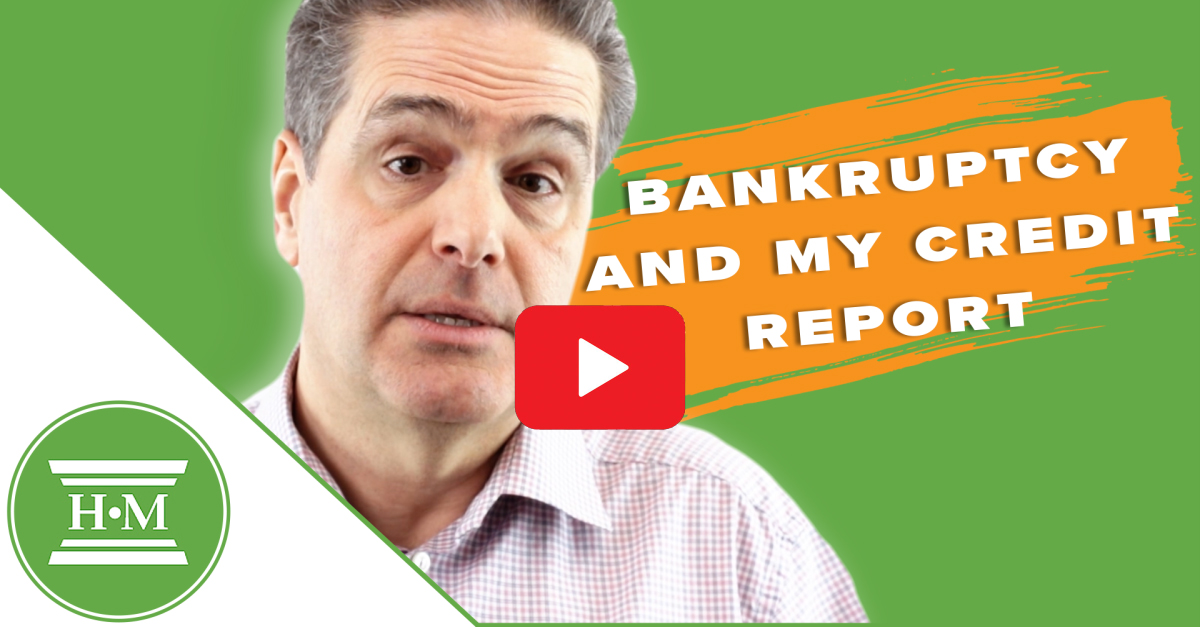 Both credit bureaus have updated their policy regarding how long a consumer proposal remains on your credit report which shortened the window for most people. A consumer proposal is now removed the earlier of six years after you filed or three years after you complete your payment.  This means that for a five-year proposal, the proposal is removed just one year after you complete the proposal terms.
Why the effect on your credit is not what you should focus on
It is understandable that you are worried about the effect bankruptcy will have on your credit rating, however, you should know that most people are able to repair their credit after filing bankruptcy and borrow again.  Depending on what else was on your credit report, you may be able to obtain a new secured or even unsecured credit card during your bankruptcy (although we recommend paying off this card in full each month to show that you now know how to manage credit wisely).
Declaring bankruptcy can sometimes be the first step in improving your credit score. If you have debts you can't repay, continuing to carry those debts until you eventually default or max out your credit, will negatively affect your score until you deal with your problem debt. You can read more on how in our article about How a clean credit report is not necessarily a good credit report.
How to Rebuild Credit After Bankruptcy
The objective of declaring bankruptcy is to allow you to eliminate debts that are currently causing financial problems. Ignoring those debts will not improve your credit score. Life after bankruptcy provides you with an opportunity to begin the process of repairing your credit score and improving your credit rating.
The Best Advice
Pay your bills on time. Don't bounce any cheques. Don't overdraw your account at the bank (even if you have overdraft protection). Show the credit system that you are a responsible money manager and that when you borrow money, it's because you want to, not because you have to. In this way you will repair your credit and avoid a bad credit report in the future.
Here are some steps you need to take to restore your credit after bankruptcy:
Pay all bills on time.
Get a copy of your credit report every four to six months after completion of your proposal or bankruptcy to ensure information on the report is accurate and up to date. If there are errors, contact the credit reporting agency directly (since your trustee does not report directly to the credit bureau; all reporting is done by the Office of the Superintendent of Bankruptcy).
Open a savings account and use the account for savings and emergency funds. Savings don't get reported to the credit bureau so savings don't directly rebuild your credit, but savings do improve your finances, and those savings may help you borrow in the future, such as when you use your savings as a down payment on a car or house.
Consider getting a secured credit card. After completion of your bankruptcy or after your proposal is accepted by the creditors, obtain a secured credit card. For example, Home Trust Visa offers secured credit cards.
Apply for only one secured credit card as multiple applications will show on your credit file and potentially lower you score. Obtain the card only after saving monies that can serve as a deposit against use on the card. If you cannot save the monies, it is not wise to hold an unsecured credit card. Ignore any limits given on the card; only use the deposit as the limit amount.
Use any credit card obtained very sparingly and pay the balance as soon as used or as soon as the billing arrives. Interest is calculated on the initial balance and delayed payments result in a lower rating.
Fresh Start Credit Rebuilding Program
It is possible to get credit after a bankruptcy or consumer proposal. Our Free Online Video Course on Rebuilding Credit outlines what lenders are looking for and the steps you can take to rebuild credit.
Enroll for Free
At Hoyes Michalos we want to help you take full advantage of the fresh start you can achieve by filing bankruptcy or a consumer proposal to eliminate your debt. To help, we have developed a comprehensive education and support program for our clients designed to provide you with the skills and resources you need to rebuild your finances and your credit after filing insolvency. The Hoyes Michalos Fresh Start Recovery Program enhances the mandatory credit counselling required when you file insolvency with additional tools, support and special online resources about budgeting, credit repair, dealing with creditor calls and much more. Our goal is to help you achieve a full financial recovery.
Can't Pay Your Bills?
If you can't pay your bills today call one of our offices, or email one of our trustees today.
We offer a free, no obligation consultation. One of our experts will personally review your situation and answer your questions.
Let us help you choose the correct solution to solve your debt problems. Simply contact our team today.