Are debts affecting your ability to keep up with your mortgage?
Ask yourself this question: If I could deal with all of my other debts, would paying my mortgage be easier? We help people answer that question every day.
It's your home, so you always pay your mortgage, but you are falling behind on your credit cards and other bills, and you worry that you may soon also fall behind on your mortgage payments. You worry that you may lose your home.
You can file bankruptcy even if there is equity in your  home. If you owe more money to your creditors than the value of what you own you are considered insolvent. If you are insolvent you are eligible to file for bankruptcy or proposal in Canada.
With up-to-date mortgage payments filing for bankruptcy does not mean you will automatically lose your house. In fact, declaring bankruptcy can actually help you save your home by eliminating other debts that are making it difficult to keep up with your mortgage payments.
How does bankruptcy affect your house?
About 1 in 4 people who filed bankruptcy with Hoyes, Michalos own a house. In all cases we can show you how to keep your house, even if you decide to claim bankruptcy.
There are options to keep your home in a bankruptcy but the best approach depends on the value of the house, the amount owing on the mortgage, and your household budget. We will focus on three possible options:
How to keep your home if you declare bankruptcy,
Filing a consumer proposal, or
Selling your home if you choose.
How to claim bankruptcy and keep your house
Under Ontario law, if the equity in your home does not exceed $10,000, all you need to do to keep your home is maintain the mortgage payments. Your mortgage lender cannot foreclose on your home just because you went bankrupt. Some other provinces have similar exemptions that allow you to keep a certain equity in your house, you can research other Canada laws around bankruptcy and home equity here.
But what if the equity in your home exceeds $10,000?
Should you declare bankruptcy while your house is worth more than $10,000 above the mortgage (after deducting selling costs) and you want to keep your home, you will need to pay the bankruptcy trustee the equivalent of any equity value in your home.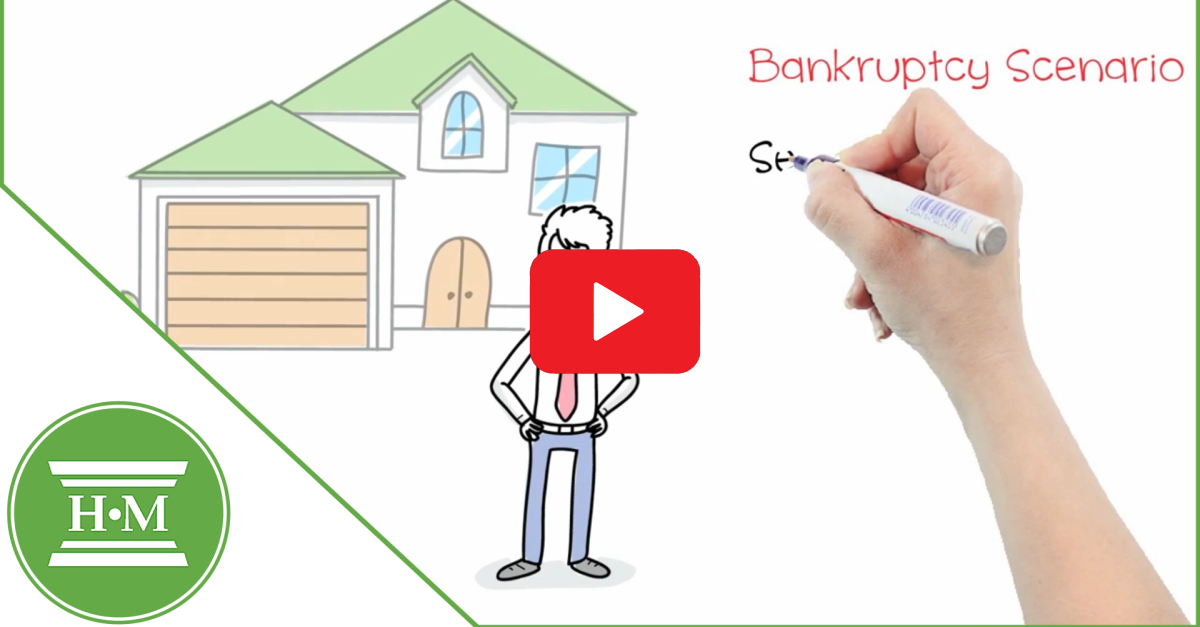 One of the most common concerns people have when considering bankruptcy is whether or not they will lose their home. In most cases you do not lose your house when you file for bankruptcy. To explain why, we will look at two case studies.
The Smiths owe $250,000 on their home and together they're considering bankruptcy. A real estate appraiser estimates that their home is worth about $260,000. However, when you deduct real estate commissions, outstanding property taxes and other selling costs, it turns out there would be nothing left over if they sold their house today. That means that there would also be nothing left for the creditors if their trustee were to try to sell their home. In this case, the Smiths won't lose their home. Because there is no equity in their home, as long as they are able to keep up with their mortgage payments, the Smiths can continue to live in their home and build equity for their future, even if they go bankrupt.
Mark Johnson also owns a home with a mortgage. The trustee estimates that if Mark sold his house, paid the commissions and selling costs and paid off his mortgage, he would be left with $8,000. To keep his home if he goes bankrupt, all Mark has to do is pay the trustee $8,000. But what if Mark doesn't have $8,000 or can't get it from his family or a bank? Not to worry; Mark could talk to his trustee about filing a consumer proposal. He could offer to pay his creditors a little more than $8,000 and spread out his payments over a maximum of five years. If the creditors agree, Mark can keep his house and avoid bankruptcy.
The point of these stories is that you do not automatically have to lose your house just because you filed bankruptcy. You have options to keep your home as long as you are able to pay your mortgage payments on time. When you meet with your Hoyes Michalos professional, we'll help you determine if your house has equity and then we'll help you explore your housing options.
Your Licensed Insolvency Trustee will advise you to get an appraisal on your house as part of the assessment process in order to determine just how much equity there might be. If you can afford to 'buy out' this equity, bankruptcy can still be a solution to eliminating your other debts.
However, if you have a lot of equity (yet not enough to refinance your debts) you probably can't afford to buy back that equity during a short bankruptcy. In this case we look to the next option, which is making a proposal to your creditors.
Keep your house by filing a consumer proposal
One of the most popular ways to keep a home with significant equity value when you are in financial trouble is to file a consumer proposal.
A proposal to your creditors would include a payout plan for any equity value in your home. The difference between a bankruptcy option and a consumer proposal is that you can spread those payments over a longer period of time.
For example, if in a bankruptcy your creditors would expect to receive $15,000 from the equity in your house, you could offer as a proposal perhaps $20,000, to be paid over a period of 50 months (at $400 per month).
The creditors may accept that proposal, since it's more than they would get in a bankruptcy. It's also a good deal for you, since you don't lose your house, and they can afford to pay $400 per month.
Should you sell your home?
By eliminating unsecured debt, bankruptcy can lower your debt payments enough each month that meeting monthly mortgage payments is much easier.
However if you are behind on your mortgage payments and determine that even after filing bankruptcy you still cannot afford your house, you can opt to sell your home as part of your personal bankruptcy. Any shortfall will be processed as an unsecured creditor claim, any equity will be realized by the bankruptcy trustee to be distributed to your creditors.
Discuss your bankruptcy alternatives to keeping your home
Worrying about your home and your family is natural. For most people it's not the mortgage that's the problem; it's the credit cards, lines of credit, payday loans and other bills.
At Hoyes Michalos, we can help. In many cases you can file bankruptcy and keep your home and keep your car if you claim bankruptcy.
For over half of the people we meet with a bankruptcy is NOT necessary; a consumer proposal is a better solution and even if you do file bankruptcy, we still offer alternatives.
The longer you wait, the greater the risk that you fall behind on your mortgage payments, and that will put your hard-earned assets at risk.
There are other factors to consider before deciding if a proposal is the correct option, so if you or someone you know is in a similar situation, we recommend you discuss your individual situation with a bankruptcy trustee. With offices across Ontario, we can help you review your options.