We know looking for debt relief can be a confusing and stressful process. To help, Doug Hoyes, Licensed Insolvency Trustee with Hoyes, Michalos has answered the most frequently asked questions about your debt options. We have also provided links to additional resources that can help you evaluate your debt situation and choose the payment program that can help you deal with your debt.
What kinds of debt relief programs are out there?
If you are seeking debt relief, you likely have already determined that you cannot pay back your debts on your own no matter how much you budget and you don't qualify for a debt consolidation loan. We are also going to assume for now that you want to avoid filing bankruptcy.
That leaves 2 formal debt relief options in Canada:
Consumer proposal with a Licensed Insolvency Trustee: a formal agreement made between you and your unsecured creditors where you repay a portion of what you owe, with the remainder of your debts forgiven at the end of the program.
Debt consolidation program through a credit counselling agency: a non-binding debt repayment agreement or debt management program to repay 100% of your debts.
Consumer proposal vs bankruptcy
Credit counselling vs consumer proposal
Consumer proposal vs debt consolidation
Should I get a debt consolidation loan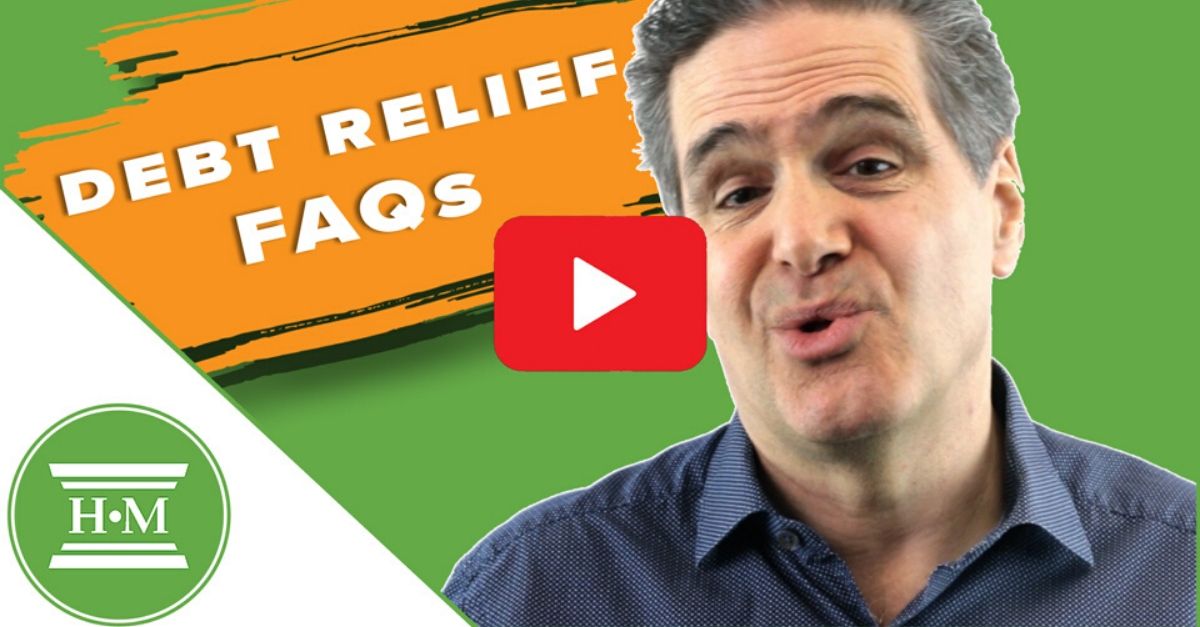 What do I save under each program?
 A debt consolidation program through a credit counselling agency requires you to pay back 100% of what you owe. So, if you owe $24,000, you must be able to afford to repay all $24,000. Your monthly payments will also include an additional fee of up to 10% of the debts included in the program. What you can save through a debt management plan is interest costs since most creditors will at least hold off on interest charges while you are working with a credit counsellor to repay your debt.
A consumer proposal allows you to settle with your creditors for less than the amount you owe. This can save you significant money and results in much lower monthly payments. If you owe $24,000, you might be able to settle for $10,000 for example.  Every situation is unique, but savings of up to 70% are not unusual.
What does a consumer proposal cost?
The true cost of credit counselling
Will I be charged interest?
In a debt consolidation program through a credit counsellor, creditors will often agree to an interest freeze, however, the 10% fee charged by the credit counselling company will be added to your monthly payments.
A consumer proposal is an interest-free debt settlement offer. You agree to a full settlement upfront, and your payments are based on paying back what your creditors agree to accept. There are no additional fees with a consumer proposal beyond your negotiated settlement payments. Your trustee is paid out of your settlement offer amount.
How long does it take to complete each program?
Both a debt consolidation program through a non-profit credit counsellor and a consumer proposal can last up to five years. Most programs last between three and five years, depending on how much you can afford to pay each month. If you have extra money you can pay off either program as fast as you want. Payments in a consumer proposal are generally a lot lower so you may be able to afford to repay the consumer proposal early if your financial situation improves.
How long is the average consumer proposal?
Is it binding?
One of the primary benefits of a consumer proposal is that it is legally binding on all creditors if the majority of creditors by dollar value agree to your proposal. A consumer proposal can stop legal creditor actions like a wage garnishment.
A debt consolidation program through a credit counsellor is entirely voluntary. Not all creditors will participate, and certain creditors never do, like the Canada Revenue Agency, so if you have tax debts, or if you want a legally binding settlement, a consumer proposal is the only legally binding option.
When is a consumer proposal legally binding on your creditors
Creditor protection: Consumer proposal vs. debt management plan
Why credit counselling doesn't work for payday loans
Which program is sanctioned by the federal government?
You may have heard a lot about federal government debt relief programs. The only debt settlement program available in Canada regulated by the federal government is a consumer proposal. The only professionals licensed by the federal government and authorized to file consumer proposals are Licensed Insolvency Trustees.
How do these programs affect my credit score?
Both programs are coded as an R7 on your credit report. The longest each program will remain on your credit report is 6 years from the date you filed. If you complete your program in under three years, it will be removed earlier.
How does a consumer affect your credit rating?
How long does bankruptcy affect your credit?
Should I get a bad credit debt consolidation loan?
Which debt relief program lets you rebuild credit faster?
Who should I be working with to resolve my debts?
When you are struggling with debt there are two types of debt professionals you may want to talk with.
If you can afford to pay back 100% of your debts, a not-for-profit credit counsellor can help you arrange a repayment plan.
Credit counsellors are not licensed to file consumer proposals which means if you can't afford to pay back all your debts you should always talk directly with a Licensed Insolvency Trustee.
What is a Licensed Insolvency Trustee
There is no harm in contacting someone initially over the phone or by email to ask a few questions. At Hoyes, Michalos we are happy to answer any questions you may have about your debt and explain how debt relief works. However, if you need help with severe debt problems, you should always meet in-person with your advisor.
There is no substitute for an in-person meeting with a licensed professional, and there is no cost for an initial consultation.
If you are experiencing financial hardship due to high debt levels, contact a Hoyes Michalos trustee to discuss your different debt relief solutions today.