Believe it or not bankruptcy does have seasonality to it. The number of consumer bankruptcies and proposals is lowest in January and December in most years and highest in March. Summer is usually a quiet period followed by an increase again in the fall.
Some of this makes sense based on how we live our lives. Most people are busy in December with Christmas planning and prefer to postpone any financial decisions to the New Year. In the summer, Canadians are trying to relax, perhaps enjoy a vacation and so may ignore pressing financial issues.
But there is also a practical reason why insolvencies follow this month to month pattern.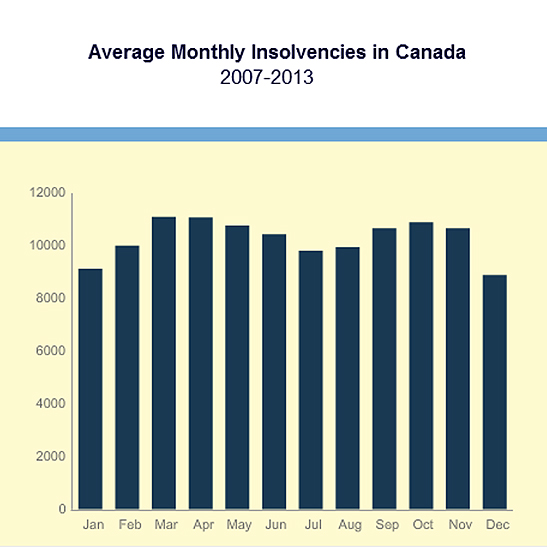 In most cases, people would file a bankruptcy to gain legal protection from creditors when faced with an overwhelming debt load.  For most, the timing of filing is usually when the pressure becomes too much and relief is needed.
In some cases, the timing could make a difference.
Creditor Actions
For example, if you are unemployed and have limited income and no assets, you might consider waiting until you're back to work before filing.   You don't necessarily need the protection a bankruptcy provides to stop a wage garnishment if you have no wages.
If however your creditors are calling and threatening legal action, you may need to file bankruptcy right away to stop those activities.
Tax Refunds
If you normally get a tax refund, January or February might be a bad time to file for you.
Your tax refunds for any years taxes that need filing, plus the refund from the year you file go to your bankruptcy estate.
Early in a calendar (January and February for example) you likely would not yet have filed taxes for the previous year as you don't normally get t-slips until the end of February, so therefore if you file bankruptcy in that period, the refund would go to the bankruptcy estate along with the refund next spring. This is many people wait until after their tax returns have been filed and they have received their refund to declare bankruptcy.
Selling Assets
If you've recently sold/transferred/disposed of assets, borrowed money or make big payments to certain creditors, the timing of the bankruptcy could matter as the trustee may have certain obligations to investigate those types of transactions.  If you think any of these types of transactions might apply to you, be sure to discuss them with your trustee before making any decisions about the timing of when to file or whether other options to deal with your debts may be more appropriate.
Ultimately, if filing an assignment in bankruptcy, you can essentially determine the timing of when you file.  The process starts with a phone call to our office or use the contact form provided to send us your questions.  We offer a free consultation service, so call today and let's get started.
One thing that is common, most people who do meet with us say they wish they had done so sooner.
Similar Posts: