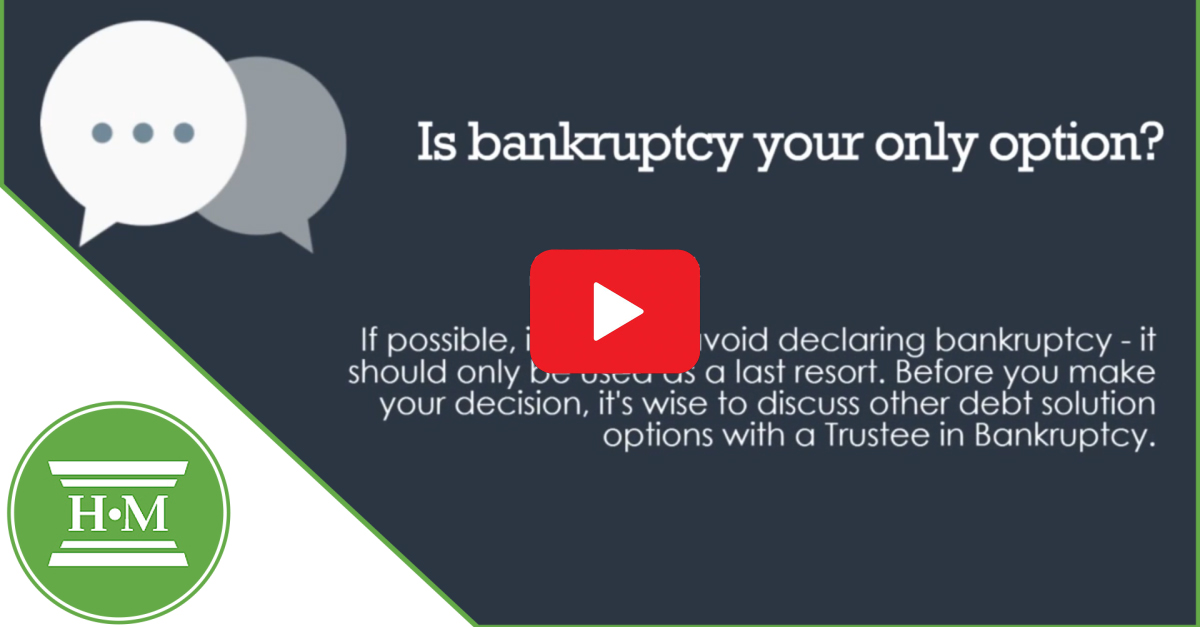 If you are deep in debt you may be struggling with the question: should you file bankruptcy? We know that making a choice to declare personal bankruptcy is not easy, nor is it always the right solution.
Everyone's situation is unique, however, there are common reasons why you might consider bankruptcy as a way out of debt:
you are struggling to keep up with even the minimum monthly debt payment on all your debts;
debt payments are taking up a substantial portion of your pay, so you have little income left over at month end for living expenses;
you are unable to obtain further credit or are turning to expensive options like cash advances and payday loans;
you never seem to see your debt balances decline;
you are tired of dealing with the stress of creditor calls and balancing different money demands.
The best way to approach the decision of whether to choose bankruptcy is to look at the significant advantages and disadvantages of filing bankruptcy in Canada and compare these to your alternatives.
Do you qualify for personal bankruptcy?
To be eligible to file bankruptcy you must:
owe at least $1,000 in unsecured debt
be insolvent (which means you can't pay everything you owe), and
you must either reside, do business, or have property in Canada.
Other considerations for filing bankruptcy
Key benefits of filing bankruptcy
Bankruptcy is a legal means by which you can eliminate your debt. The objective is to allow someone who is insolvent to erase their debts and gain a fresh start. In exchange for this benefit, you make payments, for a period of time as defined by bankruptcy law, and give up any assets you own that are not exempt by provincial and federal legislation.
But why is bankruptcy a good choice to eliminate your debts?
Bankruptcy provides an automatic stay.  When you file bankruptcy your creditors are notified and all actions against you stop.  This includes wage garnishments, lawsuits and collection proceedings.
The terms and conditions for administering your bankruptcy are defined by the Bankruptcy & Insolvency Act. That means all parties are on an equal playing field.  You have the confidence of knowing your bankruptcy payments, as long as you complete them, will result in the elimination of your debt.
Bankruptcy deals with all of your unsecured debts, with a few exceptions. That means you can eliminate not only credit card debt but payday loans, tax debts, lines of credit, and unpaid bills. Upon your discharge, your debts are eliminated.
If you determine bankruptcy is the right choice, know that there are some common mistakes to avoid making before declaring bankruptcy, like getting a new loan for example.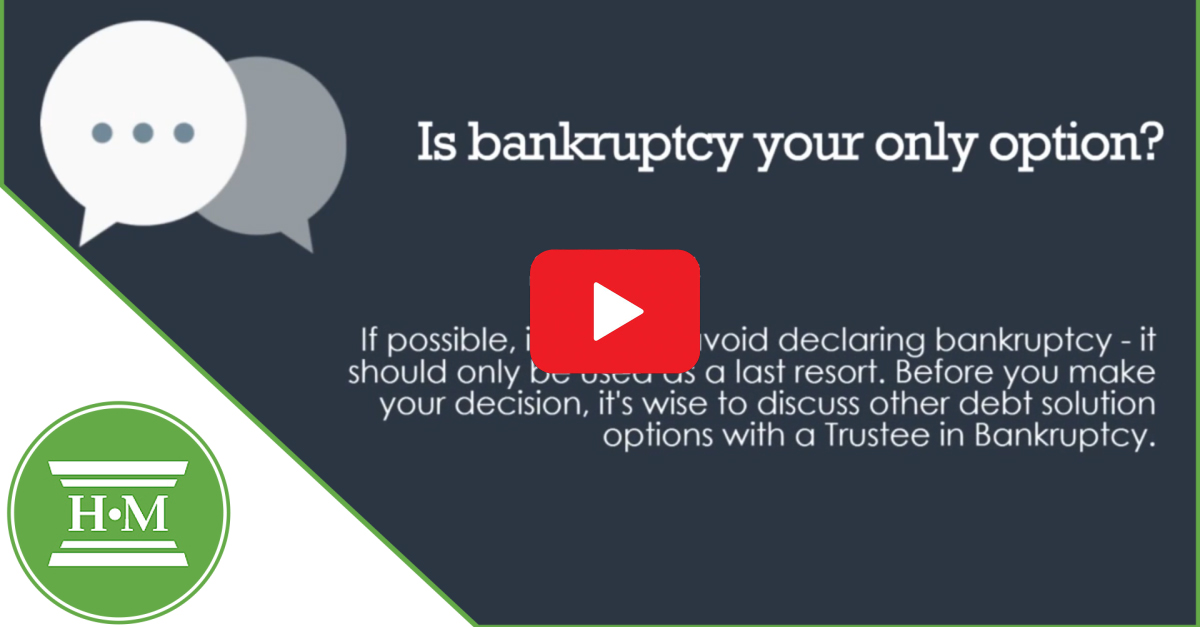 Do you qualify for bankruptcy?
Owe $1000+
Are insolvent
Live/do business in Canada
Have more debts than assets
Why choose bankruptcy?
Bankruptcy provides an automatic stay.

When you file bankruptcy, your creditors are notified, and all actions against you stop. This includes lawsuits, wage garnishments and collection calls and letters.

You are protected.

The terms and conditions for administering your bankruptcy are defined by the Bankruptcy & Insolvency Act. This means all parties are on an equal playing field.

Bankruptcy can clear unsecured debts.

All of your unsecured debts can be dealt with in a bankruptcy, with a few exceptions. You can eliminate your credit card debt, payday loans, tax debts, lines of credit, and unpaid bills.
Is bankruptcy right for you?
Bankruptcy cannot solve your issues with overspending.
Bankruptcy does not get rid of your secured debts.
If you have a good income, you will have to make surplus income payments.
Other considerations:
Second time bankruptcies take longer and cost more.
Some of your assets may be seized.
Bankruptcy affects your credit rating.
Is bankruptcy your only option?
If possible, it's best to avoid declaring bankruptcy – it should only be used as a last resort. Before you make your decision, it's wise to discuss other debt solution options with a Trustee in Bankruptcy.
The alternatives:
Consolidation Loan – Your debts are small. You have good credit. Your cash flow is good. There is equity in your home.
Credit Counselling – You can afford to pay back all of your debts. You want one monthly debt payment.
Consumer Proposal – You cannot afford to repay your debts in full. You require protection from your creditors.
Need help choosing the right debt solution? Call Hoyes, Michalos & Associates at 1-866-747-0660 or visit us at www.hoyes.com.
When bankruptcy might not be best
Bankruptcy is not a cure all for all your financial problems. If the cause of your debts is overspending, bankruptcy will not solve that underlying issue. In addition, there are some disadvantages to filing bankruptcy that may mean it's not the best solution to deal with your debt problems:
Bankruptcy does not deal with secured debts like your mortgage or car.  If you are behind on your mortgage payments or car loan you are still at risk of having these assets seized by your creditors. However, filing for bankruptcy can improve your cash flow by eliminating your need to make payments on your credit card debt and other unsecured debts.  This can make it easier to keep up with your mortgage and car loan payments.
If you have any non-exempt assets you would lose these when you file bankruptcy. There are bankruptcy exemptions that allow you to keep assets like most household furnishings, clothing and a car valued at less than $6,600. However, if you have significant equity in your home (beyond the seizure limits for a home set by Ontario exemption laws) or investments, bankruptcy may not be your best option.
If your income is above the allowable federal government limit, you may be required to pay surplus income which can increase the cost of your bankruptcy and lengthen how long your bankruptcy lasts. If you have been bankrupt before, a second time bankruptcy takes longer and costs more.
Declaring bankruptcy does affect your credit ranking.  When you file bankruptcy a notice is placed on your credit report and will remain there for 6 years after your bankruptcy discharge. However, it is important to understand that over-use of credit, missed payments and poor lending choices will also negatively impact your score.  Filing bankruptcy can be the means by which you begin the process of improving your credit so you can borrower at a lower cost down the road.
What are your alternatives to bankruptcy
I think another way to approach this is from the other side – is there anything you can do aside from declaring bankruptcy?
The do-nothing approach
If you have no assets, and if your income is from social assistance, disability, pensions (income sources that cannot be garnisheed) your creditors may not be able to do anything to you and bankruptcy may be unnecessary.
Debt consolidation
If your debts are small, if your cash flow and credit are good, or you have equity in your home, you may be able to consolidate all of your debts and have one, lower payment.  A debt consolidation loan however only works if you don't add to your credit by continuing to use your credit cards and if your new payment is both affordable and pays off your debt in a reasonable amount of time. You can read this article to see if debt consolidation is better than bankruptcy.
Debt management plan
Could you work with a credit counsellor through a debt management plan?  This is a program where you can negotiate a repayment plan to repay 100% of your debt, with interest relief.  Let's say you owe $10,000 – you may be able to set up payments for about $167 a month for 60 months which would repay the full amount over five years.
Consumer proposal
If your debts are higher than $10,000, even a debt management plan could result in monthly payments that are too expensive. In this case, a Consumer Proposal could be an option. For example, on $30,000 in debt, it's possible a consumer proposal could be set up with payments of as little as $200 per month for just over four years. Every situation is different, but that's a good example of what a proposal can do.
Get a free debt assessment
As you can see there are many reasons to file bankruptcy, however it is a decision that requires some analysis.
If you think declaring bankruptcy could be an option, contact us today to talk with a Licensed Insolvency Trustee.  We would be happy to go over all of your options, at no charge and help you determine if bankruptcy is the right answer for you.
Similar Posts: