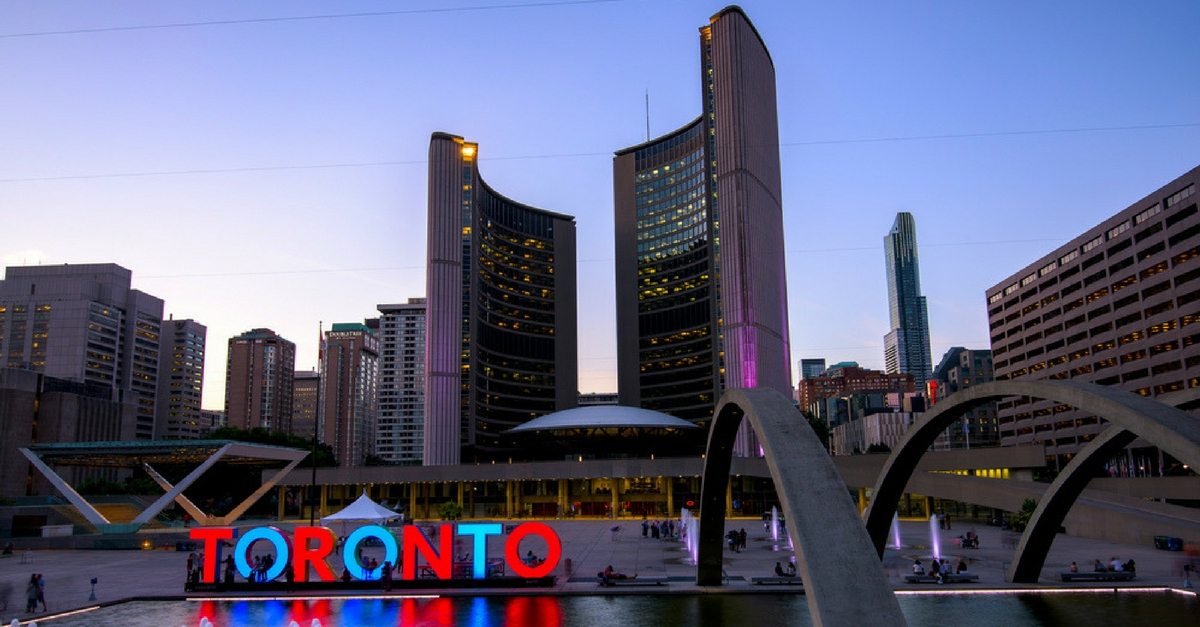 It's happened before: a company gets cocky, thinks they will make money forever, and spends a lot of money putting their name on a building.
We all remember Enron Field, named in 2000, home of the Houston Astros, until Enron went bankrupt in 2001 (it's now named Minute Maid Park). Eastman Kodak paid $75 million for the naming rights to the Kodak Theatre in Los Angeles in 2001. They went bankrupt in 2012, and now the Oscars are held at what is known as the Dolby Theatre.
The best Canadian example is, you guessed it, the Air Canada Centre. Air Canada paid $30 million for 20-year naming rights when it was completed in 1998. Air Canada filed for CCAA bankruptcy protection in 2003. That 20-year deal ends in 2018, and it was just announced that Scotiabank will pay $800 million over the next twenty years to have their name on what will now be known as the Scotiabank Arena.
Whether we will actually call it the Scotiabank Arena remains to be seen. I still call the Rogers Centre the Skydome, and most people refer to the hockey arena as the "ACC", so perhaps we will call the new place "The Vault" or something else without the name of the presenting sponsor.
Does it Always Lead to Bankruptcy?
No. I'm not suggesting that Scotiabank will become another Enron or Kodak.
Scotiabank just announced a profit of $2.1 billion for the last three months (not a full year; that's just three month's profit), so they've obviously got money to burn. According to the Scotiabank CEO, earnings growth was driven by "loan growth" and "margin expansion".
"Loan growth" means, in part, that "we are lending more on mortgages", and "margin expansion" means "we are making a lot of money on those mortgages, so we can afford to spend $800 million to put our name on a building".
To be fair, only 50% of that profit was attributable to Canadian Banking (Scotiabank also makes a lot of money from international banking), so all their profit does not come from mortgages. However, the Canadian economy certainly helped, with "lower provision for credit losses" contributing to increased banking profits.
So, what happens if the real estate market corrects, and Scotiabank starts incurring losses on those mortgages? Is it wise to be lowering their provision for loan losses at the peak of the real estate market?
A quarterly profit of $2.1 billion is over $23 million a day, so $800 million for naming rights is "only" 35 days of profit, so perhaps it's no big deal.
Potential Buyer's Remorse
This quarter, their provision for credit losses is "only" $573 million. I find it interesting to note that they are spending a lot more on naming rights (over the next 20 years) than they expect to lose on actual loan losses this quarter.
At the end of the quarter, Scotiabank had $232 billion in outstanding residential mortgages, so their entire provision for loan losses this quarter, which covers all types of loans (not just mortgages), only covers less than a quarter of one percent of their outstanding mortgages.
Is that enough? I don't know. Obviously, most mortgages are covered by CMHC insurance, so perhaps mortgage lending in Canada is a "no lose" proposition, so you don't need much in loan loss provisions.
But, if real estate does continue its correction and loan losses increase, Scotiabank may, like many companies before them, wish that they hadn't committed to paying $800 million to putting their name on a building.
Similar Posts: