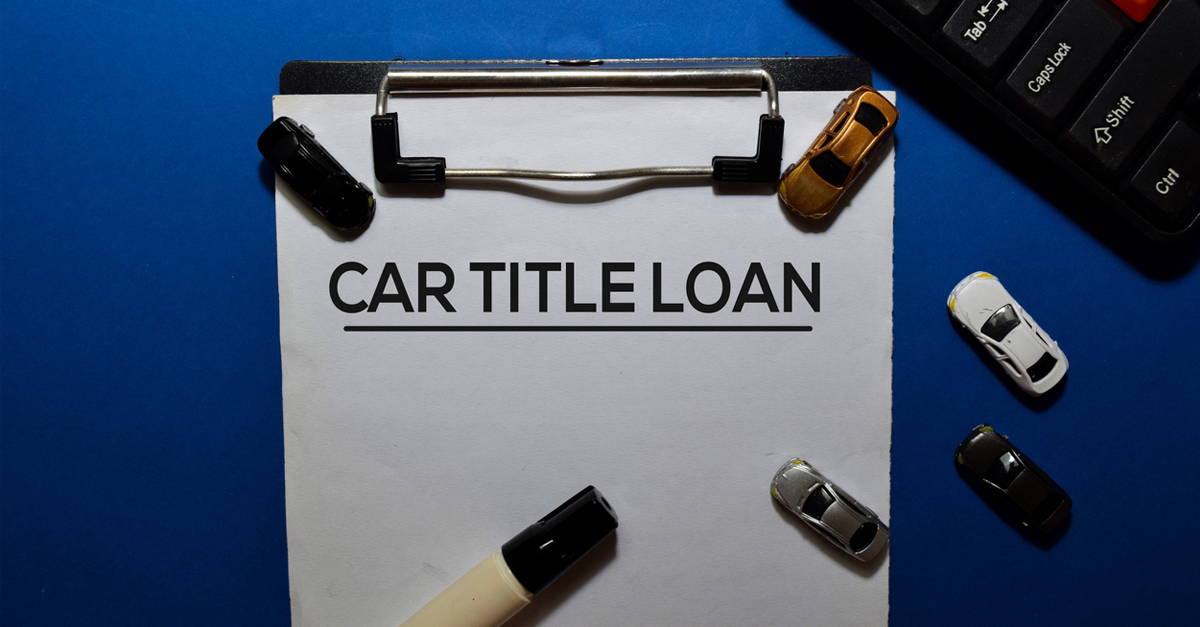 There are many ways to pay off or consolidate a few bills and credit card debts, but is getting a title loan the best consolidation option? I'm going to explain how title loans work, their benefits and disadvantages, and provide some alternatives if you are considering borrowing against the value of your vehicle to deal with existing debt.
How do car title loans work?
Just as it sounds, a car title loan is a personal loan secured against the value of your vehicle. Applying for a title loan is easy, can often be done online, and may not even require a credit check, which is why car title loans are attractive to someone with low or bad credit.
As a secured loan, vehicle title loans use the value of your car to secure payment. The lender will register a lien on your vehicle, which will remain until the loan is paid in full.
To qualify, you must own your vehicle outright, have a valid driver's license and car insurance. You do not however need a good credit score although the better your credit history the lower the rate will be on your loan offer. You will also need to provide the loan provider with proof of income or employment to show that you can afford the loan payments.
The lending company will ask for the make, model & year of your vehicle, and mileage to confirm what the car is worth. You can usually borrow 25% to a maximum of 50% of the vehicle's estimated appraisal value.
Why would you get a car title loan?
There are many reasons why people apply for a vehicle title loan. As mentioned, it is an attractive debt consolidation loan option for those with poor credit. You might use the money to pay off overdue bills or pay down credit card debts or consolidate payday loans.
There can be benefits of consolidating your debt with a loan against your vehicle:
It can help with monthly payments. Instead of juggling several overdue accounts, you now have one monthly payment on your car loan.
You might get a lower interest rate. Because it is a secured loan, a title loan may have a lower rate than unsecured loans or other low credit score products like a payday loan. However, these loans are still high risk and can carry an interest rate of 35% plus additional fees.
It can help improve your credit score. A title loan is an installment loan that, when reported on your credit report, can improve your credit history if you make your payments in full and on time.
The problem is many people use title loans as an alternative to a more traditional payday loan when in need of quick cash. I would caution against borrowing against your vehicle because you need money to pay for everyday living costs or unexpected expenses. While cheaper than a traditional payday loan, this is still a temporary fix to a cash flow problem.
What are the disadvantages of title loans?
As mentioned, car title loans can be very expensive. Rates of 35% and even 49% are not unusual, and administration and valuation fees can add several hundred dollars to the amount you have to repay.
However, the biggest disadvantage is the potential repossession of your vehicle.
If you can't pay back the loan, your lender can:
Charge additional NSF fees and interest penalties for late payments
Place a negative mark on your credit report
Seize and sell your vehicle to recover the remaining balance owing
Sue you for any shortfall on the loan
We have filed bankruptcies and proposals for people who have taken out a title loan on top of credit card and other debts, only to see them lose their car because they could not repay the loan. This was an unnecessary loss since the debts they paid off with the proceeds of their title loan would have been discharged by bankruptcy and in most cases, they would have kept their vehicle since it was worth less than the allowable exemption limit.
Another concern is what happens if you still owe money on the loan when you want or need to replace your vehicle. You will be required to pay off the balance or roll-over the remaining loan into your new loan, which can lead to further debt problems.
Car loan:
Cost of goods: $25,995
Cost of borrowing: $18,297
78 month term
Total owing: $48,768
Current black book value of car: $13,775

— Scott Terrio (@ScottTerrioHMA) February 7, 2020
Alternatives to consolidating debt with a car title loan
You may want a loan to pay off existing debt or bills but refinancing your car may not be the best solution.
There are other options to consider.
Obviously, it's time to review your budget to figure out ways to pay down debt, not just move the debt around.
Apply with more traditional lenders first, like a credit union, to see if they will provide you with a less expensive loan.
Even taking out a cash advance on your credit card or going into overdraft on your bank account can be a cheaper alternative, with less potential downside, than taking out a title loan.
If you are behind on a few bill payments, ask your creditors for extra time to pay or work with a credit counselling agency to arrange a payment plan.
If you already owe more debt than you can pay, and all you are doing is buying time with a short-term title loan, a better option may be to talk with a Licensed Insolvency Trustee about real debt relief options like a consumer proposal. The sooner you talk to a trustee, the more consolidation options you have.
Similar Posts: