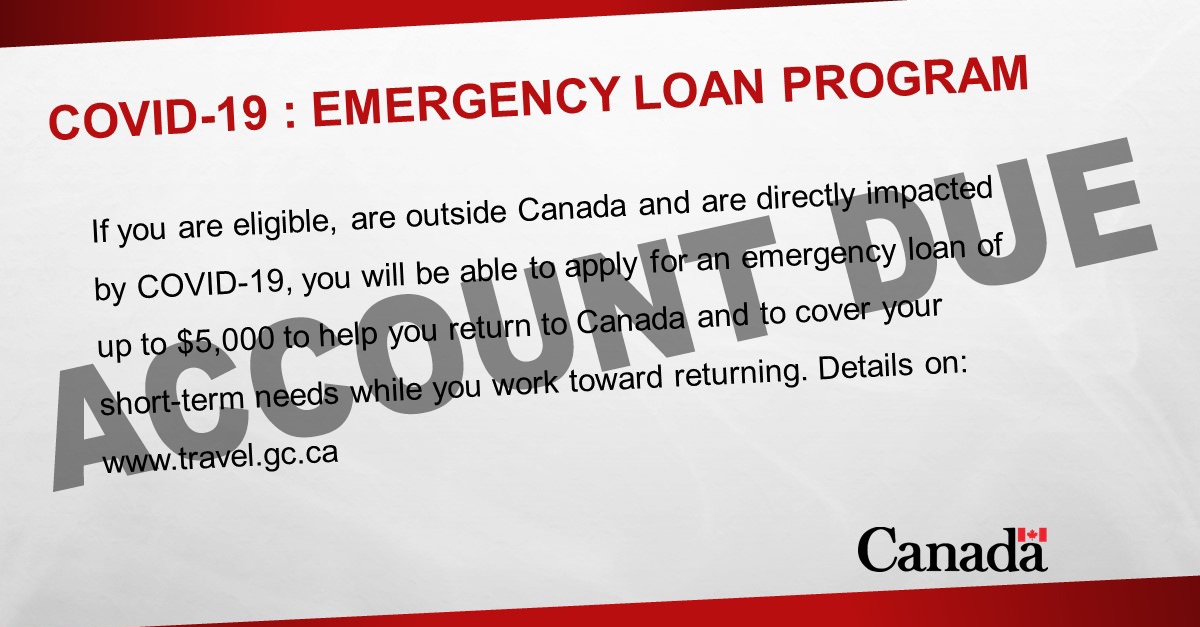 CERB recovery is not the only collection letter being sent by the Canadian government related to COVID-19 pandemic support. Canadians who still owe money under the Emergency Loan for Canadians Abroad program are also receiving repayment requests.
The Canadian government offered temporary travel loans of up to $5,000 to help Canadians trapped outside of Canada due to COVID-19 either return home or shelter in place.
The program was managed through Global Affairs Canada with specific repayment terms. Loans were interest free and repayable within 180 days. Payments could be made in a lump sum or by installment. When granted, Global Affairs noted that 'overdue accounts beyond 180 days will be referred to Revenue Canada Agency (CRA) for collection'.
Global Affairs, through their COVID-19 Loan Recovery Team, has begun to send out default notification letters to recipients who have passed the 180-day deadline:
COVID‐19 Emergency Loan Statement of Account 30 days
Loan Balance: CAD XXXXX
Our records indicate that you have a balance due of XXXXX to the Government of Canada for the loan you have received under the COVID‐19 Emergency Loan Program for Canadians Abroad.
The COVID‐19 Emergency loan is an interest‐free loan that must be paid back to Global Affairs Canada. If you have not paid it in full within 180 days of receiving the initial invoice, we will notify the Canada Revenue Agency of your remaining debt to the Government of Canada. Once notified, the Canada Revenue Agency can use money owed to you by any Government of Canada department or agency to reduce or repay your remaining debt. Your 180‐day reimbursement period began on 2020‐11‐XX.
Much like CERB repayment, once these accounts are sent to the CRA for collection, loan recipients will see their future tax refunds, EI, CRB, CCB, CPP, and other government benefits withheld until the loan is repaid.
While it is unlikely that these travel loans alone will cause anyone to file insolvency, these debts are dischargeable in a bankruptcy or consumer proposal if you are filing insolvency for other unsecured debts.
What is clear is that there are still plenty of Canadians who continue to struggle to overcome the financial impact of COVID-19, and 180 days may not be enough time to repay.
If you receive such a letter, don't panic. Contact either Global Affairs or the Canada Revenue Agency to arrange repayment.
A further word of caution. Do not take out a high-interest installment loan or payday loan to pay back these travel loans. While the loan is repayable, the government understands the continued financial strain most Canadians face and will work with you.
If you can't repay because you also struggle with other credit card debts and loans, please talk with a Licensed Insolvency Trustee about your options to deal with all your debt issues.
Similar Posts: