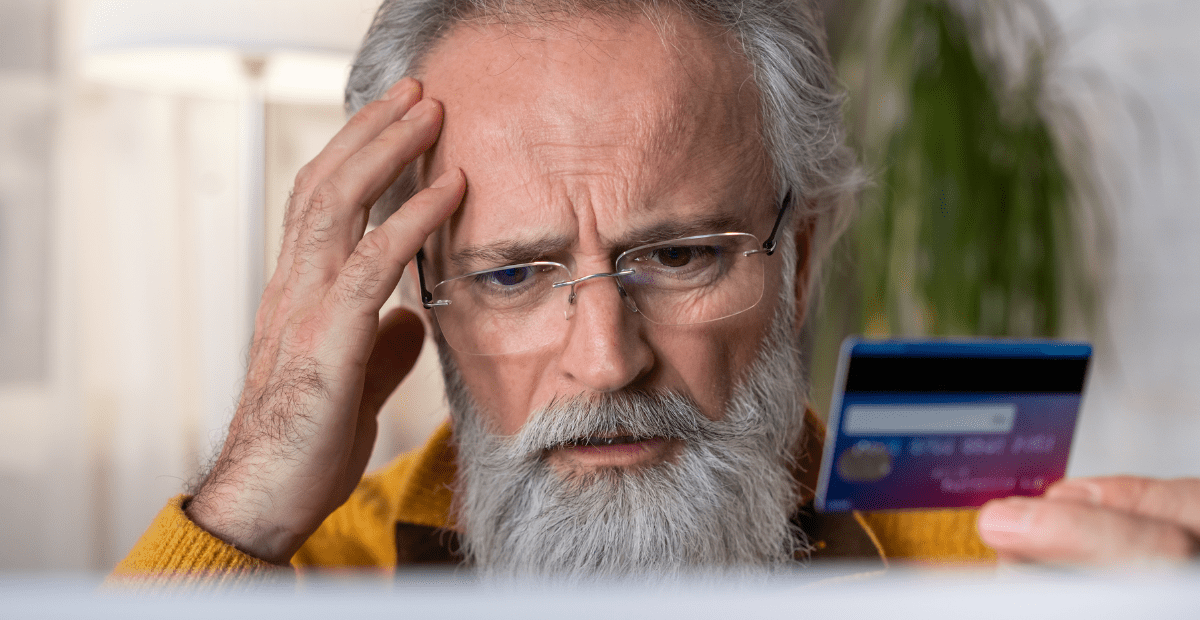 In 2022 alone, more than 57,000 Canadians were victims of fraud and lost a total of $531 million to fraudulent activity. Being a victim of fraud is a traumatic experience, but it can also lead to long-term financial struggles and, in some cases, serious debt problems. 
Fraudsters are becoming increasingly sophisticated. It's understandable how someone can fall victim to fraud which is why this post informs you on how to protect yourself from the many tricks and deceptions fraudsters use. We also explain your debt relief options if you are dealing with overwhelming debt because of fraud.
Common financial scams and fraud
E-transfer and payment scams
Fraudsters often get you to send money through an electronic transfer (e-transfer) like Interac, prepaid cards, and even Bitcoin.
Popular e-transfer scams include:
the buyer/seller scam, in which you agree to buy something and e-transfer money only you never receive your product;
the rental scam, in which a landlord asks you to pay a deposit to secure a unit, but then the unit turns out not to exist;
the work-from-home job ad scam, in which you are asked to send money for training and supplies but are never reimbursed because the job is fake;
The deposit or cheque to your account for too much money, after which the vendor asks you to send some funds back, only the original amount will bounce out of your account later by your financial institution.
There are many more examples of e-transfer scams. A commonality in all these scams is that you never meet the person face-to-face or that details are vague. Know that once the recipient receives an e-transfer or gift card, it cannot be reversed. Always exercise caution before sending money.
Debit card or credit card fraud
When using your debit card or credit, you are generally protected against unauthorized transactions if your PIN is well-protected. But you could be held responsible for financial losses if you did not properly guard your PIN. Unfortunately online fraud involving credit cards is common.
Avoid using obvious PIN codes like your birthdate or phone number, telling your PIN to someone else, even a family member, writing your PIN down near your card, and not reporting your card being lost or stolen within a reasonable time. Read your card agreement carefully so you understand your responsibilities as a cardholder.
You should always report any transactions you didn't make or approve of to your bank or credit card issuer immediately so they can issue you another card with a new credit card number and cancel the old one.
Phishing, smishing and vishing
Be cautious about the validity of unsolicited emails and links (phishing), phone calls (vishing), text messages (smishing) and snail mail that purport to be someone else (often the Government of Canada or the Canada Revenue Agency) who then ask either for funds or personal identification information.
With this information, fraudsters can steal your identity and potentially hack into your bank account or other application, transfer funds, make unauthorized purchases, or take out credit in your name.
Financial recovery is often much more difficult in these circumstances. Your bank will investigate how the breach occurred but may not reimburse you if you can't prove fraud. Fraudsters can sometimes log in through an IP address you have used, making it harder to prove that the funds were stolen by someone other than you. Always make sure to use your computer through a secure Wi-Fi connection and never share your banking or other financial information with anyone,
To add insult to injury, there have also been reported cases of hackers re-targeting victims by telling them they can recover their stolen funds. This scam is known as the recovery pitch. Scammers again pose as your financial institution and contact you with a way to recover your funds if you give them either an advanced fee or access to your computer so they can "restore" funds. Know that you should never pay an advanced fee to obtain a refund, nor should you let anyone, no matter how legitimate they seem, get access to your computer or any personal belongings.
Canada Revenue Agency / CRA Scams
If the Government of Canada or the provincial government has a program that impacts your finances, you can inevitably expect phone calls or text messages about CRA programs from fraudsters. Scams surrounding COVID-19 vaccines, CERB and CESB payments, climate action incentive payments, and grocery rebate payments abound.
If you receive texts or calls that say they are from the CRA, Service Canada or any other government agency, do not respond with any personal information or click on any link. Login directly to your MyCRA account or contact the agency directly yourself.
Emotional scams like romance or grandparent scams
Fraudsters always try to take advantage of your situation or stress, but it becomes easier for them when you believe family or emotions are involved.
In romance scams, fraudsters take advantage of your affection, professing a need for funds and playing on your love. In grandparent scams, someone calls and impersonates a grandchild or other family member in a crisis, often a car accident or threat of jail, and asks you to send money or gift cards to help them out.
Never let anyone guilt you into sending money, especially under duress. Do not give banking information, money or credit to someone you met online or have only a short-term relationship with.
Identity theft
Identity theft happens when a criminal obtains personal details like your social insurance number, bank account information, credit card statements, home address, tax information, and other sensitive data.
Protect yourself from identity theft and debit or credit card fraud with these tips:
If you get an email or text message from a bank or company asking for personal information, don't respond. Contact the organization directly to verify that the communication did come from them.
Use strong, complicated passwords and don't make them obvious or easy to guess, like using your birthdate, pet, or family name.
Set up alerts on your banking and credit card accounts. You will get an email or text letting you know of any activity so you can act right away if actions were taken by someone other than you.
Protect your cellphone with a robust lock code so it can't be easily accessed.
Monitor your credit reports regularly for any unusual lending activity. The sooner you are aware, the sooner you can stop fraudulent activity in your name. You can also prevent damage to your credit score if you catch the activity early.
Advance fee loan scams
Advance fee loans are illegal in Canada, yet they continue to persist. We have met with clients who were victims of loan scams and faced worsened debt problems.
Advance fee scams involve a fraudulent lender promising to loan you money if you send payment up front to guarantee the loan, complete the application, or cover processing costs. Of course, after you pay the fee, there is no loan. These fraudsters prey on borrowers who have a low credit rating, need cash, and can't get approval for loans from their bank. In Ontario, it is illegal for a lender to ask you to pay an upfront fee before obtaining the actual loan.
Investment scams and tax schemes
There are many types of investment scams and tax scams, but they all promise to make you rich with no risk.
Fraudsters target you with an investment scam using social media, online ads, email, text, or phone calls. They may create fake social media profiles identical to your friends or family so their messages appear legitimate.
Some signs of investment scams include being required to pay a finder's fee in advance, being guaranteed a high return on low-risk investments, being told it's a limited-time offer, and you need to act fast, and being pressured to send money. Beware if the person is unwilling to answer your questions or gives you evasive answers. If an investment sounds too good to be true, it likely is. Don't feel pressured to act.
How does financial fraud impact your finances?
Being a victim of fraud takes its toll on you emotionally. You might feel embarrassed or guilty, and severe loss can lead to depression.
Unfortunately, financially the loss can be just as devastating, including:
Loss of the original funds, especially if you voluntarily send money to someone via e-transfer or gift cards.
Identity theft as a result of providing personal information to a potential scammer. They can then use your identity to attempt to access your accounts and even apply for credit in your name.
A stolen credit card or unauthorized loans can hurt your credit score if you do not report the fraud and have the charges reversed.
Unauthorized credit due to identity theft will also hurt your credit score. It can often take months or years to deal with the impact of a stolen identity on your finances and credit report.
Losing funds through fraud can leave you unable to manage your personal expenses, resulting in the need to borrow funds to pay your bills. This can lead to debt problems if the amounts are large or long-term.
Warning signs that you are dealing with a scammer
By now, you probably have a general idea of the warning signs but beware when an unknown person and potential scammer:
Initiates contact by phone, text messages, email, or visiting your home.
Creates a sense of urgency to get you to act fast without thinking through their proposal or doing any research.
Poses as a credible institution like a bank, government official, or other professional service and asks you for personal information.
Requests that you wire them money via e-transfer, prepaid cards or gift cards.
Tells you not to share their offer with anyone else and to keep the discussion secret so that you don't involve someone who may question their tactics.
Makes an offer that sounds too good to be true. It's low risk with a high return, making it attractive.
Asks for payments upfront before giving you what they have promised.
Preys on your emotions and uses guilt as a trick to get you to act.
What to do if you are a victim of fraud
While I hope this never happens to you, here are the steps you need to take should you ever be a fraud victim:
Your first step should be to inform your financial institutions of the situation so they can better verify before lending to someone else under your name.
Change all your passwords, including banking, email, and other sensitive accounts.
Contact both Equifax and TransUnion to place a fraud alert on your credit report. This will not hurt your credit score. This alerts all creditors to be vigilant before lending under your name for any kind of loan.
You may also consider reporting to the Canadian Anti-Fraud Centre at their toll-free number -1-888-495-8501 or through their Fraud Reporting System. This helps spread awareness so that others may stay safe.
We understand that no one wants to be a fraud victim. Unfortunately, with how clever hackers and scammers are these days, innocent people suffer financially and emotionally.
Dealing with debt due to fraud
While rare, we do see individuals in our offices who end up in debt because of fraud. Their financial problems can be because they lost their savings and turned to debt or because of debt taken out in their name that they could not reverse.
Filing for bankruptcy or making a consumer proposal to reset your financial situation may be necessary. If you incur debt from a scam, talk to a licensed insolvency trustee about debt relief options.
Another word of caution relates to unlicensed debt consultant scams. Unlicensed debt consultants prey on heavily indebted borrowers who are scared to speak directly to a licensed insolvency trustee or worried they will have to file for bankruptcy. They use this fear to their advantage and offer a comforting sales pitch about providing a better plan to eliminate debt. All they do is refer their clients to a licensed insolvency trustee anyway to file a consumer proposal, a common alternative to bankruptcy. But before the referral, they charge thousands of dollars in unnecessary fees, putting unsuspecting customers deeper in debt. Remember that you do not have to pay a fee to see a trustee.
If you have a lot of debt, speak to a Licensed Insolvency Trustee directly for proper advice and avoid the costly middleman.
Similar Posts: