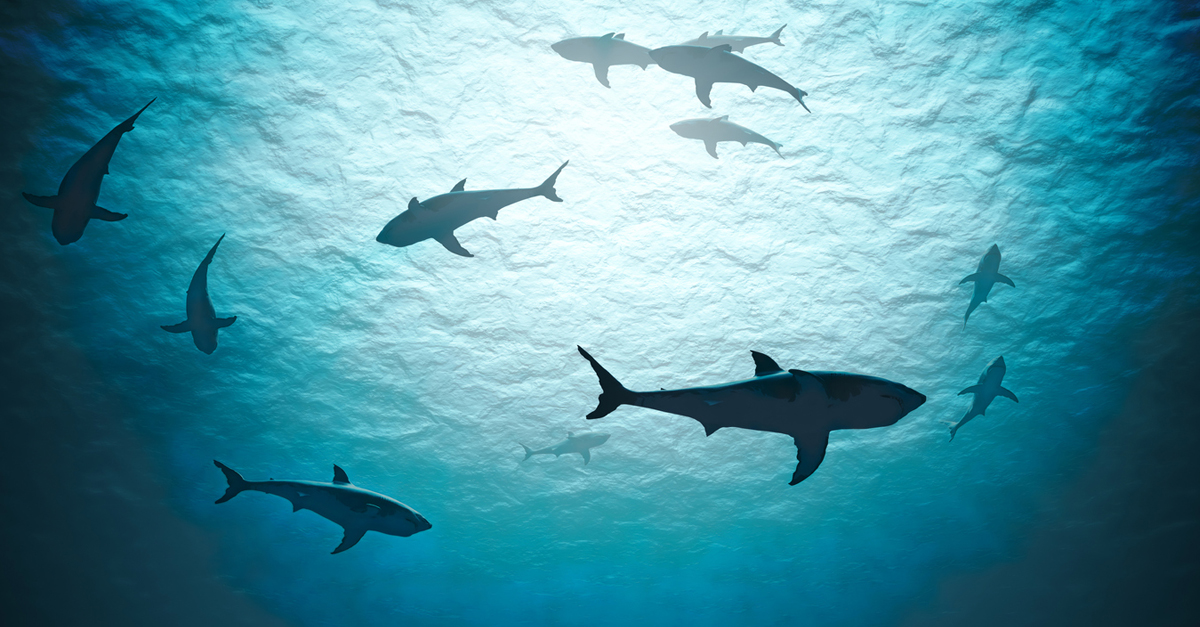 Nearly 40% of all bankruptcy and consumer proposal filings in Canada are caused by payday loans or some other form of high-cost, predatory lending. Even more concerning, our average client usually has more than one high-interest loan at the time of their filing as they try to pay off one loan with another.
Predatory lending involves loans that are expensive and almost impossible to repay because they come with high-interest rates and fees. Predatory lenders prey on vulnerable borrowers desperate to solve an immediate cash crisis or offer credit where no-one else will. Subprime loans specifically target consumers with low or no-credit. These types of lenders often use unfair and deceptive sales practices that disguise the true cost of borrowing.
Most Canadians know that payday loans are costly and a bad idea. But there are other types of predatory loans you should avoid. Predatory lending practices can be found among low- or bad-credit car loans, fast-cash installment loans, and even private subprime mortgage lending.
What are the warning signs of predatory lending?
Innovations in lending through new FinTech companies has increased the popularity of easy access and subprime loans. Online lending has expanded the reach of predatory lenders quite significantly. New products are coming out all the time. Not just a payday loan, these companies are offering lines of credit, term loans, business loans, and fast instant loans of up to $45,000, or more.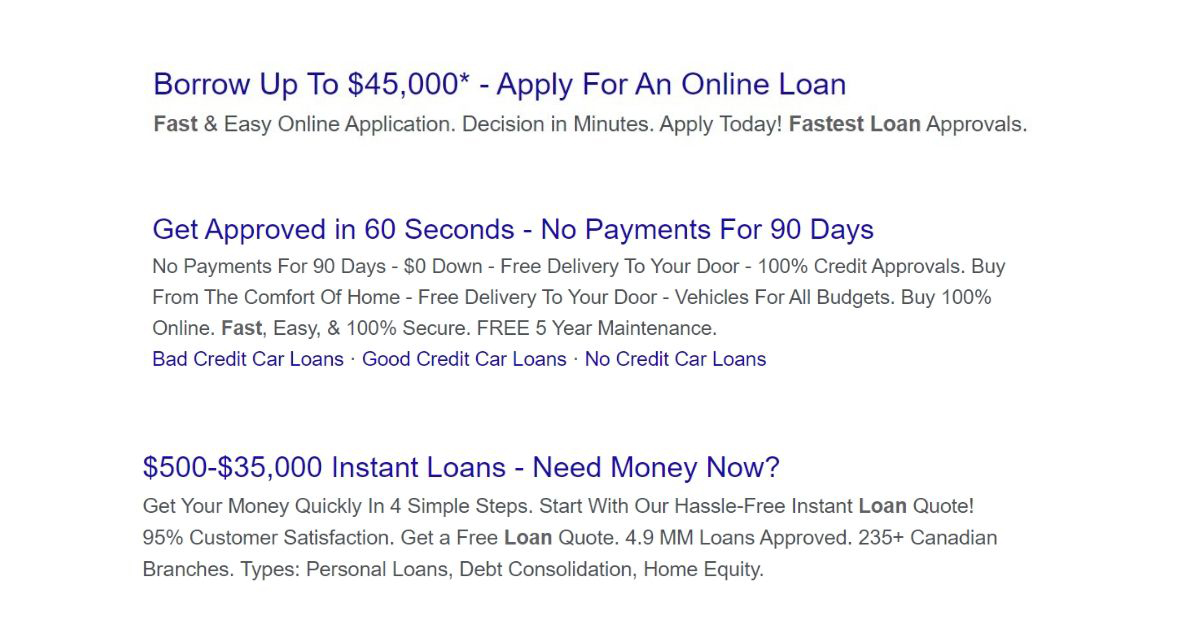 It's important to spot which of these loans will likely cause you more financial trouble. Here are 7 common signs of predatory lending:
Excessively high interest rates and hidden fees
Payday loans are the costliest type of loan you can get, charging fees equivalent to triple-digit interest rates. In Ontario, if you get a payday loan and pay it off in two weeks, you are paying an annualized interest rate of 390%.
Canadian usury laws limit the rate lenders can charge on a loan to 60%.  Payday lenders get around this because they are regulated provincially, and so are exempt from this federal law, and because they set their charges in the form of fees, rather than interest rates.
However, some other lenders provide credit to consumers with limited or poor credit histories at close to usury rates. It is not uncommon for us to see clients with installment loans bearing rates of 39.99%, 49.99% and even 59.99%. While 'better' than payday loan rates, these loans still trap many consumers into a debt cycle that is hard to break.
Loan terms can also come with extra fees, including late payment penalties and loan insurance premiums.  These premiums, sometimes not optional, can more than double your borrowing costs.
With costs this high, you can see why our clients struggle to get out of the loan spiral once they borrow.
Easy, fast application process
Predatory lenders tempt you with good customer service. Their service and staff make you feel welcomed, and the borrowing experience is generally hassle-free. At most, you may spend 30 minutes on your entire application before receiving your funds. Online lenders provide an even easier borrowing experience with a short application and cash in your chequing account within minutes.
Do not, however, be fooled by the speed and convenience of the service. Predatory lenders seek to minimize the number of questions you ask before encouraging you to sign their terms of agreement. Predatory lenders count on customers not understanding their borrowing terms or seeking other options.
No credit check required
A good indicator of predatory lending is when you see a company advertise "no credit check required or necessary."
A lender generally asks to see your credit report because they want to answer some common questions about your creditworthiness, like how much debt you already have and what your payment history looks like. A credit check is how a lender assesses just how risky it is to loan you money. 
Predatory lenders already know you are high risk, and they offset the risk of lending without credit checks by charging high interest rates and fees on their loans. You should always be wary when a company is willing to lend money without asking any questions about your finances and ensuring you have the ability to repay the loan in full.
Repeated refinancing and rollovers
Predatory lenders know many of their clients will never repay their loans in full. In fact, they make more money when you remain indebted to them for longer. Car-loan rollovers are a predatory loan practice among vehicle lenders. Even though you were unable to pay the full principal owing on your original car loan, you can refinance your new vehicle by rolling your old, unpaid debt into your new loan. This can worsen your financial situation and result in you owing more than your car is worth.
In Ontario, borrowers can't get another payday loan from the same lender before paying off their first loan. Unfortunately, many people get around this by visiting another payday loan company, which is why our average client owes money to almost four different fast cash type lenders at the time of filing.
Lenders also offer extended repayment terms but with additional fees and again, very high interest rates. Postponing repayment simply makes it harder to get out of debt in the future.
Loan costs are not obvious
A predatory lender will rarely directly tell you the high cost of borrowing their loans. They are experts at deceiving customers.
Payday lenders advertise their loan costs as $15 for every $100 advanced. While that doesn't sound expensive on the surface, the actual APR (annual percentage rate) on those borrowed funds is 390% (assuming you have the loan for two weeks).  Would you take an advance on your credit card if your card issuer told you it would cost 390%?  Probably not, so why agree to this cost with a payday loan?
But even if you say payday lenders have a bad reputation and should be avoided, other loan companies also try to make their loan costs less obvious.
Here is a screenshot of an online offer for installment loans as an example: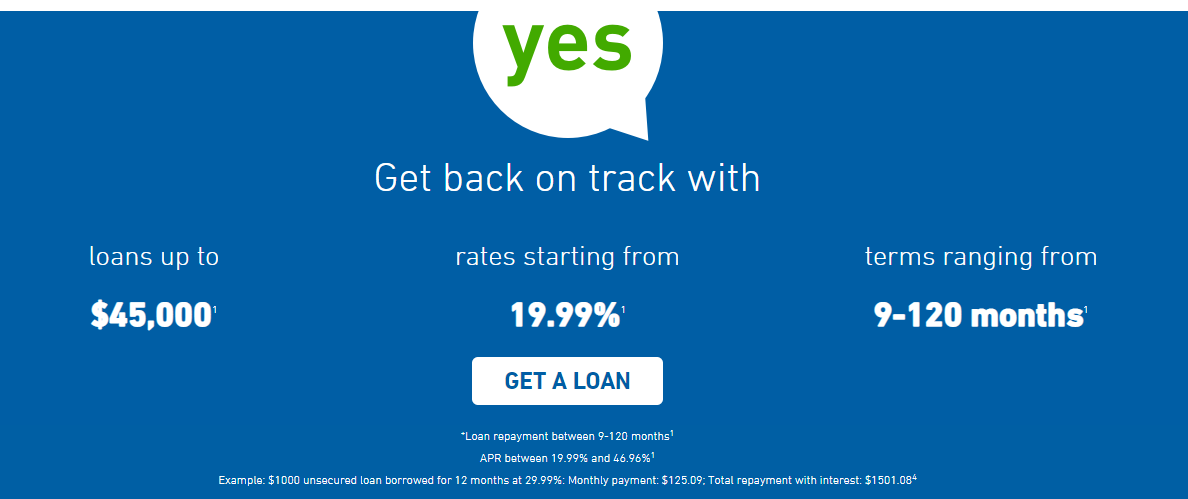 The focus is placed on the large amount you could borrow and a lower annual interest rate than a payday loan. Notice the use of language: "loans up to $45,000," and "rates starting from 19.99%" with a bold call to action to get a loan. Sounds attractive, and many borrowers are likely to go ahead and proceed.
But let's examine the small print below the button:
They state the potential APR is between 19.99% and 46.96% – this is a wide range, and it suggests that you may not qualify for the lowest rate.
Our advice: always read the fine print and even then, ask questions to determine your total loan repayment with interest. If a lender is not willing to give you a clear answer about costs, this is a good sign that they should be avoided.
High-risk secured lending
Another form of predatory lending involves borrowing against assets you own, like your car or home equity. This type of secured loan attracts borrowers who have poor credit and are looking to consolidate multiple debts.
A common example is a car title loan. But should you really borrow against the value of your vehicle or your house?
High-risk secured lending allows the lender to repossess the assets you offered as collateral should you fail to repay your loan. Borrowers can be sued for any shortfall once the asset is sold.
These loans are also not cheap and can come with an interest rate of at least 35%, plus additional fees.
If you are taking on a new installment loan to consolidate debt, you may want to consider healthier debt relief options as an alternative.
Masquerading as savings or credit repair loans
A hidden form of predatory lending is called a savings or credit repair loan, which offers to do just that – "improve your credit score" or "automatically build up your savings." Unfortunately, these loans achieve neither objective and often create more debt problems.
Under these agreements, you make a monthly payment but receive no money yourself until the end. The 'lender' charges a $200 setup fee upfront and interest rates on the 'loan' of over 25%. Effectively, these lenders are charging you to put money into a savings account for you. These programs take money from you monthly that could be used to pay off other debt or build an emergency fund (so you won't need a fast cash loan), and won't fix your credit any faster than you can on your own.
Who is at risk?
People turn to high-cost loans because they feel they have no alternative. The problem is, since predatory loans are so hard to repay, they increase your financial risk.  Predatory loans are a short-term fix but a long term problem.
Almost anyone can get caught in a predatory loan trap. Lenders target specific consumer profiles, appealing to the financial needs of seniors and placing attractive lifestyle ads to millennials. Our bankruptcy study shows that, in 2019, 24% of insolvent debtors 60 and older and almost half (48%) of those aged 18-29 had at least one payday style loan.
You should avoid predatory loans if you:
Already have high or rising debt balances
Are making minimum payments only on other debts
Are already receiving collection calls
Have received a wage garnishment or other legal notice from creditors
Do not understand the full borrowing terms or process
Cannot balance your budget without resorting to even more credit
Do not see yourself able to repay the loan, with interest, within the loan term.
Who regulates predatory lenders in Canada?
Under section 347 of the Criminal Code, interest rates in excess of 60% per year are illegal in Canada. Advocacy groups, like ACORN Canada (Association of Community Organizations for Reform Now) would like to see that limit reduced to 30%.
Payday lenders are regulated by the provinces and are exempt from Canada's usury laws. In Ontario, the Payday Loans Act set the maximum fee for a payday loan at $15 per $100. Most people still think that is too high, and we believe the provincial government didn't go far enough to regulate payday loans effectively.
Some municipalities are also trying to legislate some predatory loan practices. Hamilton, Kingston, Toronto, and Ottawa, for example, have all introduced legislation to limit the number and location of payday loan stores.
Unfortunately, as I noted, predatory lending involves more than just payday loans. And with many providers moving online, municipal regulations will not completely solve the problem.
Predatory loans are not illegal. While their marketing practices may lure people into a problem loan, these loans are entirely within the laws of Canada. This differs from advance fee loan scams, which are illegal. Canadian lenders are prohibited from charging you an upfront fee to guarantee loan approval or to process your application.
The best form of control is to ensure that lenders clearly advertise their full and true loan costs. At Hoyes Michalos, we also advocate for the end to teaser and introductory rates as these lead consumers into higher-cost loans in the long run.
In truth, it is up to you, as the borrower, to avoid these types of loans.
How to protect yourself from predatory loans
Predatory loans are easy to spot. The terms and conditions overwhelmingly benefit the lender. Loan qualification standards are low or non-existent. There are significant fees on top of an already sky high interest rate.  Loan documents are confusing, or there is too much fine print for you to understand what you are agreeing to clearly.
Financial literacy is the first step in avoiding these types of loans. Here are some steps you can take to protect yourself from predatory lenders:
Spot the warning signs like high interest and additional fees
Don't be pressured into a loan
Read all terms and conditions before you sign
Long term – build a budget, and create an emergency fund so you don't have to rely on fast cash loans for an unexpected expense.
Consider alternatives to predatory loans
If you are under pressure for immediate cash due to an emergency, there are many cheaper alternatives to predatory and payday loans, including negotiating with your creditors, borrowing from friends and family, or paying with a credit card, for example. Yes, even a cash advance on a credit card at 21% is better than an installment loan at 49%.
However, it's essential to know that more debt is not always the answer. It may be better to focus on eliminating debt rather than taking on another loan, which will only make your cash flow problem worse.
One option may be to make a realistic and affordable debt repayment plan through a consumer proposal, where you pay no interest, no up-front fees, and can reduce your debts by up to 70%.
If you do find yourself deep in debt with troublesome loans, our government-licensed experts would be happy to review your situation with you and discuss options other than taking on another bad loan.  Contact us today for a free phone or video consultation.
Similar Posts: